FUSSY WHO? QUINOA AND HOUMOUS ARE AMONGST THE FOODS THAT MILLENNIAL BABIES ENJOY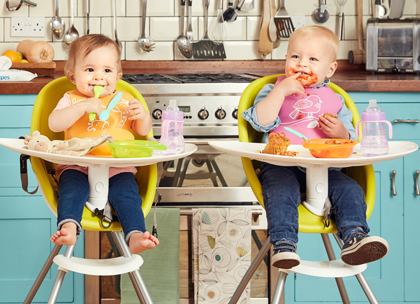 New research by WaterWipes reveals the true realities of weaning – highlighting that millennial babies have a sophisticated palette – with today's youngsters getting their first taste of more exotic foods at just months old and thoroughly enjoying it.
Avocados, quinoa and houmous are amongst the foods babies enjoy most during the weaning phase. It's not all modern-cuisine that babies like to eat, though, as more traditional dishes such as toad in the hole and chicken korma are also highly favoured amongst dinky diners (41 and 46 per cent). Brussel sprouts topped the chart as the food most likely to leave babies screwing their face up in disgust.
The survey also revealed that many parents (73 per cent) feel confused when it comes to what they should be feeding their baby in the early months – with 67 per cent feeling overwhelmed by conflicting advice about when they should begin weaning. The poll found that, on average, parents started to wean their baby around six months old.
It seems that, sometimes, convenience is key – as whilst over half of parents (55 per cent) served their babies home-cooked meals from scratch when weaning – a third (30 per cent) simply mashed or pureed whatever food they had for their own meal.
The survey highlighted that parents have found food in some rather unexpected places after a particularly messy meal. Over a third found food on the kitchen wall (33 per cent), a fifth found food in their bra/ under their top (20 per cent) and some have even found that food had made its way to the hallway after mealtime had ended (12 per cent).
The research was commissioned by WaterWipes to mark the launch of new WaterWipes with Soapberry. Made with 99.9% water, plus a drop of fruit and Soapberry extract, they provide the same purity parents rely on from WaterWipes, whilst harnessing the natural cleaning properties of Soapberry. This makes them the ideal wipe for growing babies who are starting to try new foods and experience the world around them for the first time – meaning you can clean, and care without having to compromise.
We know that all parents are familiar with the mess of weaning – the survey revealed that the three most common places parents find food is under their babies' bottom (46 per cent), behind their ears (38 per cent) and under their feet (33 per cent).
Almost six in 10 parents admitted there were times when they chose what to feed their child, based on the amount of mess it would make, opting for the least messiest meal. One in twenty even said the mess that comes with feeding babies is one of the biggest challenges about weaning. Pre-planning what to cook, preparing the meal and getting the baby to eat what you make are also amongst the challenges that parents face when it comes to weaning.
David Lawlor, WaterWipes brand manager commented: "Far from being fussy, millennial babies love tucking into a variety of unusual dishes and exciting flavours. With the variation in our diets now, and exotic food more readily available than ever before, a baby's first foods are changing.
But as any parent will tell you, a baby enjoying a meal can be a messy experience. No matter how much they are loving the taste, most of it will still end up anywhere but in their mouth.
That's why we're really proud to launch new WaterWipes with Soapberry so we can help parents during this exciting, but messy stage in their baby's life. We believe there is never a good time to put chemicals on your skin – so as your baby grows and the mess grows with them, WaterWipes with Soapberry is the perfect wipe as you can clean and care without having to compromise."
To celebrate the launch of WaterWipes with Soapberry, the World's purest baby wipe brand have teamed up with parenting influencer and recipe expert, Natasha Corrett to create the ultimate "messy menu", comprising of five dishes for parents to try as inspiration during the weaning stage. These recipes can be found on the WaterWipes Facebook page.
Top 20 foods babies like on the first taste:
1. Yoghurt
2. Mashed banana
3. Pasta
4. Mashed sweet potato
5. Steamed veggies
6.Stewed apple
7. Rusks
8. Soft cheese
9. Meatballs
10. Mangoes
11. Mashed Butternut squash
12. Mashed fish
13. Tomatoes
14. Peanut butter
15. Avocados
16. Salmon
17. Houmous
18. Cous Cous
19. Pumpkin Soup
20. Lentils
Top 10 disliked foods:
1. Brussel Sprouts
2. Lemon
3. Mushrooms
4. Eggs
5. Broccoli
6. Grapefruit
7. Fish
8. Meat
9. Pesto
10. Soft cheese