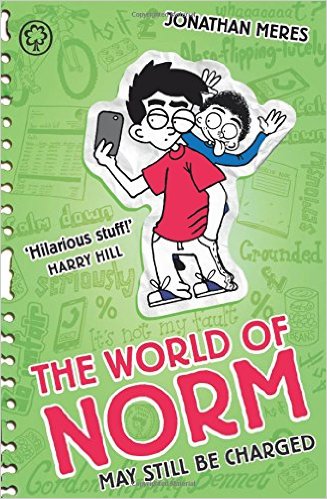 The World of Norm: 9: May Still Be Charged
By by Jonathan Meres | Publisher: Orchard Books
The NINTH hilarious title in this award-winning, laugh-out-loud series. For fans of Diary of a Wimpy Kid and David Walliams. BUY IT ON AMAZON
Review: I have never read "World of Norm" books before, but was excited to see that it looked like an entertaining book from its cover. I was not disappointed; it was a great read with lots of funny moments. Norm is 12 years old and thinks his life is so unfair. His parents have discovered that he has run up a huge phone bill and are trying to decide his punishment! Norm is a very funny character, he does not understand the world of grown- ups and spends a lot of time wondering what they are trying to say to him. I loved the conversations in the book, and the way words were highlighted in bold to emphasize certain words when Norm is speaking. The book is an easy read. I look forward to reading other books in the series. I give it 5 out of 5 stars.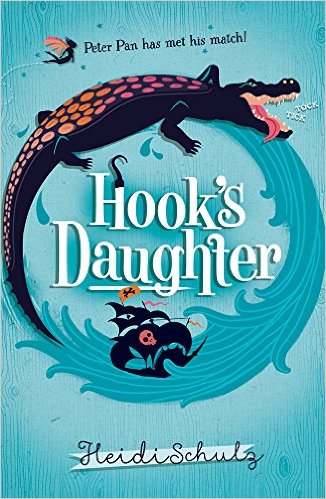 Hook's Daughter
By Heidi Schulz | Publisher: Chicken House
It's not easy being the daughter of Captain Hook. Twelve-year-old Jocelyn dreams of following in his footsteps - but her grandfather sends her to finishing school instead. When her father meets his unfortunate end, Jocelyn sails to Neverland to avenge his death. But she hadn't bargained on ticking crocodiles, lazy pirates and a troublemaking boy called Peter Pan. BUY IT ON AMAZON
Review: Jocelyn is Captain Hook's daughter. She dreams of being a pirate, but ends up in a boarding school with lots of girly girls who love pink! When she discovers that her father has been killed by a crocodile, she escapes to Neverland to get revenge. Along her journey, she meets Peter Pan, Tinkerbell, Tiger Lily, Smee, The Lost Boys and Mermaids. Jocelyn is a really inspirational character. She is a tom boy, who is brave and confident, and believes in herself. I also liked the narrator, he was quite sarcastic. If you like Peter Pan, pirates and adventure, you will enjoy this book. I give it 4 out of 5 stars.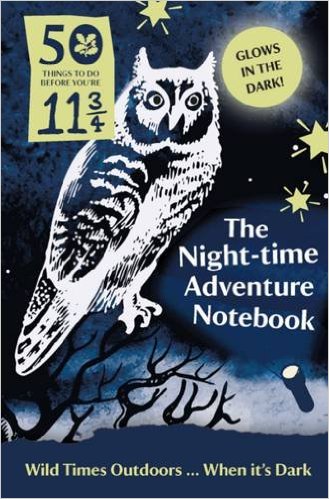 The Night-time Adventure Notebook
By National Trust | Publisher: National Trust Books
When the sun goes down, it's time get out there with these outdoor challenges. Grab a torch and a grown-up and try stargazing, bat-watching and hunting for glow worms. Discover how to tell the time with the moon and send secret messages with Morse code. Make snowball lanterns and tell stories round a campfire. Write up your adventures in this notebook. Can you complete all 50? BUY IT ON AMAZON
Review: This is a National Trust book (which I am a member of) which glows in the dark (awesome)! It is a hardcover book, and is really lovely to carry around. There is space to write notes and stick photos, it is a lovely way to keep memories of your experiences, a bit like a diary/scrapbook. The book is filled with lots of nature activities to do during the night time. I took this on holiday with me to give me some ideas to keep me entertained. I really enjoyed having a picnic in the dark! I love how each activity is split into sections for example: See, Play, Experiment, Try, and Make, and different Seasons of the year. I thought this book is full of great ideas to keep me occupied. It encouraged me to try things I would never have thought of doing! I give this book 5 out of 5 stars.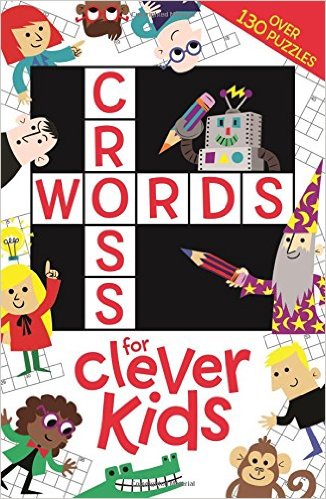 Crosswords for Clever Kids
By Gareth Moore | Publisher: Buster Books
Packed with crossword puzzles to complete, this little book will keep clever kids entertained for hours! Conveniently compact for travelling, this little book is perfect for bright young crossword enthusiasts. BUY IT ON AMAZON
Review: Crosswords are one of my favourite pass times. This book is split into levels of difficulty: Beginner, Intermediate, Advanced and Ace Puzzler. I thought the beginner level was just right for my age and anyone new to crosswords. It was not too difficult but I still had to think of the answers. Each crossword is good brain training. I liked the challenge as you get to the difficult stages. If you get really stuck, the answers are at the back of the book. If you get tired, you can put the book down and finish the crossword later. I give this book 5 out of 5 stars.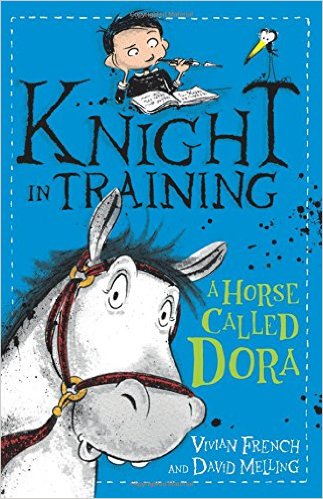 Knight in Training: 2: A Horse Called Dora
By Vivian French | Publisher: Hodder Children's Books
Sam J. Butterbiggins' only ambition is to be a Very Noble Knight, but he has a problem - he's been packed off to the castle next door to stay with his aunt, uncle and annoying cousin Prune while his parents are away. But Sam's discovered an ancient scroll listing the six quests to be completed in order to become a knight, and he's already completed the first one! BUY IT ON AMAZON
Review: Sam's ambition is to become a Knight and own a snow white steed. He needs to complete six quests to make his dreams come true. This book is about the first and second quest. I enjoyed reading this book, it was a quick read. If you want to follow Sam's journey, you will need to read the other books in the series. There is a sneak preview of the 3rd quest "Knight in Training – A Very Bothersome Bear" at the end of this book. If you enjoy reading about Knights I think you will like this book. This book will also appeal to girls as Prune (Sam's cousin) helps him with the challenges. I give this book 4 out of 5 stars.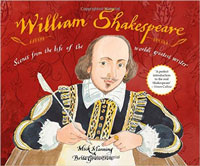 William Shakespeare - Scenes from the life of the world's greatest writer
By Mike Manning & Brita Granstrom | Publisher: Frances Lincoln Children's Books
The life of William Shakespeare is vividly depicted With lively graphic-novel descriptions of many of Shakespeare's most famous plays, including A Midsummer Night's Dream, The Merchant of Venice, Romeo and Juliet, Twelfth Night, Henry V, Hamlet, Macbeth, Othello and The Tempest, and drawing on the latest biographical research, this is the perfect introduction for children to the life and works of William Shakespeare. BUY IT ON AMAZON
Review: This book arrived just after I had watched a year 5 production of Shakespeare at school, and I had just returned from a visit to Stratford Upon Avon over the weekend. I could not believe the coincidence. The book is full of interesting facts, and is illustrated beautifully in a comic book style with lots of speech bubbles. There is an introduction on each page. There is so much information, it has really helped me understand history. I liked that is was a hard cover book. I will be taking the book into school next year when I am studying Shakespeare to show the class. I give it 5 out of 5 stars.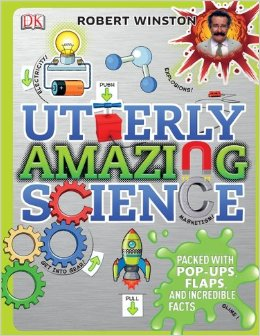 Utterly amazing Human Body
By Robert Winston | Publisher: DK Children
Professor Robert Winston unravels the mysteries of the human body through pop-ups, pull-outs, flaps, sliders and incredible facts to make learning about the human body fun and interactive.
Pop-open the mouth to reveal the teeth, tongue and senses of smell or lift-the-flap on the human body to reveal all the major organs and systems. From bulging muscles to the inside of the brain, this beautiful pop-up book brings the human body for kids to life with Professor Robert Winston to help along the way. BUY IT ON AMAZON
Review: This book is packed with information about how the human body works. It is really interactive, you can lift flaps to discover facts, has pop up lungs, and you can move a wheel and watch a baby grow inside its mummy's womb. The fact you can really get involved by playing with the book makes learning so much fun. There are lots of things to try out at home. Even my 4 year old brother loves this book! I give this 5 out of 5 stars.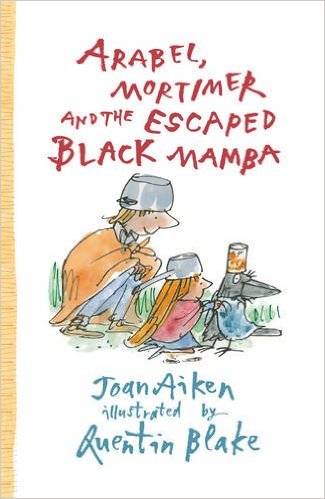 Arabel, Mortimer and the Escaped Black Mamba
By Joan Aiken | Publisher: Frances Lincoln Children's Books
When Arabel and the raven Mortimer spend a fun-packed evening with their favourite babysitter, Chris Cross, they have no idea of the chaos they create in their wake. A reckless game of dressing up and hide and seek results in a big crash, a trumpet wedged onto Mortimer's head and a milk shortage. BUY IT ON AMAZON
Review: I did not really enjoy this book, it was not as funny as I expected. I did like the illustrations by Quentin Blake and think he has a real talent for drawing.
I give this 2 out of 5 stars.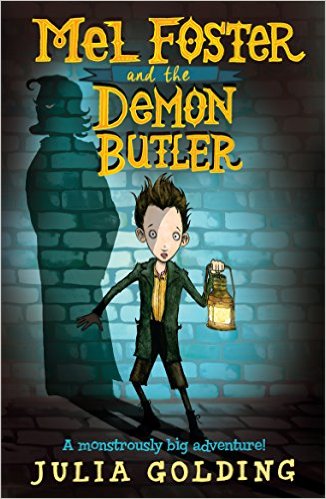 Mel Foster and the Demon Butler
By Julia Golding | Publisher: Egmont
When Mel Foster accidentally revives a giantess from inside a block of ice, he thinks his goose is cooked. But Eve is no MONSTER. She doesn't want to eat Mel―she wants to protect him. And he's going to need all the help he can get. Queen Victoria's butler is hatching a plan that could DESTROY the British Empire . . . and only Mel has the power to stop him! BUY IT ON AMAZON
Review: I did not get very far reading this book. I found it difficult to understand and think it is more for older children.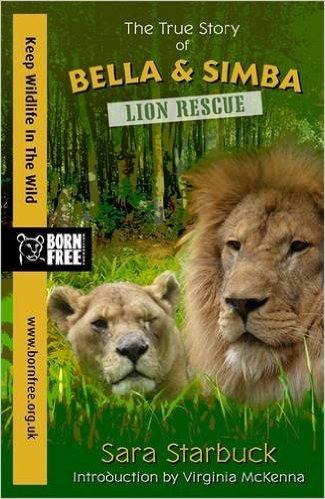 The true story of Bella & Simba - Lion Rescue
By Sara Starbuck | Publisher: Orion Children's Books
Simba was born in a French zoo and was later bought by an animal trainer. For many years he lived in cramped captivity.When Bella was young, she was used as a photographer's prop and then later lived in a run-down zoo in Romania. Because she had been taken from her mother at such a young age and fed a poor diet, she sadly developed a weak spine and back legs. Luckily Born Free could come to the rescue. Now Simba and Bella both live in Malawi where they have become great companions. Join Born Free behind the scenes of one of their real life rescues. BUY IT ON AMAZON
Review: This is a true story about the work of a charity Born Free that rescued Bella (a lioness who is blind in one eye and has lost her family) and Simba who used to be a circus cat. They have both suffered in their lives. The book is full of facts, and pictures which helps show the important work of the charity. It made me more aware of the suffering of animals in the wild and their endangered habitat. This book made me sad but also want to support charities like this so they can save more animals lives. I give this 5 out of 5 stars.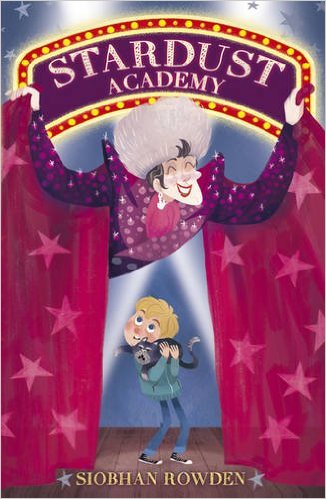 Stardust Academy
By Siobhan Rowden | Publisher: Scholastic Press
Welcome to Stardust Academy, where fame means everything! But Vip really doesn't want to be famous, and he definitely doesn't want to go to talent school - he doesn't even have any talent. So when he accidentally wins a place at Stardust Academy, he knows he's in for a tough time. BUY IT ON AMAZON
Review: This story is about a boy named Vip who does not want to be famous, or live up to his name. Vip and his best friend Melody sneak around the Stardust Academy trying to catch out the Headmistress Fenella Stardust who is up to no good. This book made me smile and laugh. I think this will appeal to both boys and girls even if you're not interested in being famous. I give this 5 out of 5 stars.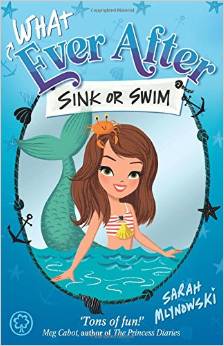 Whatever After: 3: Sink or Swim
By Sarah Mlynowski | Publisher: Orchard Books
In this fresh, funny new middle grade series, bestselling YA author Sarah Mlynowski writes for a younger audience for the first time! In each book, Abby and her younger brother Jonah visit the magic mirror in their basement at night, and the mirror transports them inside a different fairy tale.
In the third magical adventure, Abby and Jonah find themselves splashing around with the Little Mermaid. But her story didn't have a happy ending. This time, Abby's determined to change things for the better! BUY IT ON AMAZON
Review: This story is about a little girl called Abby and a boy called Jonah. They have a magic mirror in their basement that transports them into a fairy tale, what will happen next? Abby and Jonah change mermaid Ariel's sad life into a wonderful happy ending. This is an amazing story tale. I liked that Ariel's dad had a crush on the evil sea witch. 5 out of 5 stars.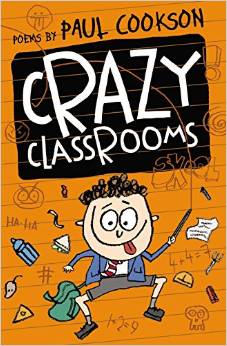 Crazy Classrooms
By Paul Cookson | Publisher: Frances Lincoln Children's Books
Friends and bullies, first day and last day, school dinners and dinner ladies, playtime and staffroom stowaways, not forgetting the GIANT supply teacher… This book is all about YOUR school, so open the door and enter the Crazy Classrooms! Fifty fantastic poems about school from one of the UK's top performance poets. BUY IT ON AMAZON
Review: This book is based on poems about school. My favourite poem is "Crazy in our classroom". The illustrations were fun. I did not enjoy most of the poems in this book as they did not rhyme. I give it 2 out of 5 stars.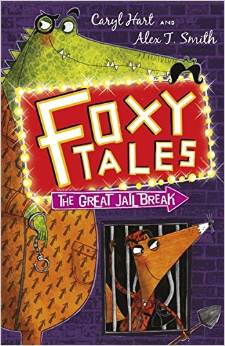 Foxy Tales: 03: The Great Jail Break
By Caryl Hart | Publisher: Hodder Children's Books
Foxy DuBois and Alphonso the Alligator find themselves in a very tight place. Can they escape? Or will it be a life behind bars for these two hapless rogues?
This is the third title in an hilarious series for young readers from an award-winning author-illustrator team. Alex's first fiction series - Claude - was selected for the Richard and Judy Children's Book Club and the Waterstone's Children's Book Prize and has been optioned for TV by Sixteen South. Alex is the World Book Day Illustrator 2014. BUY IT ON AMAZON
Review: In this story they both end up behind bars after taking money from bank robbers. I loved the personalities of the characters in this book. I enjoyed reading this so much that I want to catch up on the other two books in the series. I give it 5 out of 5 stars.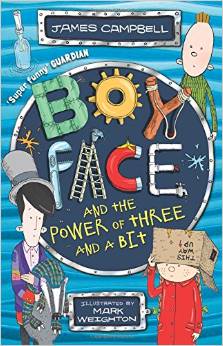 Boyface and the Power of Three and a Bit
By James Campbell | Publisher: Hodder Children's Books
Mr Antelope has disappeared, leaving Boyface Antelope in charge of the stripemongering shop. When Boyface gets a message from his dad, hidden in a message in a bottle, he is determined to go and rescue him. Will Boyface and his friends be able to defeat the evil villain and rescue his dad? BUY IT ON AMAZON
Review: Mr Antelope (Inventor of the Stripey Machine) has been kidnapped by Sea Donkeys under the command of Clown boy. Boyface and friends come up with a plan to hide in a crate and travel to Tropical Antartica to rescue his dad. Boyface is a really good story book to get stuck into. It made me laugh out loud a couple of times and I thought the illustrations were amazing.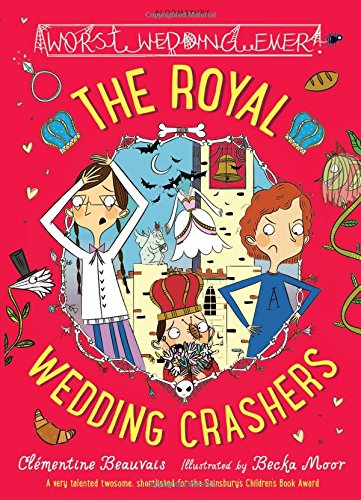 The Royal Wedding Crashers
By Clémentine Beauvais | Publisher: Bloomsbury Childrens
Anna and Holly Burnbright, together with their friend Prince Pepino, are trying to earn enough money to go on the intergalactic holiday of a lifetime. What they need is a holiday job. So when a tall, elegantly dressed lady called Mademoiselle Malypense tells them she needs help to organise the Francian Royal Wedding, they jump at the chance. She's promised to pay handsomely! BUY IT ON AMAZON
Review: This story is about two girls and a prince who make friends and help to organise a wedding so that they can earn enough money to go on a Holy Moly Inter-Galatic holiday of a lifetime. This is not their first attempt either! I did not really enjoy this book because it jumped from one scene to another and I got lost on their journey. 3 out of 5 stars