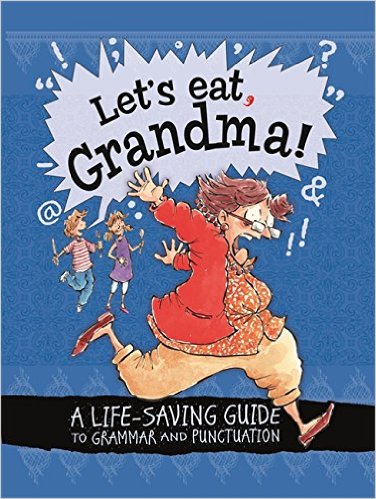 Let's Eat Grandma! A Life-Saving Guide to Grammar and Punctuation
By Karina Law | Publisher: Franklin Watts
This guide to the intricacies of grammar and punctuation provides clear, accessible definitions with comprehensive indexing. It is also a humorous text that entertains as Grandma seeks to lead us all to better grammar and punctuation usage. Fun illustrations provide a visual aid to clarify how incorrect use can be misleading (and often very amusing!). In addition to the main text (defining terminology and demonstrating correct usage), the book includes tips, mnemonics and jokes. BUY IT ON AMAZON
Review: Gosh…do not attempt to read this all at once! I think it is a book designed to dip into when you come across a grammar problem or something you are doing in school. I said the words 'subordinate clause' (page 38) to my mum and she went a funny colour!!!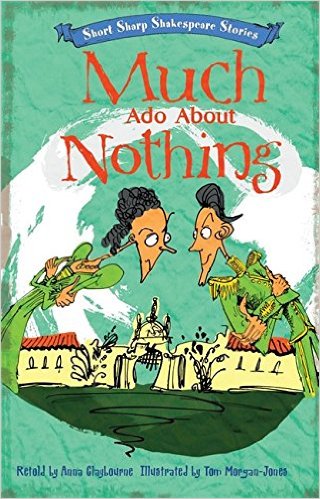 Much Ado About Nothing (Short, Sharp Shakespeare Stories)
By Anna Claybourne | Publisher: Wayland
Mistaken identities, jealous relatives, lovers' quarrels and a happy ending... Discover the entertaining story at the heart of Much Ado About Nothing, one of Shakespeare's best-loved comedies. Contains information about the background to Much Ado About Nothing, its major themes, language, and Shakespeare's life during the time he was writing the play. Gossip, and its role in society in 16th century England, is also examined, to give some context in which the play was written. BUY IT ON AMAZON
Review: I really like these Short Sharp Shakespeare's. They are good stories and the illustrations are hilarious. There's loads of helpful info about what words and phrases mean. I am keeping them safe so I can use them when I get older. Just a thought…why didn't Shakespeare just use the proper words to write his stuff.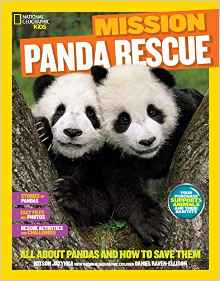 Mission: Panda Rescue
By Kitson Jazynka | Publisher: National Geographic Kids
The mission of this book is to get up close to giant pandas to learn all about their lives, the challenges they face, and what can be done to help save them. Discover a true story about a panda in the wild, amazing adventure stories from real-life explorers in the field, and hands-on rescue activities for ideas on how YOU can take action to help save these amazing creatures. BUY IT ON AMAZON
Review: I love pandas and some of the pictures in this book are just fantastic. I really enjoyed reading about them especially the rescue and protection stories. Really nice book. 5 stars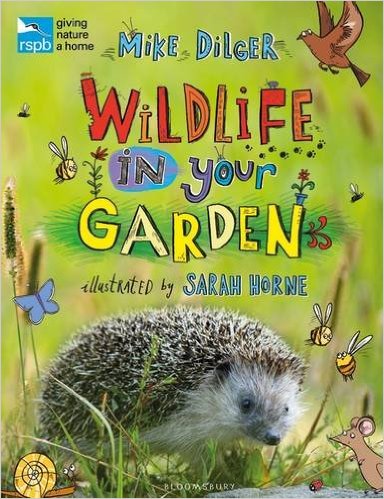 Wildlife in Your Garden
By Mike Dilger | Publisher: Bloomsbury Publishing
Discover the amazing wildlife you can find in your own garden with this fascinating guide! Find out all about garden birds, animals, plants and creepy-crawlies. Turn the pages to discover colourful butterflies, friendly robins, shy hedgehogs and much more. You might even get some unexpected visitors! Features stunning photographs, brilliant facts and handy tips on where and when to spot the wildlife that visits your garden. The perfect guide for young nature-lovers everywhere! BUY IT ON AMAZON
Review: Loved this book. Beautiful photographs and Sarah Horne's illustrations bring the whole thing to life. I sat outside and found loads of the insects, birds, butterflies and other stuff the book talks about. It really covers and explains everything about what you might expect to find in your garden. We took it to school and our friends liked it too. Especially Tom Marshland who pointed out the Lily (my name) Beetle on page 39 who is hiding under his own poo!!!!!! I hate Tom Marshland. 5 stars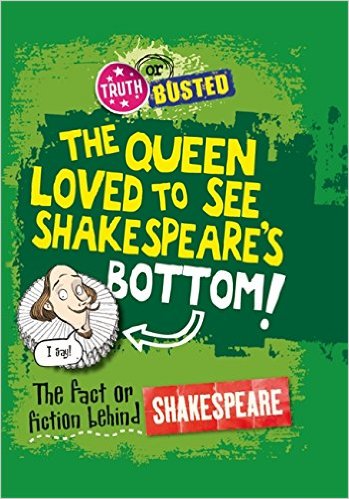 Truth or Busted: The Queen Loved to See Shakespeare's Bottom
By Kay Barnham | Publisher: Wayland
Truth or Busted's Shakespeare title explores popular myths and legends about the world's greatest playwright in a tongue-in-cheek, humorous way that kids will find unputdownable! Alongside features such as 'The Bard's Best Bits' in which we learn that Shakespearean quotes and phrases are still part of our everyday language, Truth or Busted statements such as 'The Queen Loved Shakespeare's Bottom' or 'Shakespeare Burned Down the Globe Theatre' are explored. We look at where the idea came from, whether it has any basis in truth, or whether they can be consigned to folklore. Finally, each statement is given a TRUTH or BUSTED evaluation! BUY IT ON AMAZON
Review: In order to understand this book you need to know what a 'myth' is and it isn't when you don't hit the ball in cricket. There are lots of myths about Shakespeare and this book aims to let the reader know whether they are true or not. It would be good for someone who is studying the Bard (Ha! Mum told me that) but I found it a bit confusing. I may quote from it in my soliloquy regarding the myth surrounding the mess in my bedroom. 2 ½ stars.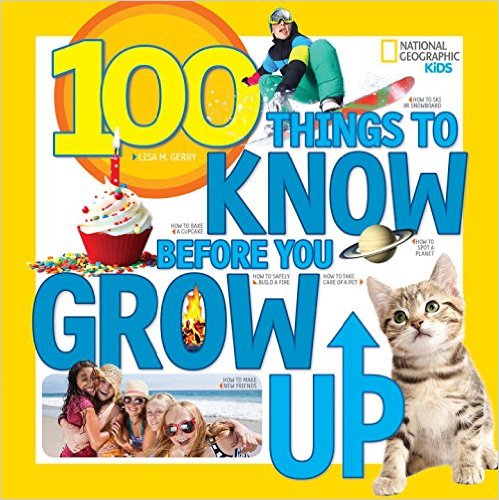 100 Things to Know Before You Grow Up
By Lisa M. Gerry | Publisher: National Geographic Kids
It's fun to be a kid, but are you ready for what comes next? Challenge yourself with these 100 things and you will be! Jam-packed with tips, tricks, and skills that every kid should master before turning 18, this is the ultimate guide to becoming a fun-loving, well-rounded, totally competent and confident young person. Complete with expert advice from real life explorers, adventurers, and masters of their craft, it's perfect for jump-starting an amazing life! BUY IT ON AMAZON
Review: I thought this was going to be rubbish because I didn't like the cover but it turned out to be great!! I have learned how to use a hammer, wrench and screwdriver… how to say No…how you can help to save the planet, how to write a petition, and how to respond when someone hurts your feelings (turns out it's not to shout 'get stuffed wobble bottom' at them, like I usually do). A clever little book full of really useful information, tips and ideas that I really enjoyed. 3 ½ stars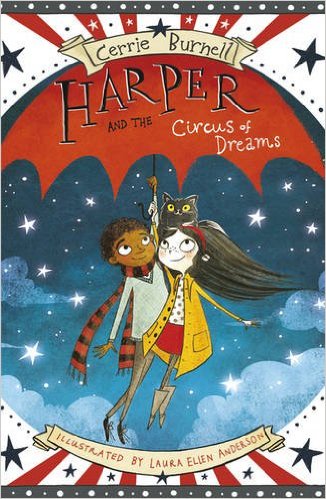 Harper and the Circus of Dreams
By Cerrie Burnell | Publisher: Scholastic
A beautifully written, lyrical tale featuring a cast of funny and loveable characters, created by CBeebies' presenter Cerrie Burnell and stunningly illustrated by Laura Ellen Anderson. Late one evening as the stars begin to twinkle, Harper and her friends are flying on the scarlet umbrella when they see a girl running on air, skipping along a tightrope. She leads them to the Circus of Dreams, suspended in the air by hot air balloons. As the children meet the mermaid acrobat, the spectacular circus baker, the mysterious fortune teller and the acrobatics troop, they begin to realise something about Harper's past...BUY IT ON AMAZON
Review: I love Cerrie on CBeebies. I love her hair!! The story is clever and she has a way of making you feel like you are in it. There are lots of characters which make it fast-paced and I didn't want to put it down. The illustrations are fantastic and really help you imagine the characters. I'd like a candyfloss bridge and 'chocolate eclairs sculpted into the shape of glass slippers'. But Mum said No!! 4 Stars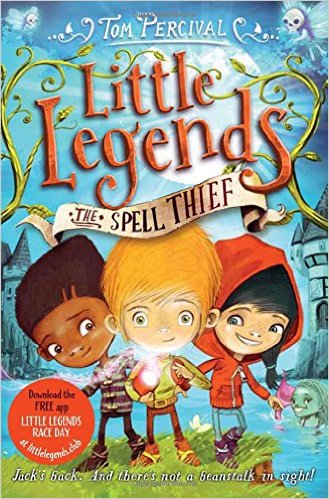 The Spell Thief
By Tom Percival | Publisher: Macmillan Children's Books
Jack (of the beanstalk fame) and his magical talking chicken, Betsy, have always been great at making new friends. But when Jack spots Anansi, the new kid in town, talking to a troll in the Deep Dark Woods, everything changes. Everyone knows that trolls mean trouble, and Jack will do anything to prove to the rest of his friends that Anansi is a troll spy. Even if that means using stolen magic! BUY IT ON AMAZON
Review: Brilliant story. Jack, from the Beanstalk, and his magic chicken, Betsy who can talk (not weird…I have a talking hamster) love making friends with people. In the Deep Dark Woods Jack sees Anansi talking to a troll and that's when it all starts. Everyone knows that trolls mean trouble. My troll, for example has caused extensive problems in my home. Jack wants to show his friends that Anansi is a troll spy. Lots of good bits and stolen magic too. I thought this was easy to follow and I liked that I knew all the characters before I started. 4 ½ stars.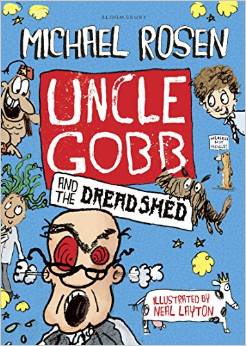 Uncle Gobb and the Dread shed
By Michael Rosen | Publisher: Bloomsbury Childrens
Malcolm is in all ways an ordinary ten-year-old. This is a perfectly ordinary story featuring one perfectly ordinary ten year old, his very bossy uncle, some baked beans, a school which tries to make interesting things BORING, the famed Italian city of Ponky, and a genie who appears when you rub your nose. It also includes lots of very useful facts, many of which are untrue. BUY IT ON AMAZON
Review: This book was hilarious. The illustrations are very funny and I think the author has a great sense of humour and I can't wait for the second one! Even the chapter titles were funny.
Throughout the chapters Uncle Gobb, Malcolm or Crackersnacker shout random remarks e.g 'I've been to china.' A great storyline and a, witty sense of humour. It's not often that you read a book that uses all sorts of different parts of other stories and puts them into one, which is what drew me into it.' My Dad didn't get it but he's only got one o'level in German.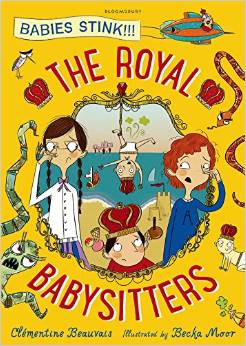 The Royal Babysitters
By Clementine Beauvais | Publisher: Bloomsbury Childrens
Anna and Holly have spotted an advert in the paper for a Holy Moly Holiday - the intergalactic vacation of a lifetime. They simply CAN'T not go. But how will they get enough money? Simple: they'll become royal babysitters for a day. Unfortunately, the girls are in for a shock. Once King Steve and Queen Sheila have left, they discover there isn't just one prince to look after. There are six. And worse, the country's arch enemy, King Alaspooryorick of Daneland, has decided to stage an invasion. Will the girls be able to keep their royal charges safe and still go on their dream holiday? BUY IT ON AMAZON
Review: This book is full of imagination. Holly and Anna need £500 so they can go on the holy moly holiday and they get a job babysitting six royal baby princes who are all called Bertie. And they make a friend who was a nine year old prince called Pepino who helps them babysit. My favourite characters are all of the Berties. I like this book because Clementine Beauvais is a good author with a good imagination. The most imaginative bits are the Robotic giant squid, King Alaspooryorick's mean mum and the nasty humming birds. And Becka Moor is good at illustrating too! My favourite pictures are the six babies sitting in a row on six leads and the full page picture of the giant squid. I think this book is for any age.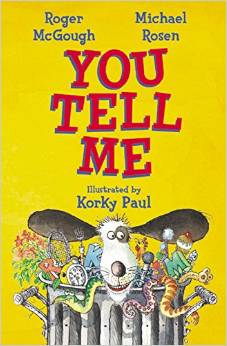 You Tell Me
By Roger McGough and Michael Rosen | Publisher: Frances Lincoln Children's Books
Football, first love, teachers and tongue-twisters…. This is a fantastic poetry collection by two of the funniest, most famous poets writing today. BUY IT ON AMAZON
Review: I loved these poems. Not all of them rhyme or even make a lot of sense but that is good because that's how I write poems. My best ones are 'Footie Poem', 'where Broccoli Comes From' and 'The Lesson'. I think I may be a poet when I grow up.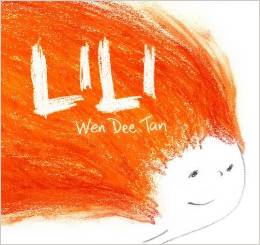 Lili
By Wen Dee Tan | Publisher: Fat Fox
Lili is an ordinary little girl. Well except for one thing, she has fiery red hair. Lili finds it hard to make friends with her fiery red hair, but one day, Lili finds the village children lost in the deep dark woods and her bravery (and hair) leads them all home safely. Lili is a beautiful story of overcoming rejection and being accepted for who you are something that will resonate with children and adults everywhere.
BUY IT ON AMAZON
Review: Bit disappointed that my hair doesn't do the same thing as Lili in the book. Love the fact that someone called a book after me!! Very cute indeed.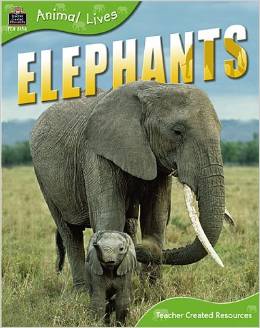 Animal Lives: Elephants
By Sally Morgan | Publisher: Teacher Created Materials
This 32 page book covers the animal's natural habitat, characteristics, communication and much more. BUY IT ON AMAZON
Review: Elephants are my favourite animals after geckos so I enjoyed this book. Some of the photographs are beautiful and the facts are amazing. The QEB series is great if you are an animal fan and Mum said something about it having a good cerikuulem if that's any help.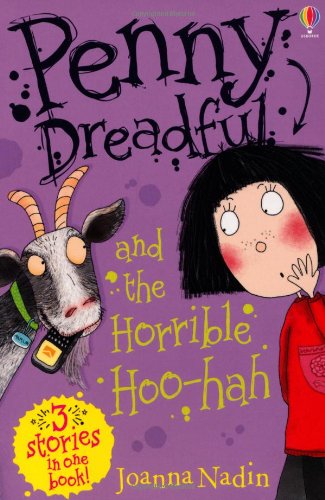 Penny Dreadful and the Horrible Hoo-hah
By Joanna Nadin | Publisher: Usborne Publishing Ltd
Written by established, bestselling author Joanna Nadin, with fantastically funny illustrations from Jess Mikhail throughout. The seventh book in a widely acclaimed series. The first book, Penny Dreadful is a Magnet for Disaster, was shortlisted for the Roald Dahl Funny Prize. BUY IT ON AMAZON
Review: I loved the pictures of the characters in this book. They gave me good ideas who they were. I enjoyed the first story best. I thought the babysitter was the funniest especially when he dressed as a hooligan. I liked that Penny was talking all the way through it. It made it feel like her story. I also liked the bit about 'rock, paper, scissors' as we play this a lot but not the way Penny played it. She thought that nothing was her fault when everything was her fault. My brother does this so I am used to it. I did enjoy the other two stories but the first one was definitely the best.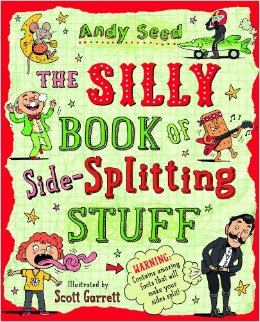 The Silly Book of Side-Splitting Stuff
By Andy Seed | Publisher: Bloomsbury Childrens
This laugh-out-loud book is bursting with lists, facts, jokes and funny true stories all about silly people, silly animals, silly inventions, silly names and much more. Discover The Great Stink, the man who ate a bike, a girl really called Lorna Mower and a sofa that can do 101mph. BUY IT ON AMAZON
Review: This is a funny book for in the car. When we drove into town I read my mum the list of annoying people. There are 54 and mum explained them all to me and then said 'there should be 55 really because your dad is incredibly annoying! I liked the silly place names and the poems the best. 4 stars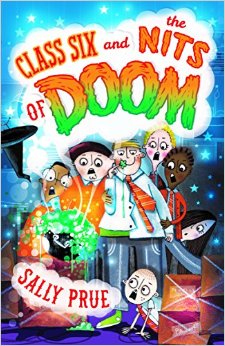 Class Six and the Nits of Doom
By Sally Prue | Publisher: A & C Black
Class 6's teacher is a witch. That's bad. The dancing skeletons and pterodactyls they can see in her eyes are worse. And nobody likes the snake in her desk. But worst of all are the witch-nits. Rodney catches them first. It's not long before the whole class is scratching. Then strange things start happening to them. The green glowing toenails. The antennae that pick up digital radio. And whatever it is that Rodney's turning into. Is there any cure for the nits of doom? BUY IT ON AMAZON
Review: The class teacher is a witch and the story is really weird and funny. Nits go to all schools so they are nothing to worry about but glowing toenails is something completely different and you definitely need to see a doctor if you have them. Poor Rodney. 4 stars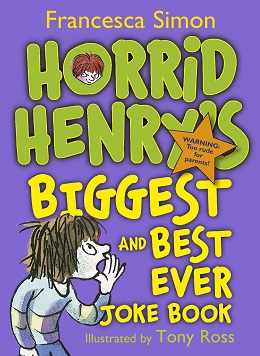 Horrid Henry's Biggest and Best Ever Joke Book
By Francesca Simon | Publisher: Orion Childrens
The first three Horrid Henry joke books - HORRID HENRY'S JOKE BOOK, HORRID HENRY'S MIGHTY JOKE BOOK and HORRID HENRY'S JOLLY JOKE BOOK - collected together in one outrageously funny bumper volume. Horrid Henry fans will laugh their heads off! BUY IT ON AMAZON
Review: We love Horrid Henry in our house except Mum and Dad and Toffee our hamster who can't read, but everyone else. His jokes are like everything else he does.
Rude silly and smelly. A very funny book. 4 stars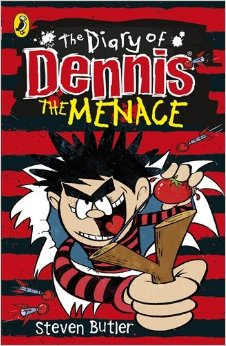 The Diary of Dennis the Menace
By Steven Butler | Publisher: Puffin
The Diary of Dennis the Menace gives readers the inside story on every cheeky trick and prank played by the star of The Beano. Written by Roald Dahl Funny Prize shortlisted author of The Wrong Pong series, Steven Butler, this hilarious book will delight Beano fans. Meet Dennis, Gnasher and friends (and enemies!) and explore Beanotown with Dennis as your guide. This is a brilliant celebration of classic British comedy in the year that The Beano celebrates its 75 birthday. BUY IT ON AMAZON
Review: I thought this was going to be a boys book and was surprised at how much I enjoyed it. Dennis has to keep a diary over the holiday and it's quite funny. It is quite boyish with lots of bums and burps but made me laugh too. 3 stars (although a boy who burps a lot and says 'bum' in every conversation, may give it more).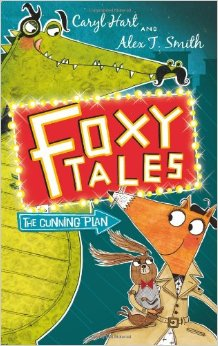 Foxy Tales the Cunning Plan
By Caryl Hart | Publisher: Hodder Children's Books
Foxy DuBois is on a mission to get rich quick. Only one thing stands in her way - Alphonso the Alligator! Can Foxy's hair-brained schemes make enough money to keep Alphonso fed? Or will Foxy DuBois find herself on the menu? BUY IT ON AMAZON
Review: The plot is Cunning and the characters are quite funny. I liked the names they had. I liked the dogs who are called Tiddles, Pickles, Pansy, Fluffy and Muffin. The last one is called Norman which is a boring name ( sorry all Normans). Made me giggle but not my favourite book. 3 stars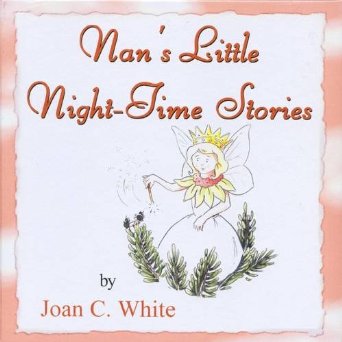 Nan's Little Night-Time Stories
By Joan C. White | Publisher: Arthur H.Stockwell Ltd
A kidnapped princess, an adventurous field mouse, a flea-ridden mongrel, two little spiders and a pair of carpet nails - these are some of the whimsical characters you will meet in Nan's Little Night-Time Stories. For many years Joan C White would tell her granddaughters one of her 'little stories' before they drifted off to sleep at bedtime, and now five of the best have been selected for other children to enjoy. BUY IT ON AMAZON
Review: These were unusual stories and I'm not sure why they were bedtime ones because one of them was quite scary. I didn't really enjoy them as they were a bit odd and I can't imagine my Nana telling them to me as she would tell much better stories. Biff and his Friends the Fleas was probably the best one as the fleas went onto the posh dogs and annoyed them. I thought this was a good bit and it made me laugh. I wouldn't tell my friends to read this book as I have read much better books especially for bedtime.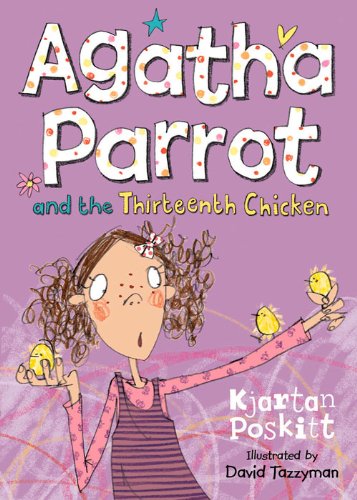 Agatha Parrot and the Thirteenth Chicken
By Kjartan Poskitt | Publisher: Jelly Pie
Agatha Parrot is the most exciting and hilarious comedy series since Mr Gum! But don't take our word for it . . . take hers! Hiya! One night me and my friends had to look after some baby chickens but one of them disappeared. BUY IT ON AMAZON
Review: I loved this book from start to finish. The characters were so funny and the story made me and my brother really laugh. The funniest bit was when Martha put her foot down the toilet, and the bit about the cactus was brilliant too. I would tell everyone to read this book especially if you like funny stories and I would give it 5 stars.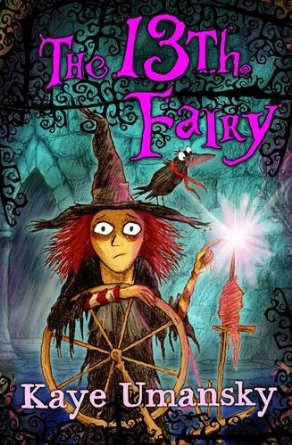 The 13th Fairy
By Kaye Umansky | Publisher: Barrington Stoke Ltd
Grimbleshanks just wanted to be invited to the Royal Christening. All the other fairies had been invited. But not her - just because she didn't like pink or frills or dancing on her tip-toes. Well, she would show them ...with a curse! Sleeping Beauty as you've never read it before. BUY IT ON AMAZON
Review: I enjoyed this story but it was a bit hard to follow. I like Sleeping Beauty so I don't know why they needed to change it and make it harder to understand.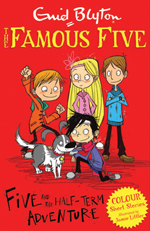 Famous Five and a Half Term Adventure
By Enid Blyton | Publisher: Hodder Children's Books
George's dog Timmy sniffs out an adventure when he spots some suspicious-looking passengers on a train. He is very interested in one of them, but what has he spotted? Can the Famous Five solve this mystery?BUY IT ON AMAZON
Review: I liked this adventure although it was all over very quickly. I think their Aunt summed it up when she said 'what a collection of children you are – you can't even go for a walk without something happening to you' I go for loads of walks and never have an adventure. I am waiting for one though. My favourite character is Timmy as he only ever barks but everyone seems to understand him. A good story with funny pictures and a good ending. I would recommend it to my friends because you can read it fast and it's fast paced. 4 stars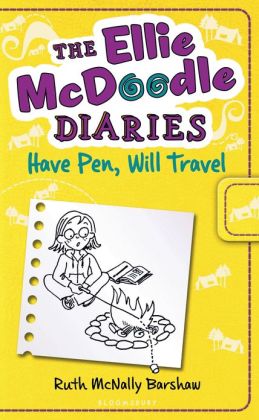 The Ellie McDoodle Diaries – Have Pen, Will Travel
By Ruth McNally Barshaw | Publisher: Bloomsbury Childrens
When Ellie McDoogle's parents go out of town, she's forced to go on a camping trip with her aunt, uncle, cousins and baby brother, Ben-Ben. Ellie can handle mosquitos and poison ivy, but sharing a cabin with her crazy relatives? No way! From her aunt's many rules to her cousin Eric's constant teasing, Ellie needs her sketchbook to survive this family vacation! BUY IT ON AMAZON
Review: This book made me want to start my own drawing diary. From the very first page it's funny and clever. You see the pictures Ellie draws and pictures of Ellie when things happen to her. You also get her ramblings which are brilliant. If I had to spend time with these people I wouldn't be as calm as Ellie especially when Tiffany wees through the bunk bed onto her! You cannot have this book read to you. You have to read it yourself so you can see the pictures for it to make sense. I loved the stuff at the end about how to draw and all the tips. 4 stars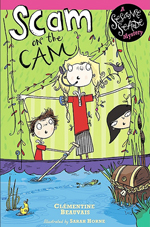 Scam on the Cam
By Clementine Beauvais | Publisher: Hodder Children's Books
Sesame Seade is suspicious. There's something fishy going on by the river: a case for a number one supersleuth! Sesame's parents insist that there are no pirates in Cambridge, but she's determined to prove them wrong ... BUY IT ON AMAZON
Review: Some parts I liked and some I didn't. I liked that I now have a new way to trick mum into buying me things. Just follow the information on page 59. But I didn't like Mr Halitosis. He made me feel sick and was a very boring teacher. It was a bit hard to follow sometimes and a lot to do with Cambridge where I have never been. I wouldn't recommend this book to my friends as I have read much better books. 2 stars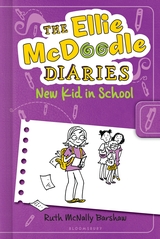 The Ellie McDoodle Diaries – New Kid in School
By Ruth McNally Barshaw | Publisher: Bloomsbury Childrens
Moving to a new house? Bad. Being the new kid? Worse. Ellie's family is moving to a new town, and Ellie is sure she won't fit in at school. The other kids play "new kid bingo" behind her back, and even the teachers can't seem to remember her name. But when her new classmates start complaining about long lunch lines (and bad food), Ellie jumps at the chance to lead a protest. And tackling the school cafeteria just might be the perfect way to make new friends! BUY IT ON AMAZON
Review: Very funny first page. These diaries are brilliant. They are good for in the car as there is loads to see in them as well as the story. Ellie starts a new school and doesn't get on very well. I think this book could help anyone starting in a new school as she wins in the end and makes lots of friends. Tried to make an origami piano but just ended up with a scrunched bit of paper. My brother got about halfway and then realised he was folding up his homework!!! Good story and great pictures. 4 ½ stars