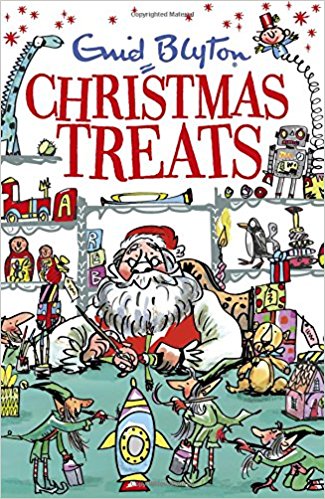 Christmas Treats: Contains 29 classic Blyton tales
By Enid Blyton | Publisher: Hodder Children's Books
Curl up with this collection of festive short stories by Enid Blyton. From the proud rocking horse who learns the gift of giving to a snowman befriended by elves, these joyful tales celebrate the true spirit of Christmas. With lots of humour and fantastic characters, these stories will appeal to newly confident readers for reading alone as well as to younger children being read to. BUY IT ON AMAZON
Review: This book is really good for bed time stories on Christmas Eve, I really loved this book as it is filled with short stories. My favourite story is about some animals who want to get stockings and this is a nice story, which I read to my family on Christmas Eve. I recommend this book to people who love short stories and fans of Enid Blyton. I give this book 5 stars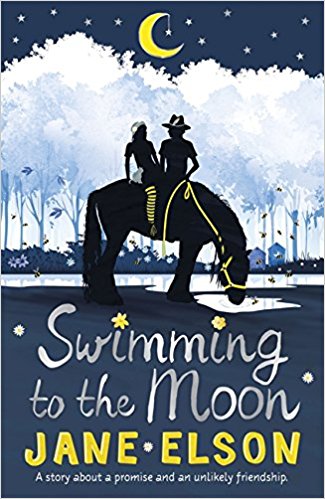 Swimming to the Moon
By Jane Elson | Publisher: Hodder Children's Books
Bee stumbles through life in her stripy socks with her head in the clouds, doing her very best to keep out of the way of her bickering parents and avoid the bendy tap dancing freak Crystal Kelly - who makes her life a misery. But when Crystal double-dares her to volunteer for a sponsored swim in honour of her great grandmother Beatrix's memory, Bee can't back down. Even though she is terrified of water and cannot swim! BUY IT ON AMAZON
Review: I really enjoyed this book because the main character Bee was terrified of the water, so a boy called Moon Star encouraged her to swim in a charity swim. Her enemy, Crystal double dared her to get sponsorship to raise money for a for charity. Bee's real name is Beatrix Daffodil Tulip Chrysanthemum Rose Edwards, she hated this name so she changed it to Bee, this was her Granny's name and she loved her so much. Bee and Moon Star made a deal that Bee would teach him to read because he didn't go to school because he moved around loads and moon star promised Bee that he would teach her to swim. I give this book 5 stars.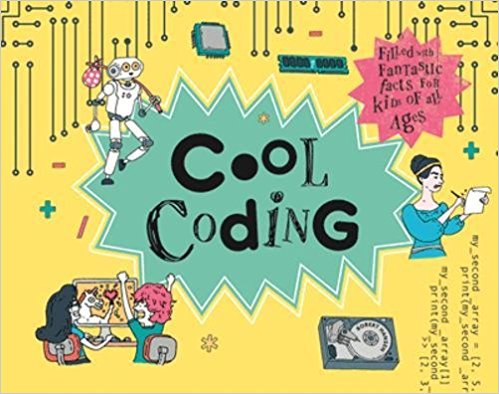 Cool Coding
By Robert Hansen | Publisher: Pavilion Children's Books
A fun, accessible guide to computers and coding for older children and curious adults. This fun and quirky book provides a fascinating introduction to the world of computer coding, organized into handy bite-sized chunks. BUY IT ON AMAZON
Review: This book is really handy because I really love coding because I do loads of coding at home. I recommend this books to people who love computers and coding and would like to learn more about how to do harder coding. I like the part where it says how computers count. I think this book is for 8-13 and is filled with facts for all ages. I give this book 4 stars
Christmas Treats
By Enid Blyton | Publisher: Hodder Children's Books
Curl up with this collection of festive short stories by Enid Blyton. From the proud rocking horse who learns the gift of giving to a snowman befriended by elves, these joyful tales celebrate the true spirit of Christmas. With lots of humour and fantastic characters, these stories will appeal to newly confident readers for reading alone as well as to younger children being read to.
This book is really good for bed time stories on Christmas Eve, I really loved this book as it is filled with short stories. My favourite story is about some animals who want to get stockings and this is a nice story, which I read to my family on Christmas Eve. I recommend this book to people who love short stories and fans of Enid Blyton. I give this book 5 stars.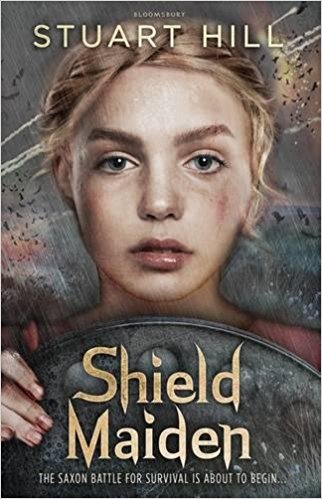 Shield Maiden
By Stuart Hill | Publisheder: Bloomsbury Educational
When King Alfred's great hall is destroyed by the Vikings, the king must flee with his family. But his daughter Aethelflaed knows that hiding in the marshes, far away from the battlefield, is the last thing she wants to do; can she fulfill her destiny and become a warrior princess, a shield maiden? Flashbacks offer dramatic stories set at key moments in history, perfect for introducing children to historical topics. BUY IT ON AMAZON
Review: I really struggled with this book, I felt I constantly needed to look up words or ask an adult what they meant, meaning the story wasn't flowing well due to constant stop starts of me looking things up. I hope in years to come I can reread it and understand it more.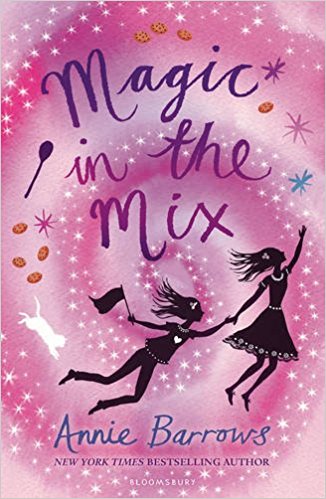 Magic in the Mix
By Annie Barrows | Publisher: Bloomsbury Childrens
Miri and Molly were not always sisters, but thanks to the time-travelling magic of their family's home, they are now twins, and about to start settling down to a normal life when the house unleashes another challenge that sends them back into the past. And this time around they've got twice as much to lose. Brimming with lovable characters and spine-tingling magic, this book will bring new readers to Annie Barrows' highly acclaimed, wonderfully popular world of twin-inspired magic. BUY IT ON AMAZON
Review: I loved the cover of this book although I didn't enjoy the storyline I think this was due to finding out afterwards that this is the sequel so some parts didn't make much sense I now know why! I thought from the cover that the book was baking related, but its not!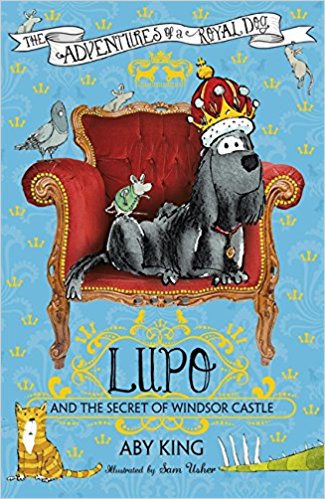 Lupo and the Secret of Windsor Castle: Book 1
By Aby King | Publisher: Hodder Children's Books
Lupo is out for a walk with Nanny and Prince George in Kensington Gardens when he is lured into a wicked trap. Cyrus the swan has been attacked, and some precious royal treasure stolen. Lupo is innocent but can he prove his innocence? Meanwhile, his rival, Vulcan the corgi is plotting to take over the realm. Animals take sides in a classic battle of good versus evil, involving journeys through underground tunnels, down the hallowed corridors of historic palaces, and in the staterooms of the most important people of the land. At the heart of this delightful story is the loyal bond between Lupo and the baby prince. BUY IT ON AMAZON
Review: Lupo was a good book. I would recommend it to people who like history because it tells you the story about Queen Victoria and what it was like back then. I think it would be suitable for boys and girls aged 9+. I would have liked more pictures in this book. My favourite part was when Lupo met a dragon. 4 stars.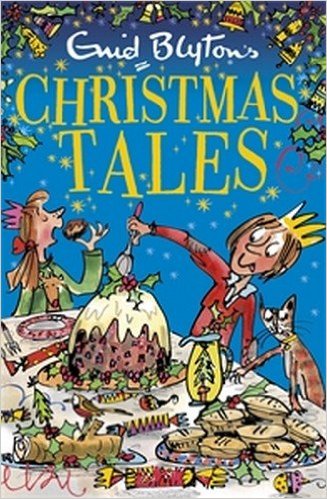 Enid Blyton's Christmas Tales (Bumper Short Story Collections)
By Enid Blyton | Publisher: Hodder Children's Books
Enid Blyton's Christmas Stories was so popular that readers asked for another collection - and here it is! Nobody captures the spirit of Christmas like Enid Blyton, and in these stories - which are perfect for reading alone or sharing - she describes the excitement of anticipating gifts, the pleasures of making special food, of singing carols, and coming together to share good times with friends and families. As ever with Blyton, there is mischief and mayhem but good always prevails in the end. BUY IT ON AMAZON
Review: This book was EPIC! The cover is eye catching, Christmassy and shiny, making you instantly wanting to pick it up to read. This was the first Enid Blyton book that I have read and I now have many more to read.
This book is full of fabulous mini stories all about Christmas. My favourites were : A coat for the snowman, the first walk in December and the second walk in December and Bobo's magic stocking. Actually I loved them all! I enjoyed reading them to my family at Christmas time. I plan on reading this amazing book every year at Christmas. We enjoyed it so much that we have given a copy to my cousins. Thank you primary times for making me love this epic author! 1000 stars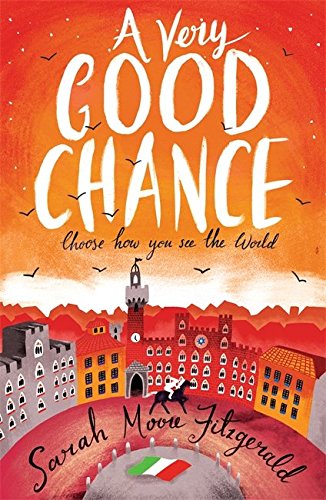 A Very Good Chance
By Sarah Moore Fitzgerald | Publisher: Orion Children's Books
Some people step through a wardrobe to find adventure, but Minty follows the twisty-turny trees into Nettlebog. There she finds Ned Buckley - the moody, mysterious boy who never talks at school. As Minty's world disintegrates around her she searches for refuge in Nettlebog, and she discovers more about Ned: he's able to ride wild horses. And he knows things about the human race that will save her.Or there's a very good chance at least. This book follows Sarah Moore Fitzgerald's debut novel BACK TO BLACKBRICK and Waterstones Prize shortlist THE APPLE TART OF HOPE. BUY IT ON AMAZON
Review: I felt that this book started off fairly slow which made me struggle with it but I persevered and carried on and soon got in to it. Minty and Ned form a good friendship, and I especially enjoyed reading about the horses. I really loved the horses at the start of the chapters. 4 stars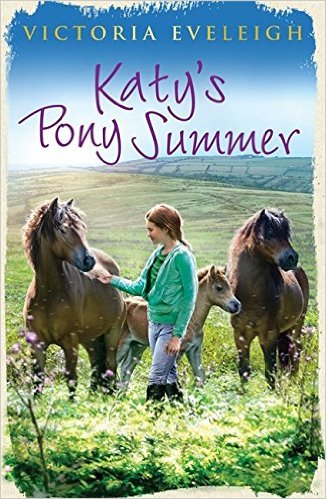 Katy's Pony Summer
By Victoria Eveleigh | Publisher: Orion Children's Books
It's summertime at Barton Farm in Victoria Eveleigh's latest Exmoor adventure. Katy is looking forward to a carefree summer on the farm, riding and having fun with her best friend, Alice. But all that changes when an injured foal leads to a mystery that no one can solve. It's up to Katy and her friends to discover exactly what's going on. BUY IT ON AMAZON
Review: This is number 5 in the Katys Exmoor Ponies book series. I like the cover because it shows Katy with her horses. In this adventure, Katy comes across an injured foal, who she helps get better. They call the foal Simba, like from Disneys Lion King. I look forward to reading more of Katys adventures. 5 stars.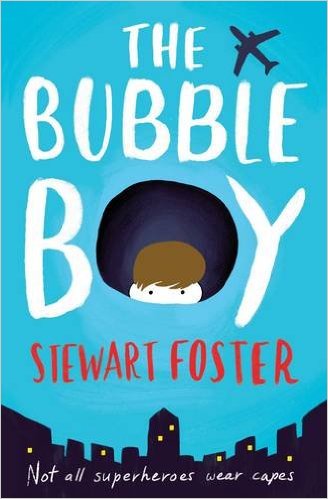 The Bubble Boy
By Stewart Foster | Publisher: Simon & Schuster Children's UK

Eleven-year-old Joe can't remember a life outside of his hospital room, with its beeping machines and view of London's rooftops. His condition means he's not allowed outside, not even for a moment, and his few visitors risk bringing life-threatening germs inside his 'bubble'. But then someone new enters his world and changes it for ever. BUY IT ON AMAZON
Review: The cover is eye catching and I liked the caption on the front saying ' Not all superheroes wear capes'. After reading the first chapter, it didn't grip me but i persevered and carried on reading. As the book got going I started enjoying it more and more but felt because it wasn't a subject I knew about that it took a while for me to understand. This book is about an 11 year old boy called Joe who has a condition meaning he has no immune system which means he can not leave the hospital but he gets his wish to go outside after meeting a very special person. 5 stars.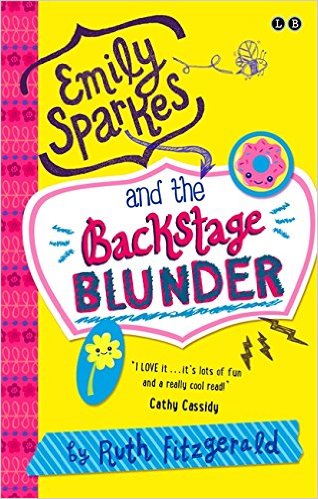 Emily Sparkes and the Backstage Blunder: Book 4
By Ruth Fitzgerald | Publisher Little, Brown Books for Young Readers
It's school play season and Emily Sparkes has landed herself a starring role . . . not. In fact, it's the most humiliating role in the history of all time - even worse than the time she was cast as a duck. (Quack, quack.) Emily's friends Chloe (pretty much a Hollywood-star-to-be, daahling) and Zuzanna are very excited. Partly because, for the first time ever, they'll be performing in a gala at the local theatre like proper actors! But things take a turn for the worse when they meet the other school who'll be performing. The girls from Mag Hall have a history with Chloe that seems a bit mysterious. It's going to take some real Emily Sparkes creativityness to get to the bottom of things! BUY IT ON AMAZON
Review: I was so excited when this arrived, I jumped around the room and I now have all four of these books. I eagerly await to see if Ruth Fitzgerald writes more about the adventures of Emily Sparkes. I like that this book is bright and eye catching and throughout there is little doodles and images. In this adventure, the school make up a play, that people didn't think was very good, until they get a cute animal to go on stage too. 5 stars.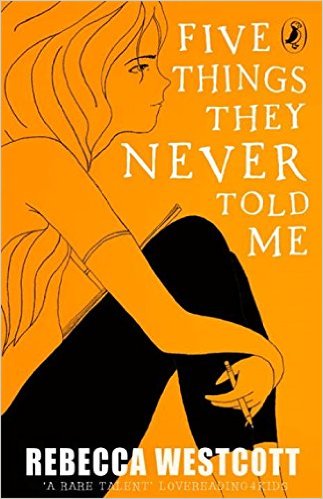 Five Things They Never Told Me
By Rebecca Westcott | Publisher: Puffin
It's a glorious summer and Erin and Martha are both stuck at Oak Hill Home for the Elderly. Misunderstood and feeling ignored, they are equally frustrated by the situation. But as Erin learns to listen to Martha, she discovers some very important lessons about making her own voice heard. BUY IT ON AMAZON
Review: I like the orange colour of this book - my favourite colour, as it is eye catching. Erin is one of the main characters and she gets up to mischief, she even stole her dads bank card so as her punishment she has to spend her summer at a care home where her dad works. This is where she meets an old lady called Martha and her and Erin become friends and communicate with each other. I recommend this book to people who like stories about friendship. 4 stars.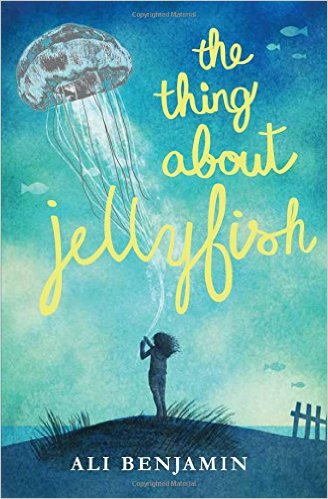 The Thing about Jellyfish
By Ali Benjamin | Publisher: Macmillan Children's Books
Suzy is 12 when her best friend, Franny, drowns one summer at the beach. It takes two days for the news to reach Suzy, and it's not something that she can accept: Franny has always been a strong swimmer, from the day they met in swim class when they were just 5. How can someone all of a sudden, just no longer be there? BUY IT ON AMAZON
Review: This book has an interesting title. The cover on the copy I received is epic - I loved how it caught the light making the jellyfish seem alive. The jellyfish on the cover reminded me of the outing I went on with my family to the Aquarium and we spent some time watching the amazing jellyfish! I was gripped by this book as soon as I started reading the first page! The story is about feelings, friendship and how Susie felt after the loss of her best friend aswell as jellyfish! The teacher in this book was kind to her. I hope there is more books like this.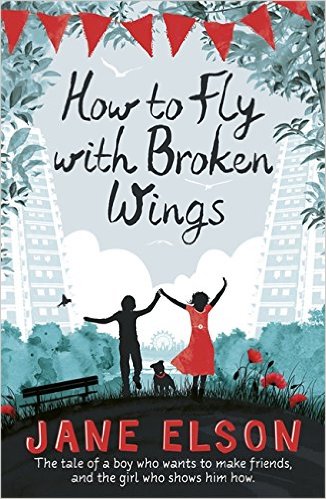 How to Fly with Broken Wings
By Jane Elson | Publisher: Hodder Children's Books
Twelve-year-old Willem has Aspergers Syndrome and two main aims in life: to fly and to make at least two friends of his own age. But all the other boys from the Beckham Estate do is make him jump off things. First his desk - and now the wall. As his toes teeter on the edge, Sasha Bradley gives him a tiny little wink. Might she become his friend? BUY IT ON AMAZON
Review: I found the cover mysterious because you can't see their faces and it makes you wonder about how they look. I like how parts of the cover is shiny - this is really eye catching. I liked that there are letters throughout the book. There isn't any illustrations though. The boy, Willem doesn't have any friends, because he was new to the school and he didn't know many people. A girl called Sasha, befriended him and they made a club together with a dog in, this made me laugh. This is a story about bullies who eventually make friends. I think my friends would like this book.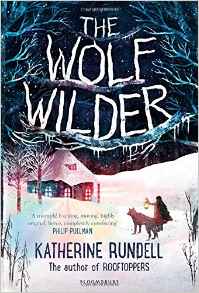 The Wolf Wilder
By Katherine Rundell | Publisher: Bloomsbury Childrens
Feodora and her mother live in the snowbound woods of Russia, in a house full of food and fireplaces. Ten minutes away, in a ruined chapel, lives a pack of wolves. Feodora's mother is a wolf wilder, and Feo is a wolf wilder in training. A wolf wilder is the opposite of an animal tamer: it is a person who teaches tamed animals to fend for themselves, and to fight and to run, and to be wary of humans.
When the murderous hostility of the Russian Army threatens her very existence, Feo is left with no option but to go on the run. What follows is a story of revolution and adventure, about standing up for the things you love and fighting back. And, of course, wolves. BUY IT ON AMAZON
Review: I loved the cover of this book and it made me want to pick it up to read. The writing was a nice size and easy to read and was full of good description words, making you understand the story. There is nice, short chapters which I liked. I loved the great pictures. My favourite wolf was Black because he protected Feo, the little girl. I would recommend this to everyone aged 9 and over.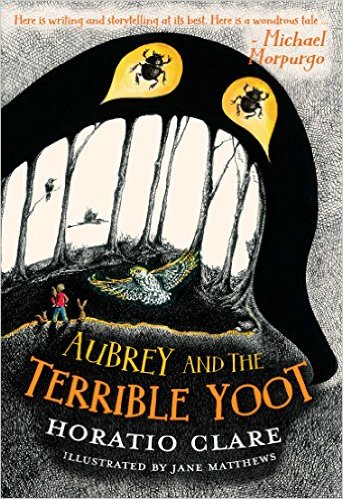 Aubrey and the Terrible Yoot
By Horatio Clare | Publisher: Firefly Press Ltd
Aubrey is a rambunctious boy who tries to run before he can walk and has crashed two cars before he's old enough to drive one. But when his father, Jim, falls under an horrendous spell Aubrey is determined to break it. Everyone says his task is impossible, but with the help of the animals of Rushing Wood, Aubrey will never give up and never surrender - even if he must fight the unkillable Spirit of Despair itself: the TERRIBLE YOOT! BUY IT ON AMAZON
Review: I liked this book though I felt that it was more about Jim than Aubrey. I loved the illustrations throughout, they were beautiful and really gave me a feel for the story. The cover is eye catching and would make you want to pick the book up to read it.
The Porridge of Knowledge
By Archie Kimpton | Publisher: Hot Key Books
Magic gloop, evil baddies and a ridiculous amount of food abound in this super-silly story. Milk lives in the grubby seaside town of Slopp-on-Sea - a rubbish name for a rubbish town. But Milk's life is pretty rubbish too, so it fits. She and her Granddad get on OK, but nowadays he's always wandering off somewhere, or asking her befuddled questions. BUY IT ON AMAZON
Review: This book was ok but wasn't very funny, the blub said 'a ridiculously silly story' but I didn't find it very funny at all. It had some good illustrations in and perfect sized writing. My favourite character was Milk, I liked her name as it's an unusual one but I still like it. Not a book for me though.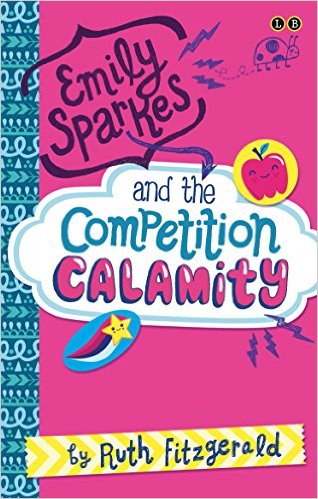 Emily sparkles and the Competition Calamity
By Ruth Fitzgerald | Publisher: Puffin
Emily Sparkes might have found herself a new best friend and avoided humiliation at the hands of the grossest boy in the universe, but now her creativityness has landed her in a whole new world of trouble . . .
Emily has absolutely accidentally entered her mother into a competition to find the nation's Mum in a Million. So when Mrs Sparkes is shortlisted, Emily is more shocked than anyone! Desperate not to be publicly humiliated on TV, she has to come up with a plan for a mum makeover. Because her eco-warrior, allotment-loving, generally horrendously embarrassing parent can't make her star appearance in a granddad-cap and wellies - can she? BUY IT ON AMAZON
Review: I absolutely love Emily Sparkles because she is just like me. This book is realistic and very funny. Emily is my dream best friend. Emily made a plan to make over her mum – this was funny though it didn't go to plan, she just didn't want her mum to go on tv wearing a granddad cap and her poodle wellies. I can't wait to read the next book: Emily sparkles and the disco disaster when it comes out next year.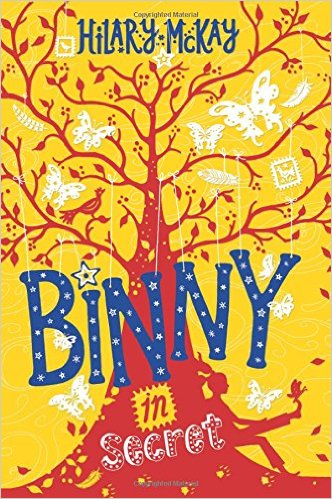 Binny in Secret
By Hilary Mckay | Publisher: Hodder Children's Books
With her awful secondhand uniform and stuck-up classmates, Binny's new school is horrible. And life gets even worse when a storm damages the roof of her house, forcing Binny and her family to move to the countryside whilst it's being fixed. Binny, her sensible older sister Clem, and her rambunctious brother James (and his chickens) begin adjusting to life in the country. Then one of James's beloved chickens vanishes and Binny finds strange footprints in the mud. What kind of creature is lurking in the undergrowth? BUY IT ON AMAZON
Review: I really enjoyed the start of the book but part way though I started not to enjoy it anymore because the people in the book started going hunting and there was a man with a gun. The cover is really interesting because it has butterflies and feathers and a tree with animal foot prints. There was no pictures and the writing is small so this book took me a long time to finish. After reading this book I realised that this was the sequel to the Binny for Short book. I give it 2 stars.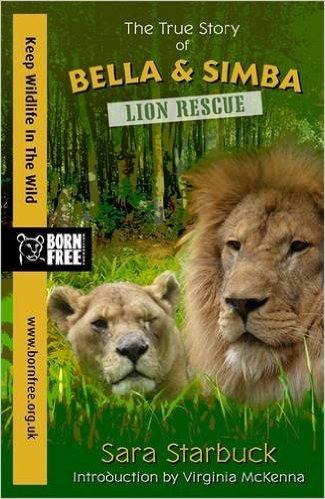 The true story of Bella & Simba - Lion Rescue
By Sara Starbuck | Publisher: Orion Children's Books
Simba was born in a French zoo and was later bought by an animal trainer. For many years he lived in cramped captivity.When Bella was young, she was used as a photographer's prop and then later lived in a run-down zoo in Romania. Because she had been taken from her mother at such a young age and fed a poor diet, she sadly developed a weak spine and back legs. Luckily Born Free could come to the rescue. Now Simba and Bella both live in Malawi where they have become great companions. Join Born Free behind the scenes of one of their real life rescues. BUY IT ON AMAZON
Review: I read this book the day after it arrived and read it in one go because the cover is catchy and it was easy to read with nice sized writing. I loved the facts that were throughout the book. I like that its full of photos and pictures. I liked both of the lions because they have good characters. This book has a happy ending which I enjoyed and I found the timeline interesting. There is other books in this series that I will look out for about other animals. I give it 5 stars.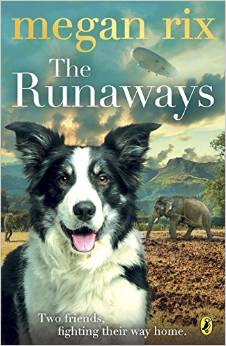 The Runaways
By Megan Rix | Published by: Puffin
When the First World War seizes Europe, Cullen's Circus is forced to close. The men are sent to fight and the animals are torn apart from their keepers, and each other. But while Shanti must help on a farm, it's little Tara who faces a far worse fate. . .
Separated too soon from her mother, Tara's life is in danger. Only old, brave Harvey can bring them back together. And so side-by-side, dog and elephant set out on an extraordinary journey across the English countryside - but can the unlikely friends find Shanti in time? BUY IT ON AMAZON
Review: I enjoyed this book because of how the words painted a picture in my mind of what was happening at different parts of the book. I loved the part when Tara [the elephant ] opens a gate and then shuts the gate behind her. I also love the dog Harvey. I found this book epic and I could not put it down! I recommend this book to people who love animals. I can't wait to read more books by Megan Rix. I give it 5 stars though it should get 100!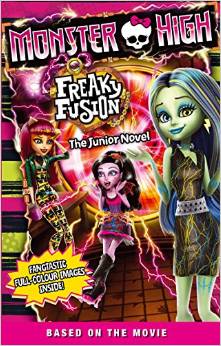 Monster High: Freaky Fusion: The Junior Novel
By Perdita Finn | Publisher: Little, Brown Books for Young Readers
During the Bite-Centennial, the ghouls discover an old scientist's workshop and travel back two hundred years to the beginning of Monster High. But when they try to get home, they go through a vortex that fuses some of the ghouls together! With the help of the Fusions, the new monsters in school, they learn how to control their combined flaws and together face their greatest challenge . . . saving Frankie! BUY IT ON AMAZON
Review: I did not like this book. I am not a fan of monster high and I found this book a bit slow and I could not relate to the characters in the story. If you love monster high then you will love it but this book just wasn't of interest to me. I give it 0 stars
Circus of Thieves
By William Sutcliffe | Publisher: Simon & Schuster Ltd
Get ready for rampages, chunky tandem rides, marching dogs, escaped convicts, synchronised otters and so much more! Shank's Impossible Circus is back...There are 7,362 things that Armitage Shank hates and at the top of the list (which includes puppies, rainbows, lifts and flashing trainers...) is being made a fool of. So, when he thinks his old nemesis, Queenie Bombazine, ringmaster of Bombazine's Ecstatic Aquatic Splashtastic Circus, is trying to do just that, he sets out on a revenge rampage! BUY IT ON AMAZON
Review: The chapters in this book were long and I got annoyed with the constant 'extra information' in tiny writing through out this book. I think boys would prefer this book, it just wasn't a book for me. I liked the illustrations though. I give it 3 stars.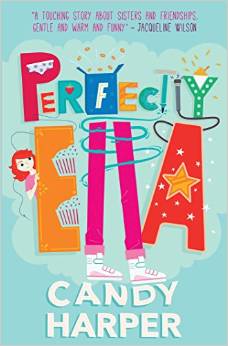 The Strawberry Sisters: Perfectly Ella
By Candy Harper | Publisher: Simon & Schuster Childrens Books
'A touching story about sisters and friendships. Gentle and warm and funny.' Jacqueline Wilson Meet the Strawberry Sisters! Oldest sister Amelia wants to be Left Alone to have deep thoughts, so she's grown a fringe to hide under. Second up is Chloe who's sport-crazy and in training to be a wrestling star (this week anyway). Littlest sister Lucy is the cute one who's training an army of earwigs. Then there's Ella. The middle one who's still trying to work out what makes her 'perfectly Ella' and how to stand out in a house full of big personalities. BUY IT OM AMAZON
Review: I loved this book as it was interesting and funny and I laughed lots from the very first page. There are no pictures but how the author has wrote the story you get the pictures in your head. My favourite characters are Ella and her sister Amelia. I also like that it has the information about this sisters at the end of the book. I recommend this book to girls over 8. Five stars but really 1000
Word Searches for Clever Kids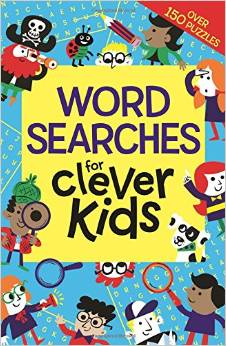 By Gareth Moore | Publisher: Buster Books
Packed full of word search puzzles to complete, this little book will keep clever kids entertained for hours! Conveniently compact for travelling, this little book is perfect for bright young word search enthusiasts. BUY IT ON AMAZON
Review: I really liked this book because it starts of easy then getting harder at the end. There are different subjects of word searches and different shapes. This book has nice illustrations throughout. This book has over 150 different puzzles to solve.
5 stars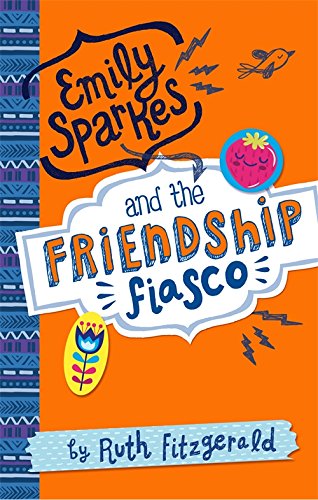 Emily Sparkes and the Friendship Fiasco
By Ruth Fitzgerald | Publisher: Little, Brown Books for Young Readers
Emily Sparkes thinks having your best friend move to Wales at the same time as your parents decide to have a new baby is probably more trauma than anyone should have to cope with. But things go from bad to worse when she's paired with revolting Gross-Out Gavin for the school trip! Emily is determined to escape him, and when glamorous new girl Chloe Clarke turns up it seems her prayers might be answered.
Unfortunately, everyone has gone Chloe Clarke mad and Emily finds her 'sworn enemy' Zuzanna has had the same idea. Getting and keeping Chloe as a friend proves a lot more troublesome than Emily anticipated and leads her into a whole new set of disasters . . . BUY IT ON AMAZON
Review: I thought this book was REALLY good because I liked the friendship the girls had. I thought the school trip that they went on was really cool. The boys in the book were always cheeky. I loved this book so much that once I finished it, I started reading it again! I cant wait till the next book in this series comes out in July 2015!! 5 stars though it should get 100 stars