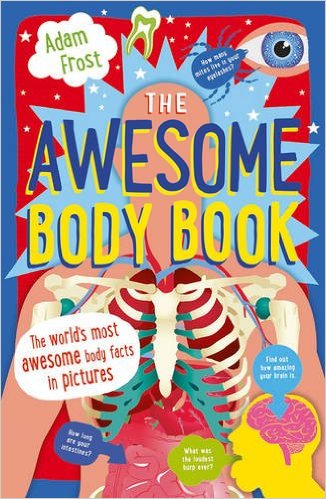 The Awesome Body Book
By Adam Frost | Publisher: Bloomsbury Childrens
How long are your intestines? How many mites live in your eyelashes? Do all adults wear clean underwear? And much more!
Find out disgusting, hilarious, weird and wacky facts about your body with this awesome book! Are you ready for another EPIC book from the winner of the Blue Peter Book Award 2016 (Best Book with Facts)? BUY IT ON AMAZON
Review: So…goes like this…out topic in school is 'the body' and then this book arrives so I take it to school thinking my teacher would be impressed with me.
I based this theory on the title of it, rather than having read any of it. My teacher looked inside and shrieked with horror, as she had opened it on the 'how to make a poo' page!!!
Good information and fab pics about the body, but don't give it anybody over 40 to read as they are all a bit silly about poo/wee/bums etc.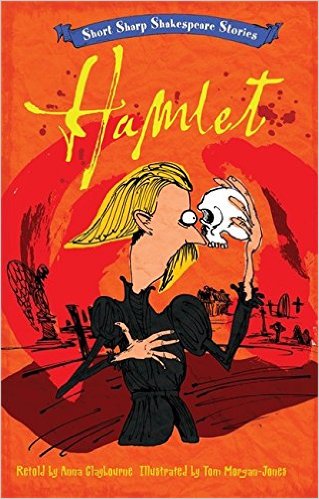 Hamlet (Short, Sharp Shakespeare Stories)
By Anna Claybourne | Publisher: Wayland
A murdered king, his haunted son, a wicked stepfather and a doomed romance... Read on, through madness and mystery, to discover the calamitous tale at the heart of Hamlet, one of Shakespeare's most famous tragedies.
Contains information about the background to Hamlet, its major themes, language, and Shakespeare's life during the time he was writing the play. Madness, and how it was treated in 16th century England, is also examined, to give some context in which the play was written.
The Short, Sharp Shakespeare series consists of six books that retell Shakespeare's most famous plays in modern English. Clever illustrations accompany each title, making them a great introduction to the Bard for children aged 9 and above. BUY IT ON AMAZON
Review: This story is brilliant! Who is this Shakespeare bloke? Is he a mate of David Walliams or the husband of Liz Pichon? Has he got anything else out at the moment? Felt sorry for Hamlet. Clearly bonkers! Fairplay he has got a lot going on in his life. Easy to understand language, a fast paced story and Mum says to keep it for my GSECE's…whatever they are!!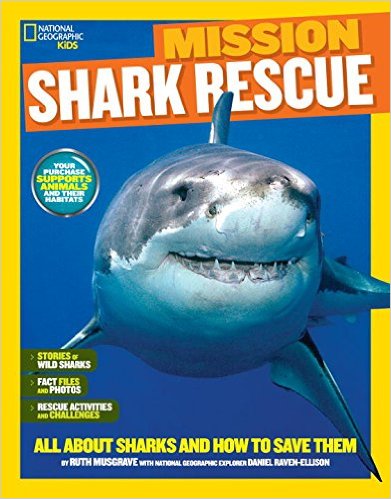 Mission: Shark Rescue
By Ruth A. Musgrave | Publisher: National Geographic Kids
Inspiring young animal lovers to get up close to all different types of sharks and the real-life challenges they face is what Mission: Shark Rescue is all about. This compelling narrative combines fun and amazing adventure stories, gorgeous photography, hands-on activities, fascinating information, and more, connecting the reader in-depth with the animal's real world. Meet real-life sharks and learn about their habitats, challenges, and successes, plus learn how YOU can take action and save these amazing endangered creatures. BUY IT ON AMAZON
Review: Incredible photographs of all kinds of sharks and loads of good info too. Stuff about their conservation and protection is really interesting. 4 stars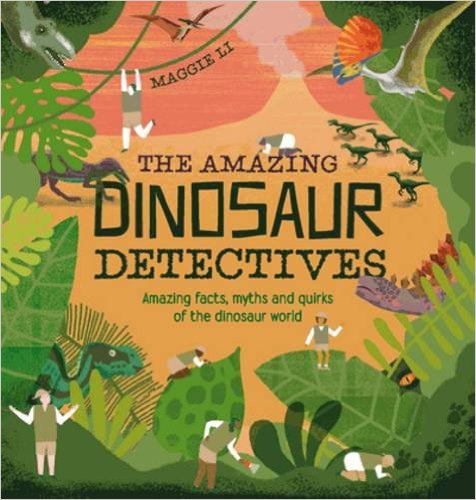 The Amazing Dinosaur Detectives
By Maggi Li | Published by: Pavilion Children's Books
The Amazing Dinosaur Detectives is a fun and informative insight into the inner and outer world of everything dinosaur. We all know that the dinosaurs walked the Earth millions of years ago, but we're going to break the myths behind their extinction. Some dinosaurs had amazing teeth, claws, scales and hidden talents. BUY IT ON AMAZON
Review: I have certainly read better dinosaur books. Maybe good for younger readers. My 3 year-old cousin liked it. Unfortunately, he needed a brush to go exploring for dinosaur footprints in the garden and he took my mother's blusher brush which cost her £24. I know this because she shouted it really loudly at us! 2 ½ stars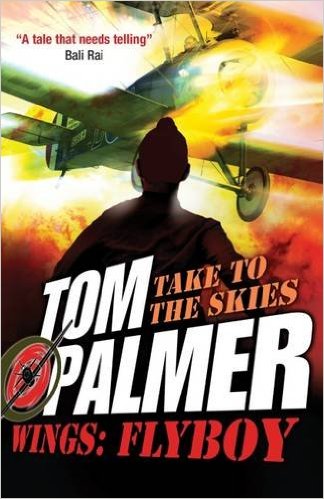 Wings: Flyboy
By Tom Palmer | Published by: Barrington Stoke Ltd
Jatinder seems to be living his dream - he's training for his team's youth squad, and his host parents Steve and Esther are really great. But something's holding Jatinder back from being a really great footballer - himself. Steve reckons it's OK to take risks - look at his own hero, Hardit Singh Malik. That night Jatinder wakes up in a seriously surprising situation - flying Hardit's WWI fighter plane into enemy airspace. Particularly suitable for struggling, reluctant and dyslexic readers aged 8+ BUY IT ON AMAZON
Review: There is a sticker on the back of this book that says 'Super-readable', and that sums it up. The story is great, war, mystery, fighter-pilots, ghosts and football all in one big adventure. 4 stars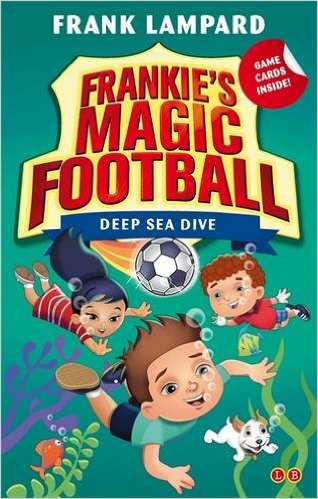 Frankie's Magic Football 15 Deep Sea Dive
By Frank Lampard | Publisher: Wayland
Frankie and his team love playing football. There's always time for a game. And now that they have their magical football they're playing against teams they never imagined!
During a visit to a holiday park, Frankie and his friends discover a theme park with a difference - each ride is a portal into an amazing fantasy world. This time, the magic football takes them all on an underwater adventure that asks Max to swim his best doggy paddle, and makes playing football a game against the tide! BUY IT ON AMAZON
Review: Good adventure. Easy to follow and I love anything with the word 'Football' in the title. 4 stars.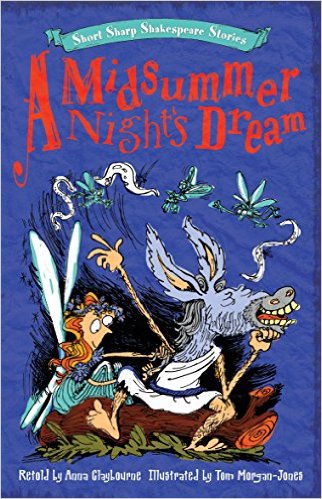 Midsummer Night's Dream (Short, Sharp Shakespeare Stories)
By Anne Gladbourne | Publisher: Wayland
A fairy king, his queen and their servants cause chaos and confusion between four young people in Ancient Greece... Read on, through magic and mischief, to discover the hilarious story at the heart of A Midsummer Night's Dream, one of Shakespeare's best-loved plays.
Contains information about the background to A Midsummer Night's Dream, its major themes, language, and Shakespeare's life during the time he was writing the play. Fairies and fairy folklore in 16th century England are also examined, to give the context in which the play was written. BUY IT ON AMAZON
Review: Forsooth, methinks the language of Shakespeare was dost forth nought like this. Thou dost not comprehend nor thee thust thou.
In plain and simple English, A Midsummer Night's Dream is a great story. It's very funny. Unsurprisingly, Bottom is my fave character. My Grandad (Ex-english teacher…lovely but prone to drivelling on) says it is very important to know the story before you study the language. Enjoyed it. 4 stars (HA! Get me marking Shakespeare 4 out of 5)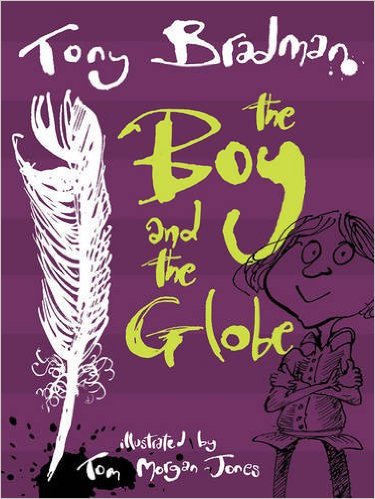 The Boy and the Globe
By Tony Bradman | Publisher: Bloomsbury Childrens
Young Toby lives on his wits. An orphan and a street-child, he navigates Elizabethan London like an old hand. Meanwhile the city has lost its charm for Will Shakespeare, the playwright from Stratford. Beset by troubles personal and professional and suffering from writer's block, he has grown to hate the drama business. But when Toby stumbles into the Globe, the boy's energy and enthusiasm remind Will of the magic that first inspired his love of the theatre, and the two set to work on a new entertainment for Twelfth Night. BUY IT ON AMAZON
Review: This book has been published to mark the 400th anniversary of William Shakespeare's death. I thought I was going to hate it but it is brilliant right the way through. There are quizzes, art tasks and other stuff to learn about Shakespeare. Toby is an orphan who lives during the time of Shakespeare and he gets up to all sorts and I love that he gives Shakespeare the idea for The Tempest.
At the end there are some 'Funne Activities for Boyes and Girls'. These were very 'funne' indeed especially my sister's re-enactment of a monkey in the audience of the Globe.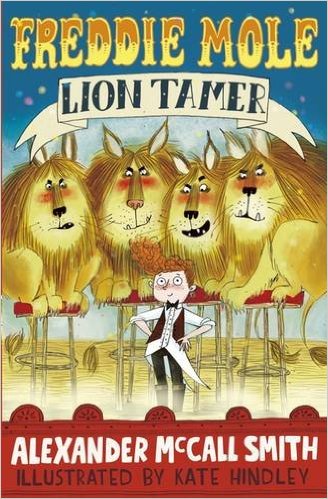 Freddie Mole Lion Tamer
By Alexander McCall Smith | Publisher: Bloomsbury Childrens
Roll up, roll up for a sensational circus story from the bestselling author of The No.1 Ladies' Detective Agency series, Alexander McCall Smith, with fun, energetic illustrations by Kate Hindley throughout. Join Freddie Mole as he tumbles through the air, flies around the big tent and tames four growling lions! BUY IT ON AMAZON
Review: Freddie Mole is a kind boy who wants to make money for his family. He has a twin brother and sister who eat a lot and fair-play I am a twin and I eat a lot too.
He gets to work in the circus and does all sorts of jobs but he is very worried about the Lions and having to tame them. Pictures are perfect and draw you into the action.
Funny story which I laughed at a lot. It gives me hope that after I fail my end of year tests in May, I can still run away with the circus. 4 ½ stars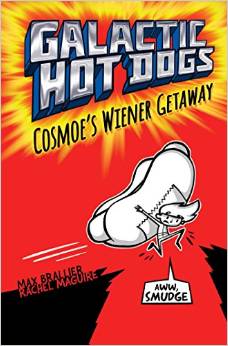 Galactic Hot Dogs
By Max Brallier and Rachael Maguire | Published by: Simon & Schuster
Captain Underpants meets Star Wars in this hilariously funny new series. Cosmoe was just your average, adventure-seeking 13-year-old orphan back on Earth, until the strange night he was yanked into space. Now he's got all the adventure he craved and more aboard the Neon Wiener - part spaceship, part food truck - selling their trademarked dish of 'Galactic Hot Dogs'. BUY IT ON AMAZON
Review: I like the comic strip style that the book is in. It makes it faster. The story is a bit like a funny star wars with less stormtroopers and more hot dogs. Floating zombie space pirates! Kind of covers all my favourite things.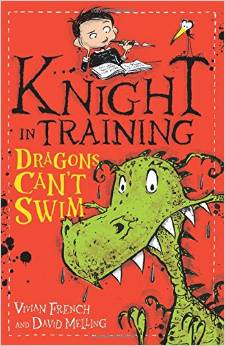 Knight in Training – Dragons Can't Swim
By Vivian French and David Melling | Publisher: HarperCollinsChildren'sBooks
Sam J. Butterbiggins' only ambition is to be a Very Noble Knight, but he has a problem - he's been packed off to the castle next door to stay with his aunt and uncle while his parents are away. Not only does he have to put up with his annoying cousin Prune, there's also the weird creatures his aunt looks after in her Luxury Accommodation for Dragons, Griffins and other Regal Beasts to contend with! BUY IT ON AMAZON
Review: Good story with entertaining characters but not my favourite book ever. Sam and Prune argue a bit like me and my sister. Actually I may start calling her Prune. It suits her.

Shoutykid
By Simon Male | Publisher: HarperCollinsChildren'sBooks
Hi there, My name is Harry Riddles and I am ten years old which my mum says is too young to have problems but she is WRONG. My dad just lost his job, which means we might have to move house and I need money to make my mega-amazing zombie movie but there is NO WAY I will sell my X-box! I've written to the Queen, Harry Styles, and the people off Dragons' Den who might be able help but I don't know if they'll write back. If you have any bright ideas for making money I'd love to hear them and I can tell you how to get past level 6 on World of Zombies if you like.
Good luck and have fun, Harry Riddles BUY IT ON AMAZON
Review: I thought by the title it was going to be about a 'shouty kid' but it wasn't. In fact he uses texts and emails which are really quiet so I was a bit confused. The story is good but I found it long and could have been shorter as sometimes it was a bit hard to follow. My Nana looked at the title and said 'they've written a book about you have they?' How rude!!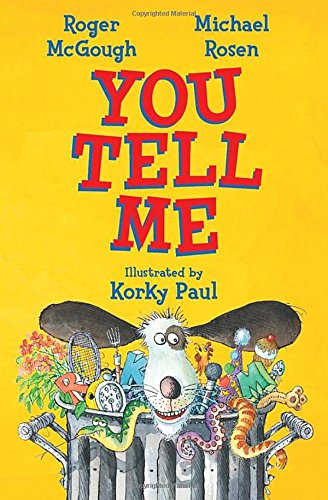 You Tell Me
By Roger McGough and Michael Rosen | Published by: Frances Lincoln Children's
Football, first love, teachers and tongue-twisters…. This is a fantastic poetry collection by two of the funniest, most famous poets writing today. BUY IT ON AMAZON
Review: I'm not a huge poetry fan. I don't understand why you have to use long words that you don't understand just to rhyme with 'but' or 'butt'. Why don't we just say what we mean? Most of the stuff in this book doesn't even seem like poems to me. My Mum said have a go…
I am James
I have no flames
Nothing else rhymes with my name.
Oh 'names' does.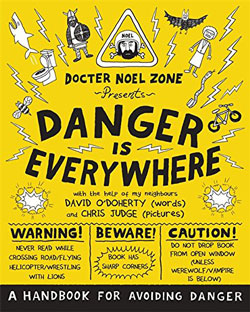 Danger Is Everywhere: A Handbook for Avoiding Danger
By David O'Doherty | Publisher: Puffin
Diary of a Wimpy Kid meets The Dangerous Book for Boys, DANGER IS EVERYWHERE is a brilliantly funny handbook for avoiding danger of all kinds that will have everyone from reluctant readers to bookworms laughing out loud (very safely) from start to finish. BUY IT ON AMAZON
Review: I didn't know danger is everywhere o this book was v handy. Also v funny. I have photocopied the 'calm' page to show my mother when she has to ring the bank. The pictures are hilarious and I'm glad I didn't win a free cabbage.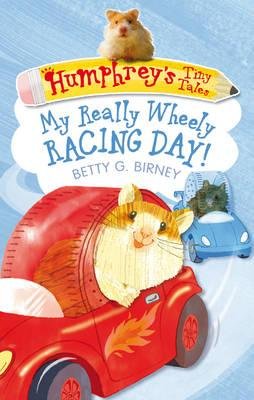 My Really Wheely Racing Day
By Betty G Birney | Publisher: Faber Children's Books
Humphrey gets the surprise of his classroom life when he gets a
whizzy hamster racing car. It's bright red with a stripe down the side
and he LOVES-LOVES-LOVES it! He practises as hard as he can, because there's going to be a pet race. If he tries really hard, will he win? BUY IT ON AMAZON
Review: I enjoyed this book. I was glad there was a list of the characters at the start as this helped me understand who they were. Their names were funny too. The School hamster goes home every weekend with a child from the class and has adventures. We had our school hamster Strawberry home but he didn't drive any cars! I would have liked it if he had. It made me think that maybe we could race all the Hamsters in our school to see who wins but I don't think we would be allowed. At the start of the story I was confused who was talking but I got used to it. My friends would like this story as one hamster in our school got out of his cage and set off the alarms in the middle of the night.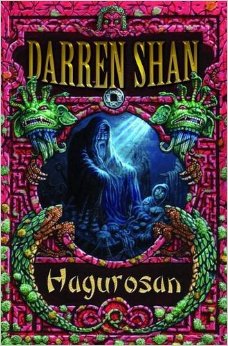 Hagurosan
By Darren Shan | Publisher: Barrington Stoke Ltd
When Hagurosan is told to take an offering to the shrine, he reluctantly begins his trek up the mountain. But when he gets hungry and eats the cake meant for the spirits, things take a turn that no one could have expected. Now Hagurosan must face the consequences of his actions. BUY IT ON AMAZON
Review: The picture on the front of this book made me think it was going to be a horror story but it wasn't as bad as that. It's about a boy who is sent to take cake to the mountain spirits but he eats it and I thought that he was going to get into awful trouble but the outcome surprised me a bit. Quite an interesting story and I would recommend it to my friends. 3 ½ stars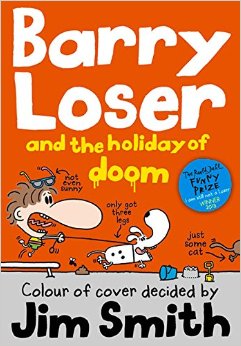 Barry Loser and the Holiday of Doom
By Jim Smith | Publisher: Jelly Pie

Barry can't wait to tell his friends that they've been invited on his family caravan holiday to Plonkton. But the weekend by the sea doesn't turn out to be the keelfest Barry was hoping for. It's all his best mate Bunky's fault for going and falling in love.
OH. MY. UNKEELNESS!
BUY IT ON AMAZON
Review: Lots of mad ideas that are very funny from start to finish. I laughed a lot!! I give it 4 ½ stars.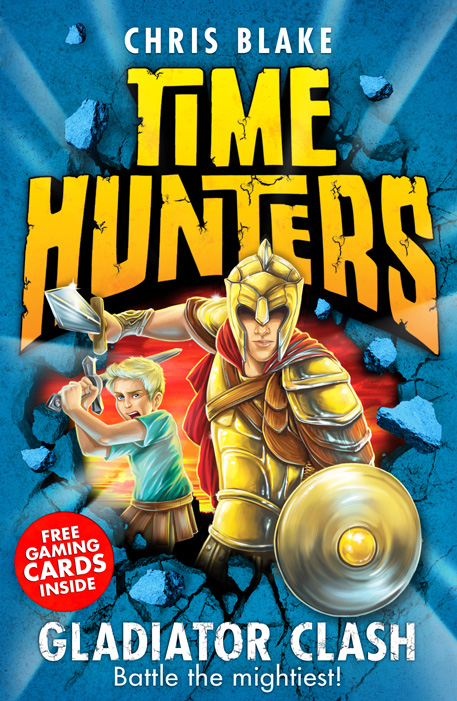 Time Hunters Gladiator Clash
By Chris Blake | Harper Collins Children's Books
Join Tom on an incredible treasure hunt through time and battle history's mightiest warriors. The first book in a new time-travelling series – perfect for fans of Beast Quest.
BUY IT ON AMAZON
Review: I liked all the stuff about the Romans in this book. At the back is a list of interesting things too. We have done some stuff about the Romans in school and Harry had to wear a metal helmet for a long time and it made a dent in his head! There are six of these books and they all have game cards in them. I enjoyed the story but it is not my favourite book. 3 stars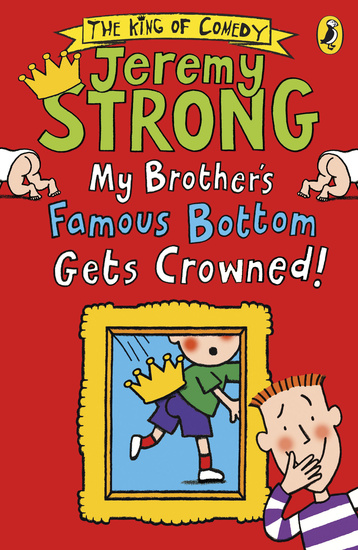 My Brother's Famous Bottom Gets Crowned
By Jeremy Strong | Publisher: Puffin
Nicholas's neighbours are in a royal frenzy! They're celebrating the Queen's coronation (whatever that means) and everyone's gone BONKERS! Dad's dressing up as a banana and why has Cheese got a crown on his bottom?
BUY IT ON AMAZON
Review: This is hilarious!! Very funny story and as good as Jeremy Strong's other books I have read. The twins cheese and tomato are brilliant. I am a twin and my mother calls us dandelion and burdock so I know what it feels like to have a ridiculous name. 5 stars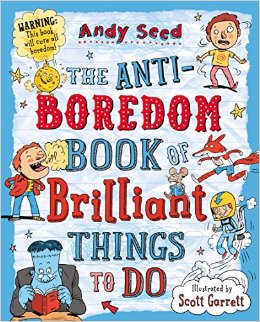 The Anti-Boredom Book of Brilliant Things to do
By Andy Seed | Published by: Bloomsbury Childrens
Warning: this book will cure all boredom! Pick which pet is worse: a vampire bat, a dead worm or Godzilla; decide what you would do if you were Prime Minister; discover some yucky things that people eat around the world... and much more! BUY IT ON AMAZON
Review: What a brilliant book. I have gone back to it again and again. It's really good for long journeys in the car because it makes you ask questions. I annoyed my dad on the way to school by asking 24 questions in one journey which only takes 7 minutes.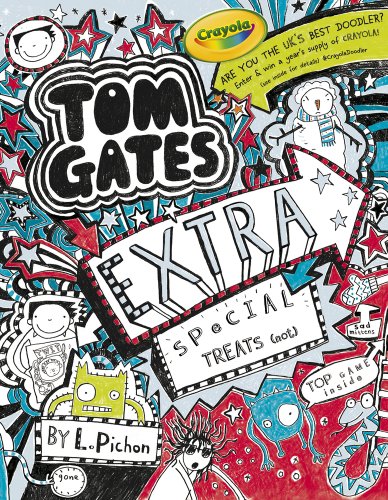 Tom Gates Extra Special Treats (not)
By L Pichon | Publisher: Scholastic Press
It's really cold outside and we're all hoping it's going to snow. Yeah!
Derek and I could make a snow Rooster and have a snowball fight (look out, Delia!). Granny Mavis has started to knit me a new winter jumper, but by the looks of things I'm not sure it's going to fit. . . BUY IT ON AMAZON
Review: This book is great. The pictures and doodles make it really fun to read and it makes you pay attention. He spends his whole time trying to get a Star Pupil badge which Marcus (v annoying character) seems to always get. His sister is a great character and the drawing of her looks like a girl in my class which makes me laugh.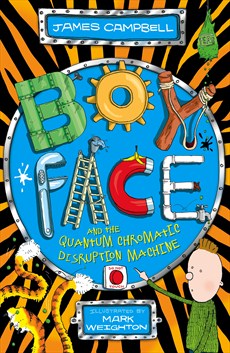 Boyface
By James Campbell | Publisher: Hodder Children's Books
Boyface Antelope has been waiting his whole life to turn ten and be allowed to enter his parents' stripemongering shop so he can take stripes off animals and put them on something different. Like tartan onto badgers, or removing the stripes of zebras to make ponies. On the morning of his tenth birthday he finds his parents ill, and they ask him not just to go in the shop but to look after it on his own! Will he be able to keep the stripemongery running smoothly? BUY IT ON AMAZON
Review: I loved this story. It was very unusual. Even though it was totally made up and would never happen, when I was reading it I thought it might be able to happen. I thought I might try and make a Quantum Chromatic Disruption Machine and make some money but mum said 'No'. I liked the Clootie Whanger character and that she and Boyface got so friendly so quickly. I would recommend this story to anyone who likes something a bit different. 4 stars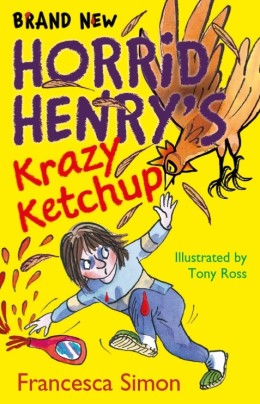 Horrid Henry's Krazy Ketchup
By Francesca Simon | Publisher: Orion Childrens
Discover the one thing Horrid Henry is scared of, watch out for the return of Rabid Rebecca, find out what happens when Henry makes a film about his family and lots more in the more hilarious and horrid storybook yet. BUY IT ON AMAZON
Review: I love Horrid Henry on telly and this book is just as good and they are new stories. All the usual characters are there like Moody Margaret, Perfect Peter and Rude Ralph and Henry is still very, very naughty! I liked Horrid Henry's Chicken best. I didn't know Henry was afraid of chickens. He gets to take the school one home for the holidays. It made me laugh because I am afraid of chickens too. It's their feet. All very funny. 5 stars
Horrid Henry 20th Anniversary Edition
By Francesca Simon | Publisher: Orion Childrens
With a double die-cut cover and brand new extra material including the top twenty questions from Horrid Henry fans and readers about the world's favourite naughty boy - Has Horrid Henry got a girlfriend? What's the worst thing Perfect Peter has ever done? Were Horrid Henry's mum and dad ever naughty? Look out for the answers! BUY IT ON AMAZON
Review: I am a big HH fan. Love it on telly and love the books too. My sis is a bit like Moody Margaret although she thinks she is like Gorgeous Gurinder. The best one in the book is definitely Horrid Henry's Holiday. We went camping last year and when we woke up in the morning my Dad's face had frozen to the side of the tent so I know how Henry feels in the cold. I also enjoyed the 20 facts about Henry at the end of the book. The best answer was to 'What was Miss Battle Axe like when she was little?' I would recommend this to anyone who is naughty.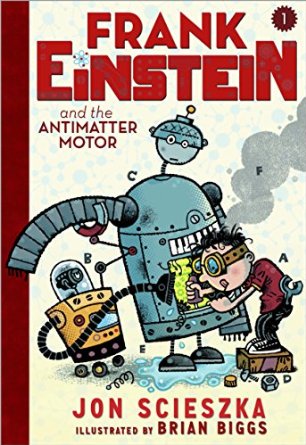 Frank Einstein and the Animator Motor
By Jon Scieszka | Publisher: Amulet Books
Frank Einstein loves to tinker, build and take things apart. He loves to observe, hypothesise, experiment and invent. Frank Einstein is a kid genius who loves figuring out how the world works by creating household contraptions that are part science, part imagination and definitely unusual. BUY IT ON AMAZON
Review: My favourite character in the book was Grandpa Al as I have a Grandpa Al myself. I also liked Mr Chimp and all his signs. I found the story hard to concentrate on and kept losing my place and forgetting what I had read. It didn't really grip me like some books do. I'm not into science that much. When we made a working volcano at my Grandpa Al's house it didn't work! I would recommend this to people who enjoy working things out and inventing things. 2 ½ stars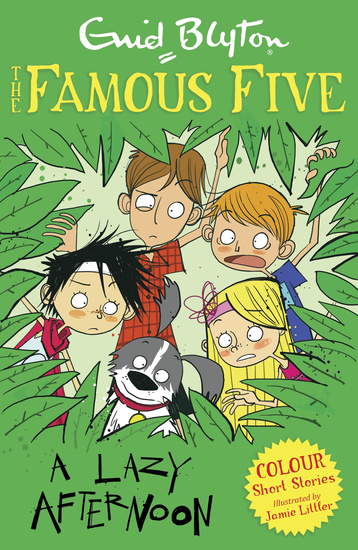 Famous Five Colour Reads: A Lazy Afternoon
By Enid Blyton and Jamie Littler | Publisher: Hodder Children's Books
It's so terribly hot, the Five are having a lazy afternoon . . . but the gang don't get the peace and quiet they imagined! What are the men on the motorbikes up to? Can they be stopped? BUY IT ON AMAZON
Review: This was a good adventure and I liked that Timmy the dog was the brave one. I thought it wasn't going to be much of a story at first but then the men on the motorbikes came and it got much faster and more interesting. My mum said she used to read Famous Five and they were much longer. I liked that it was quite short but I was disappointed that I didn't find out who the nasty men were or what was in their bag!! That would have finished it off better for me. Good mystery though.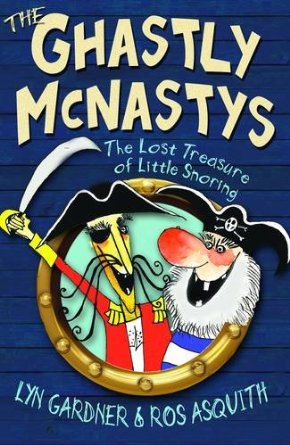 The Ghastly McNastys: The Lost Treasure of Little Snoring
By Lyn Gardner and Ros Asquith | Publisher: Piccadilly Press
Pirates ahoy! An island-of-treasure adventure starring the nastiest pirates ever to sail the seven seas! The McNasty twins are horrible. Even fish put their fingers over their eyes when they see the twins coming in their ship, The Rotten Apple! But when the despicable pirates never-ending quest for treasure takes them to the island of Little Snoring and brings them up against honest youngsters Tat and Hetty, they find they've more thanmet their match. BUY IT ON AMAZON
Review: This was a funny book and I liked the way that sometimes the pictures were part of the story. It meant I was never bored because you had to pay attention. I loved the 'Truly scrumptious perfectly poisonous jam sandwich flavoured fudge' and also working out the mirror writing.
My friends would love this story, especially the last page.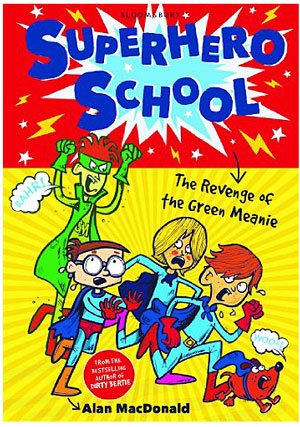 Superhero School: The Revenge of the Green Meanie
By Alan MacDonald | Publisher: Bloomsbury Childrens
Stan Button had always dreamed of becoming a superhero. Then one day a letter arrives inviting him for an interview at the mysterious Mighty High School. To his amazement, Stan is offered a place - starting immediately. His superpower is 'non-conventional', as are those of his two new best friends. BUY IT ON AMAZON
Review: I thought this book was quite good, especially the end (which I won't spoil for you). I kept thinking that if you didn't know you were a superhero, maybe I might be one. That would be awesome. I like that he went from knowing nothing and making loads of mistakes to saving the world from the Green Meanie. Some of the words were funny too like 'gigantinator', 'zwooob' and 'kerblaamm!' I thought it was a bit long and when we were reading it I wanted to get to the end but it took ages.