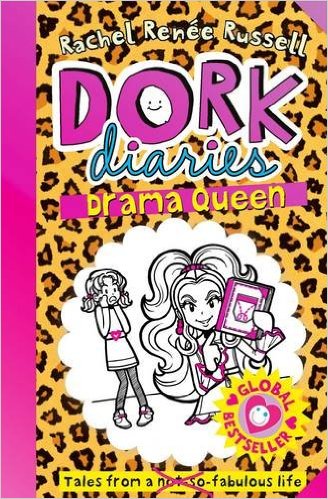 Dork Diaries: Drama Queen
By Rachel Renee Russell | Publisher: Simon & Schuster Children's UK
TOTAL DISASTER!!! Mean girl MacKenzie has stolen Nikki's diary! What if she tells everyone Nikki's totally secret thoughts?! But reading Nikki's diary isn't the only thing MacKenzie's interested in. Get ready for Dork Diaries with a twist as MacKenzie takes over and tells all about her GLAMFABULOUS life! What does the queen bee really think about Nikki and her dorky friends? BUY IT ON AMAZON
Review: I loved this book from the beginning to the end. The illustrations are very good and quite a few of them made me laugh. My favourite character is Mr Zimmerman because he is so crazy at one point but serious at the next. I think the book could have been even better if Nikki's enemy Mackenzie hadn't written in the diary for so long, I wanted Nikki to have her diary back sooner as her life is a lot more exciting. I rate this book 4 stars.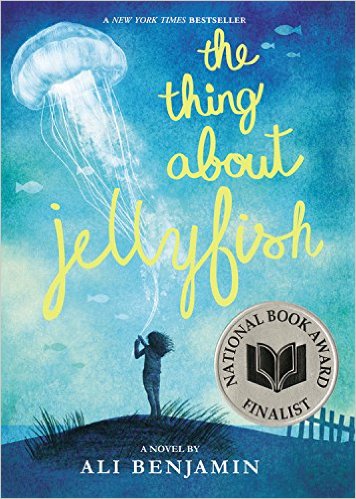 The Thing About Jellyfish
By Ali Benjamin | Publisher: Hodder Children's Books
Suzy is 12 when her best friend, Franny, drowns one summer at the beach. It takes two days for the news to reach Suzy, and it's not something that she can accept: Franny has always been a strong swimmer, from the day they met in swim class when they were just 5. How can someone all of a sudden, just no longer be there? BUY IT ON AMAZON
Review: This is my new favourite book, it's the best book that I have ever read! I love this book because it gives you fascinating facts while telling an emotional story of a girl and her, used to be, best friend. To help move the story along, the author uses powerful language to have an effect on the way you read it. My favourite character is Mrs. Turton, who is Suzy's science teacher, because sometimes she can be funny but other times she can be supportive. I recommend this book 5 stars!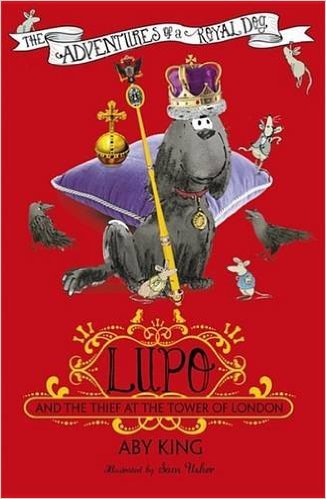 Lupo and the Thief at the Tower of London
By Aby King | Publisher: Hodder Children's Books
The royal family are disturbed by the shocking news that there has been a break-in at the Tower of London - everything has been stolen, including the crown jewels. The adults say it's a human matter, but Lupo has an especially bad feeling about this particular crime. He and Kitty take matters into their own hands. Meanwhile, something is stirring in the Thames - a creature who has been hiding in the sewers for hundreds of years. A creature with revenge on its mind ... BUY IT ON AMAZON
Review: I loved this book because it is full of adventure and mystery. At the Tower of London, there has been a robbery and Lupo believes the thief's are actually animals, so to make sure England's most prized possessions are not in the wrong claws he takes matters into his own paws. With the help of some humans and royal animals, can they find out who is the thief? Lupo is a very determined dog who won't stop until he gets to the bottom of this mystery but along the way there are tricky and also scary obstacles that get him deep in trouble. He is a risk taker since he is always willing to help his friends. My favourite character is Holly, who is a royal dog, because she thinks of others before herself. There were some parts of the book that were funny and I liked these parts the best. I recommend this book 4.8 stars!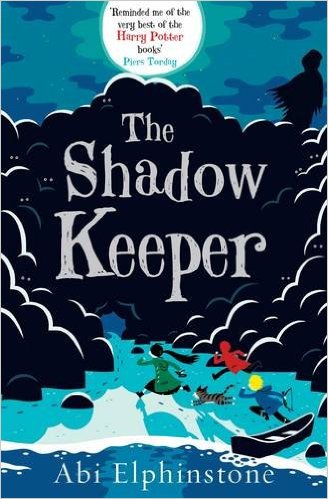 The Shadow Keeper
By Abi Elphinstone | Publisher: Simon & Schuster Children's UK
Moll Pecksniff and her friends are living as outlaws in a secret cave by the sea, desperate to stay hidden from the Shadowmasks. But further along the coast lies the Amulet of Truth, the only thing powerful enough to force the Shadowmasks back and contain their dark magic. So, together with Gryff, the wildcat that's always by her side, and her best friends Alfie and Sid, Moll must sneak past smugglers, outwit mer creatures and crack secret codes to save the Old Magic. BUY IT ON AMAZON
Review: I loved every second of this book and it is a real page-turner. This book is full of adventure and has surprising surprises, you also have to solve some clever clues.
The Shadow Keeper is about a girl called Moll and a boy called Alfie and they have to free Moll's mum's soul but will they succeed against the Shadowmasks dark magic? My favourite character is a light-house keeper called Puddle, who is very kind and loving. The author describes the setting so clearly that I could see a picture in my mind and know exactly what would be going on. I would give this book 5 golden stars!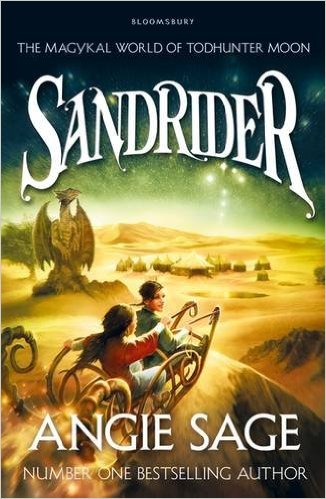 SandRider: A TodHunter Moon Adventure
By Angie Sage | Publisher: Bloomsbury Childrens
Return to the world of TodHunter Moon for her next adventure! The second book in the new blockbuster series from number one bestselling author Angie Sage.
Alice TodHunter Moon - known as Tod - couldn't be happier in her new life as Apprentice at the fabled Wizard Tower. Although she misses her best friends, Ferdie and Oskar, she has never been surrounded by so much Magyk. BUY IT ON AMAZON
Review: I thoroughly enjoyed this book as it has an amazing story line because it is full of adventure and excitement but there were some parts that were scary but at the same time thrilling! The author was very descriptive so you can get a very good picture of what's happening. My favourite character is Jim Knee because he can transform in to anything he likes. He's given the power to protect Alice (also known as Tod) on her quest but sometimes he can get a little bit out of hand! I would recommend this as a 10+ book because there are some hard words to pronounce and read so I had to look up a few words in the dictionary. I give this book 4.7 stars.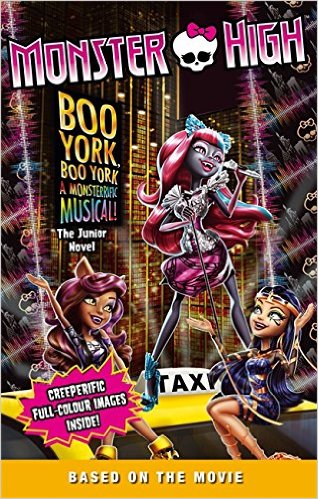 Monster High: Boo York, Boo York: The Junior Novel
By Mattel and Perdita Finn | Publisher: LB Kids
It's fright lights, big city when the Monster High ghouls head to Boo York. Cleo de Nile is invited to attend a fancy gala celebrating the return of a magical comet and, of course, she brings along her beast friends. But their trip isn't all fun and frightseeing because Nefera, Cleo's sister, uses the comet's powers for her own spooktacularly sneaky plans.
Can the monsters unwrap the mystery of the comet in time to stop Nefera? Find out in Monster High: Boo York, Boo York! BUY IT ON AMAZON
Review: This book is about two powerful families, the Ptolemy's and the De Nile's, who try to arrange a marriage so their families can be joined to create the most powerful dynasty in the kingdom. When the Egyptian Princess Nefera is told that she has to get married, she tries to trick her sister into marrying a Ptolemy instead. But will the marriage go ahead or not? Meanwhile, a great comet is on a collision course with Boo York!
I liked the book a lot but it was a bit confusing to follow at first because the setting changes straight away without describing how the character gets there. In the middle of the book there are eight coloured pages with pictures relating to what has happened so far in the book but beware, there are spoilers here as to what happens in the rest of the story. I would have preferred these pages to have been at the back of the book so they do not spoil the story. My favourite character is Pharaoh because when he feels something he says it and if he doesn't want something because it is not right he stands up for what he believes in. I give this book 4.5 stars.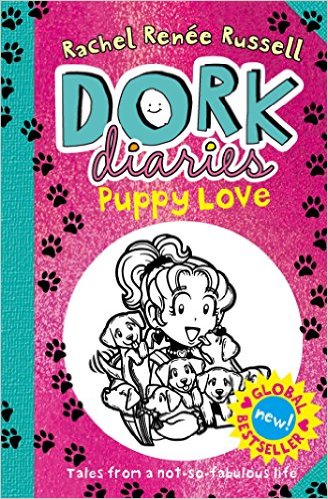 Puppy Love (Dork Diaries)
By Rachel Renee Russell | Publisher: Simon & Schuster Childrens Books
The brand NEW instalment from the internationally bestselling DORK DIARIES series, now with 13 million copies in print worldwide! Perfect for fans of Wimpy Kid, Tom Gates, Jacqueline Wilson and James Patterson. Nikki's diary is up to the month of May, and springtime is sure to bring more adorkable fun for Nikki and her friends Chloe, Zoey and Brandon! BUY IT ON AMAZON
Review: I loved this book so much that I couldn't stop reading it. I really liked the fact that it was written in diary style and had attractive illustrations. My favourite characters were Nikki and Brandon. Nikki because whenever there was a problem she always came up with a hilarious excuse which bizarrely helped the situation.
Brandon was really helpful because he didn't get angry when there was a problem and he normally found a way to get out of things. I can't wait to read the next Dork Diaries book when it is released. Since this book is just so good I rate it 5 stars!