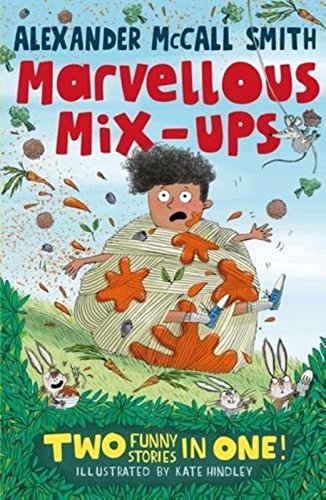 Alexander McCall Smith's Marvellous Mix-ups
By Alexander McCall Smith | Publisher: Bloomsbury Childrens
An irresistible bind-up edition of two infectiously entertaining adventure mysteries, Spaghetti Tangle and Teacher Trouble, from the bestselling author of the No.1 Ladies' Detective Agency series, Alexander McCall Smith, and with amazing illustrations by Kate Hindley throughout. BUY IT ON AMAZON
Review: Marvellous mix ups is a great book , I love that it's two books in one because there both 2 great storylines with great messages in each story.the first book spaghetti tangle is funny because aunt Rebecca thinks spaghetti and meatballs is unhealthy but at the end she makes spaghetti out of carrots.
Book two teacher trouble is funny because the main person is a pupil called Jenny, there is a mix up and because Jenny is so tall that everyone thinks she is the new teacher and went to street pond school instead of pond street school great book all together I can't wait to get my hands on more books by the same author Alexander Mcall Smith 9/10 from me😍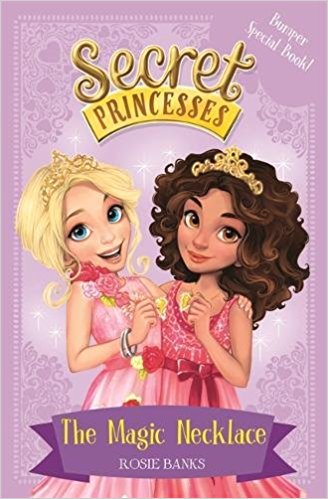 The Magic Necklace – Bumper Special Book!
By Rosie Banks | Publisher: Orchard Books
A gorgeous new series about magical princesses and best friends. Book one is a special long adventure for even more magical fun! Best friends Charlotte and Mia can't bear it when Charlotte's family moves far away. But when they're given magic necklaces, they begin an amazing adventure together - and they can see each other whenever they like! When their magic necklaces whisk them to Wishing Star Palace, Charlotte and Mia meet the Secret Princesses, magical princesses who make wishes come true for girls just like them. Best of all, Charlotte and Mia have what it takes to become Secret Princesses themselves! But when the girls go to grant their first wish they're in for a nasty surprise - horrid Princess Poison is determined to stop the wish from coming true...Can Charlotte and Mia grant Olivia's wish and save Wishing Star Palace? BUY IT ON AMAZON
Review: This is an enchanting tale about 2 friends who are bffs . Charlotte and Mia live in the U.K. But charlotte has to move to the U.S with her family. There babysitter has a surprise to make them secret princesses in training. They are a duo to help and they save Olivia's party from the evil princess poison but they stop her and earn their first jewel on their tiara. It's like a Disney classic love this book.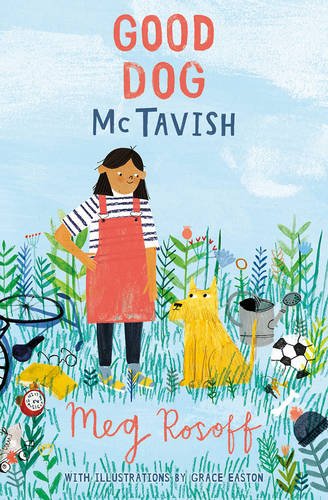 Good Dog McTavish
By Meg Rosoff | Publisher: Barrington Stoke Ltd
The Peachey family is in crisis. No one cooks dinner, no one picks up the dirty washing and thekids are always late for school. All because Mum has resigned from being Mum and taken up yogainstead. She's in the tree pose; everyone else is in the doghouse. Except McTavish, a rescue dog witha difference, on a mission to sort his new family out...Filled to the brim with Meg's wry humour and beautiful prose, this is a story for the young and the young at heart. BUY IT ON AMAZON
Review: Good dog mctavish is funny personality book. I love the story and the personalities and the way the way the storyline is set out I'd love it to be continued because I'm curious about Betty and the cake for betty love the story 5 star family friendly book I love mctavish I wish I could have a dog like mctavish.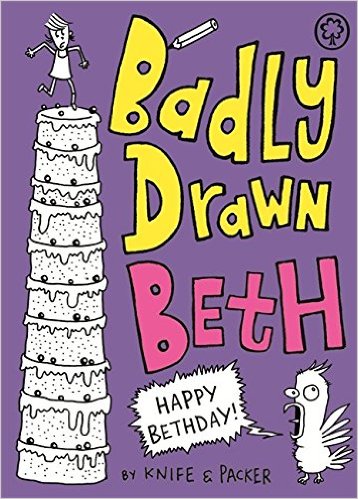 Happy Bethday!: Badly Drawn Beth
By Duncan McCoshan | Publisher: Orchard Books
So I'm being chased through the park by a pack of angry zombies, I've got cake mix on my face and MY MOST EMBARRASSING PHOTO EVER IS IN THE SCHOOL MAGAZINE!
Beth Orsen is back for her third hilarious adventure. And with a zombie party, Granny's baking contest and Beth's baby photos accidentally being printed in the school magazine, life is about to get messy again! BUT IT ON AMAZON
Review: This book was amazing knife and packer really outdid themselves I love badly drawn Beth there the best I could not put the book down! I could not stop giggling throughout the book bbbbeeeesssstttt ever loved it I love the zombie theme it made my brain explode from all the cake I rate it 10000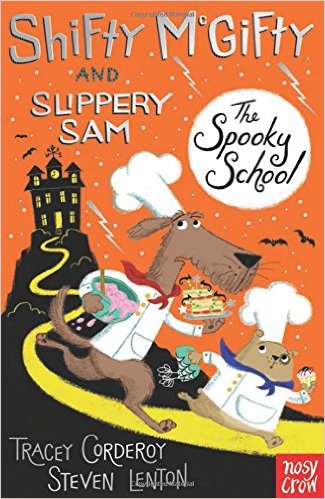 Shifty McGifty and Slippery Sam: The Spooky School
By Tracey Corderoy | Publisher: Nosy Crow Ltd
Shifty McGifty and Slippery Sam don't just make amazing cakes. These two brave bakers solve wacky mysteries too! Halloween at St Spectre's school brings out the cheekiest of ghosts! And who is to blame when the weather goes CRAZY? A power-grabbing red panda, maybe? Certainly not the raccoon gang fixing the museum's toilets - they've got dastardly plans of their OWN! BUY IT ON AMAZON
Review: I love the names to start off extraordinary Iove the books I really like the idea of them being cooks and detectives the illustrations and the colours really pop the gadgets fit perfectly with the book love the 3 different books fun book I would recommend 4+ nice easy read enjoyed the book it exploded my imagination if you love mysteries and cooking this is your book 📚 .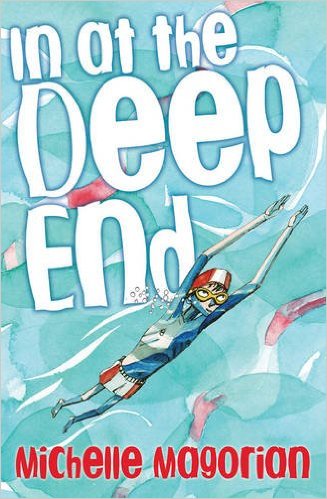 In at the Deep End
By Michelle Magorian | Publisher: Barrington Stoke Ltd
Ben knows he's taking on a lot, offering to do the first hundred lengths of the swimathon himself, but he's desperate to impress Jack and Harry. But as he swims - and swims - Jack realises that his 'friends' aren't going to show. Now he either has to forfeit or swim another hundred lengths! But support and encouragement come from an unlikely quarter and Ben pushes his way to victory. Particularly suitable for struggling, reluctant and dyslexic readers. BUY IT ON AMAZON
Review: In at the deep end is about a boy called Ben who has to swim 100 lengths for charity, he waits for his friends but they do not turn up ! He then has help from Betty , a ' wrinkly ' , and Ben learns if your friends let you down , there is still someone there to help and age doesn't matter! This book is easy to read and teaches you to believe in yourself .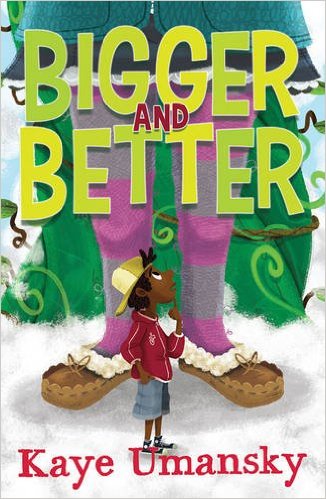 Bigger and Better
By Kaye Umansky | Publisher: Barrington Stoke Ltd
Vi the Giantess loves little things - her thimble collection is almost out of control. So when a little chap called Jack pops up in her kitchen, her giant heart melts right away. But this Jack is a regular Jack-the-lad, intent on carrying off Vi's husband's treasures and keeping them for himself. Can Vi fight off her instincts and challenge the interloper? (With extra song lyrics). Particularly suitable for struggling, reluctant and dyslexic readers aged 8+ BUY IT ON AMAZON
Review: I really liked Bigger and Better by Kaye Umansky, it was a modern day twist on Jack and the Beanstalk. There is a giant called Vi, the Giants wife who likes collecting small things, the story is about the land of Giants . Jack robs one of the Giants. I enjoyed the book because it was funny and there is a song at the end which I keep singing!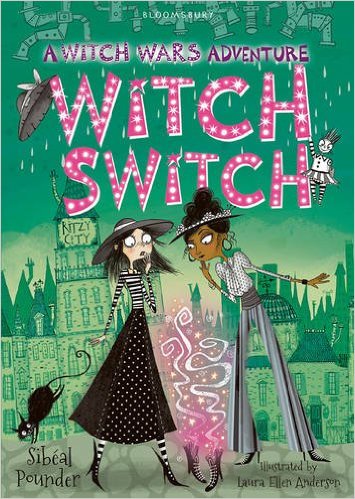 Witch Switch (Witch Wars)
By Sibéal Pounder | Publisher: Bloomsbury Childrens
Tiga Whicabim is settling in to the witchy, glitzy world of Ritzy City. Peggy is Top Witch, and Tiga is enjoying life at the Brews' house with Fluffanora. But when Fran the Fabulous Fairy visits Linden House and finds Peggy has gone - leaving behind only a note to say she is 'AWAY WITH THE FAIRIES' and has left the evil Felicity Bat in charge - the girls realise something is very wrong. And then witches all across town start to disappear. Tiga and Fluffanora set out to investigate and discover an old, unsolved Sinkville mystery that might just be the key to it all. BUY IT ON AMAZON
Review: I enjoyed reading Witch Watch because it was funny and I found it interesting to read. The story is about a girl called Tiga , there is a horrible witch called Celia Crayfish who makes all the other witches disappear into their hats .., Tiga spends her time trying to find where they went , including her mum and to bring them back. This book made me laugh out loud !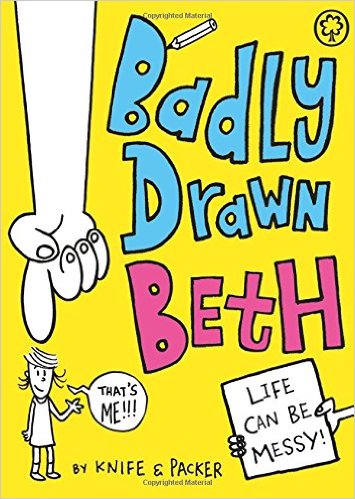 Badly Drawn Beth
By Jem Packer | Publisher: Orchard Books
So, I'm surrounded by crocodiles, holding a briefcase full of fish fingers, I'm wearing a swamp monster mask AND MISS PRIMULA IS ABOUT TO CALL MY PARENTS! Meet Beth - and all of her fantastically crazy family and friends - and be prepared to laugh your socks off! BUY IT ON AMAZON
Review: This is the best book I have read. Beth is at school and they are doing a project, her class win the prize and they go to a wildlife park. This book was very funny and I couldn't put it down.