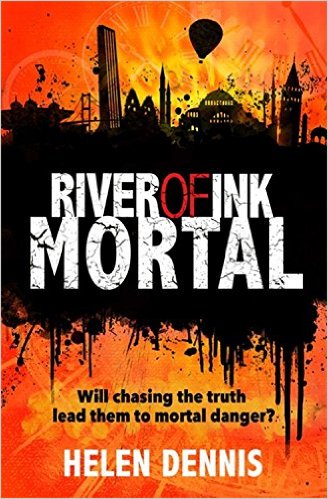 Mortal: Book 3 (River of Ink)
By Helen Dennis | Publisher: Hodder Children's Books
Jed needs a miracle. If he can't complete his quest within a year, he will die. If he can, he will become immortal. Jed and Kassia know that time is running out. And when their enemies hunt them down in Paris, the friends flee to Istanbul to reveal its age-old secrets. But they know that the biggest clue to the mystery is Jed himself. Who is he? And what is hidden in his past?
The third in an action-packed series full of adventure, this book has an illustrated narrative running through it, helping readers to solve the mystery alongside the characters in the story. BUY IT ON AMAZON
Review: I recently read the book River of Ink Mortal by Helen Dennis. I had never read any books by Helen Dennis before but it was over all a well-rounded book. River of Ink Mortal is the third in that series. In a brief summary of the plot in this book, there is man named Jed. He has a year to become immortal otherwise he will die. It starts in Paris but he soon flees to Istanbul in in search of the sixth dose of the elixir of life, but he is hunted by enemies. For me it started of slow but after a few pages it hooked me and I couldn't stop reading it.
How the book is written with such detail which is amazing as the book moves quite fast. The book fit the genre adventure best and partially in fantasy but mostly adventure. One of the books strong points it the detail in which the cities are described in makes you feel like you are you are there. The only criticism I would give to this book is it was hard to catch on to plot and who the characters are and because I had not read the first two books in the series and the book doesn't catch on in the first couple of pages so I would recommend that anyone who is going to read this series that they start on the first book in it called 'River of Ink Genesis' then 'River of Ink Zenith' then 'River of Ink Mortal'.
Over all it is now one of favourite book I have read. I would recommend this book to anyone who likes books that move quite quickly and are almost a quest in them. It is set more in modern times and it could be set in any time from 1990 to 2017. It ends on a cliff hanger and I would definitely read the next book in the series. Over all it is a stunningly good book and I would defiantly recommend it.