Watermelon Pizza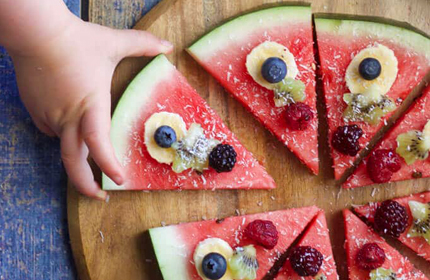 Ingredients (serves 8):
1 slice Watermelon

Cut up fruit of choice (1 banana, 1 kiwi, a handful of blueberries and raspberries)

Desiccated Coconut
Instructions
Cut the slice of watermelon in half, half again and once more to give eight pizza shaped wedges.

Decorate the pizza with your choice of fruit.

Sprinkle with coconut and serve
Healthy Little Foodies is run by Amy, mum to two little boys with a BSc(Hons) in Food Science and Marketing. Amy used to be a Primary School teacher in Scotland and now lives in Sydney, Australia. Follow Healthy Little Foodies on Pinterest and Instagram.