Swedish Sausage Meatballs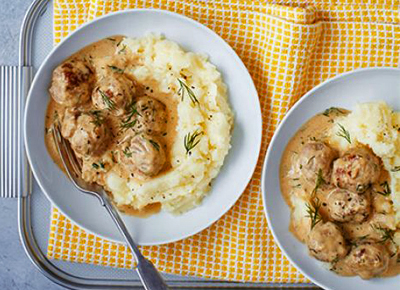 The easiest meatball recipe you could ever hope to find, with a creamy dill and mustard sauce - a quick and tasty weeknight supper!
Ingredients (serves 4):
450g pork
sausages, skins removed
1 tbsp oil
2 garlic cloves, crushed
1 tbsp Dijon mustard
300ml tub half-fat crème fraîche
½ small pack dill, finely chopped
mashed potato, to serve
Method
Roll the sausagemeat into 20 balls the size of cherry tomatoes. Heat the oil in a frying pan and brown the meatballs for 8-10 minutes.
Stir in the garlic, mustard and crème fraîche, bubble to thicken for about 10 minutes, then stir in the dill. Grind over some black pepper just before serving, with mashed potato on the side.
Recipe from www.bbcgoodfood.com