Pasta, Peas and Pesto Chicken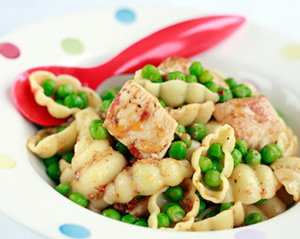 What do you call an emotional pea? A mushy pea of course!
Ingredients:
300g dried pasta, farfalle, penne or similar
250g frozen peas
400g chicken breast, diced into 2cm pieces
1 tbsp vegetable or rapeseed oil
3 tbsp red pesto
2 tbsp Cheddar cheese, grated
Method
Bring a large pan of salted water to the boil and add the pasta. Cook for 10 minutes, until the pasta is almost ready, then add the frozen peas. Bring back to the boil, cook for 1 minute, then drain well.
Meanwhile, heat the oil in a frying pan and add the chicken pieces. Saute over a medium heat for 5 - 6 minutes, stirring regularly, until the chicken is lightly browned and cooked through. Add the pesto and cook for a further minute.
Add the pesto chicken into the drained pasta and peas, mix well and season to taste. Sprinkle with the grated cheese and serve in bowls, with warm crusty bread.
Recipe from www.peas.org