Lebanese Lunchbox Chicken Wraps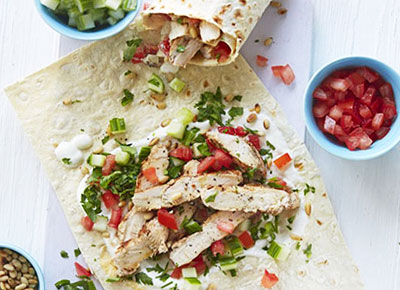 Marinate chicken in yogurt, lemon and allspice before char-grilling and wrapping in flatbread with salad for a healthy and delicious lunchbox treat.
Ingredients (makes 4):
4 skinless chicken breasts
200g Greek yogurt
juice and zest 1 lemon
1 tsp allspice
2 tsp olive oil
2 garlic cloves, crushed
25g pine nuts, toasted
small bunch parsley, finely chopped
2 tomatoes, diced
½ cucumber, diced
4 large tortilla wraps or large flatbreads
mixed salad, to serve
Method
Lay the chicken breasts on a sheet of baking parchment, cover with another sheet of parchment, then flatten by bashing them with a rolling pin. Mix half the yogurt in a large bowl with half the lemon juice, the lemon zest, allspice, olive oil, garlic and a pinch of salt. Mix thoroughly, then stir in the chicken, making sure it is well coated in the mixture. Cover and chill for 30 minutes to marinate.
Heat a griddle pan over a high heat and cook the chicken for 5-6 minutes each side or until cooked through (you may need to do this in batches). Transfer to a board and slice. Spread the rest of the yogurt over the wraps and fill with the pine nuts, cooked chicken, parsley, tomatoes and cucumber. Drizzle over the rest of the lemon juice and roll up. Put the wraps back on the griddle pan for 30 seconds each side to lightly toast, then serve with a mixed salad.