Lamb Cupcakes
Ingredients: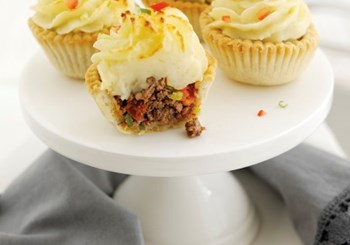 170g plain flour

85g butter or baking fat/block

1 onion

100g lean lamb mince

220g can of chopped tomatoes

1x 5ml spoon tomato purée

450g ready prepared mashed potato

25g Cheddar cheese

8-10 large paper cake cases plus extra for baking blind
Method
1. Preheat the oven to 180˚C, Gas Mark 4.
2. Make the shortcrust pastry:
sieve the flour into a mixing bowl;

rub the fat into the flour until it resembles breadcrumbs;

add 3x15ml spoon cold water and mix to a firm smooth dough.
3. Line a muffin tin with paper muffin cases.
4. Roll out the pastry on a floured surface. Cut 8 x 10cm diameter discs of pastry.
5. Gently push a round of pastry into each paper muffin case. Line each pastry case with some greaseproof paper, or spare muffin cases, and baking beans or dried rice/pasta.
6. Bake the pastry cases blind for 15 – 20 minutes.
7. When cooked, remove the cases from the oven and carefully take out the paper and beans from each case. Allow the cases to cool slightly before lifting them out of the muffin tin.
8. Peel and dice the onion finely.
9. Place the mince and onion in a small saucepan and dry fry until the meat is brown. The meat will cook in its own juices. Wash and dry hands thoroughly after touching the raw meat.
10. Add the canned tomatoes and tomato purée to the mince. Stir well; reduce the heat and leave to cook for about 10 minutes. Then allow to cool a little.
11. Place the baked pastry cases on a baking tray and fill with the mince mixture.
12. Place the potato in a piping bag with a fluted nozzle and decorate the top of each cupcake with piped potato. Grate the cheese and sprinkle on top.
Recipe available from www.foodafactoflife.org.uk