Kalettes® Frittata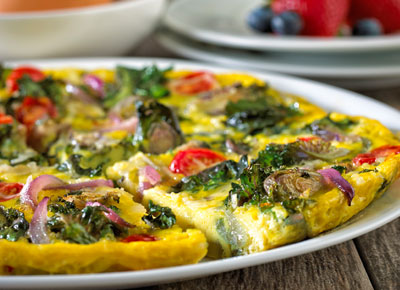 Ingredients (serves 2):
4 large eggs
1/2 cup water
2 tablespoons olive oil
1/2 medium onion, chopped
3 ounces Kalettes®, cut in half lengthwise
1 cup grape tomatoes, halved
1½ tablespoons grated Parmesan (optional)
Method
In small bowl, add eggs and beat. Add water and mix to combine. Set aside.
In a medium skillet over medium add olive oil and onion. Sauté onion for 5 minutes. Add Kalettes®, cover and cook for 4 minutes. Add tomatoes and toss with onion and Kalettes®. Cook all ingredient together for 2 minutes. Add eggs to skillet; cover and cook for 5-7 minutes. Use a spatula and lift edge and tip pan to let egg run underneath to cook all the way through if top is not set after 5 minutes.
Season with salt and pepper to taste. Finish with grated Parmesan if desired.
Recipe from www.kalettes.com