Healthy Vietnamese Spring Rolls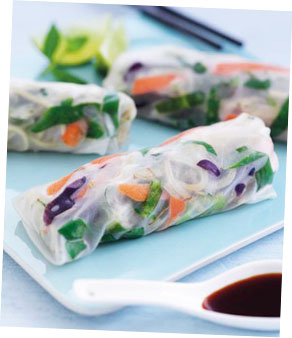 For a lunch to help keep you fuller for longer, choose these zingy, fresh, low fat spring rolls with a taste of Asia. The wholegrain noodles combined with the protein from the chicken can help keep you going until dinner time.
Ingredients (makes 12):
1 tbsp rapeseed oil
150g stir fry vegetable mix (peppers, bean sprouts etc.)
100g shredded cooked chicken
150g wholewheat noodles, cooked
1 tbsp each of freshly chopped mint and coriander leaves
1 tbsp light soy sauce (plus some for dipping)
1 tsp fish sauce
1 x 134g pack of spring roll wrappers (rice pancakes)
Method
Heat the oil in a frying pan and fry the vegetables for 1-2 minutes, allow to cool.
Mix together the chicken, noodles, herbs and stir fry vegetables with the soy and fish sauces.
Place the wrappers one at a time into hot water until soft and pliable (10 -15 seconds). Remove the wrappers and lightly blot on a dry, clean tea towel.
Place equal amounts of the filling in the centre of each wrapper.
Fold over the bottom and the sides and roll wrapper upwards to form a neat roll shape.
Serve with additional soy sauce.
For more recipes visit wholegraingoodness.hgca.com