Cooks & Kids: Panko Bread Crumb Chicken Strips with Creamy Pancetta and Mushroom Spaghetti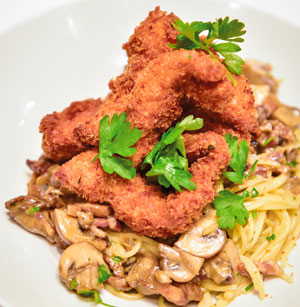 There's no better way to spend a rainy afternoon than cooking up a storm. Get your kids cooking with this easy recipe from Cooks & Kids 3!
Ingredients (serves 4):
4 chicken breasts, skinless
100g flour
2 eggs, beaten
200g panko bread crumbs
500g spaghetti
1 onion, diced
250g mushrooms of your choice
100g pancetta, cut into small 1cm lardons
200ml double cream
a few leaves of chopped parsley
salt and pepper
oil for deep frying
Method
Start by slicing the chicken into strips.
Toss first in the flour, then beaten eggs, then panko bread crumbs.
To make the pasta, cook the spaghetti in boiling water until soft but not overcooked.
While the spaghetti is cooking, fry the onion in a little oil until soft.
Add the pancetta and mushrooms to the onion and cook until brown.
Add the double cream and reduce by half.
Fry the chicken in a deep fat fryer or pan fry until golden brown and cooked.
Finish the pasta by covering with the mushroom sauce, seasoning with salt and pepper and adding the chopped parsley.
Serve the golden chicken strips on the creamy pasta with a few more leaves of parsley.
Recipe by: Lucy & John Woodward from Cooks & Kids 3