Cooking with Kids: Salt and Vinegar Goujons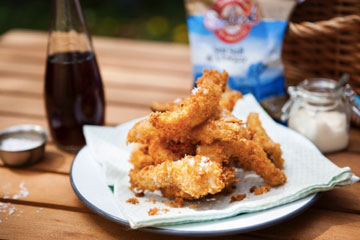 To celebrate National Picnic Week, Seabrook Crisps has created this delicious and easy-to-make picnic recipe for you and your little ones.
Ingredients (serves 6):
2 skinless sole or plaice fillets
25g/1oz plain flour
1 large egg, beaten
100g panko breadcrumbs
2 tsp flakey sea salt
1 tbsp veg oil
2 tsp malt vinegar
50g/20z mayonnaise
Method
Pre heat the oven to 220C/ 200fan/gas 7. Slice each fish fillet on the diagonal into roughly 8-10 pieces. Put the flour in a bowl with some seasoning, the beaten egg into a medium sized bowl, and the breadcrumbs on a large plate with 1 tsp of the flakey sea salt.
Toss the fish into the seasoned flour, then take them one at a time and dip in the beaten egg and coat in the breadcrumbs. Lay each piece onto a baking sheet with baking parchment. Repeat until all the fish is coated.
Drizzle the oil over the goujons and bake in the preheated oven for 10 mins, until crisp and golden.
Once out of the oven, sprinkle the remaining flakey sea salt over the hot goujons and shake the malt vinegar over the top. Serve in little paper cones with mayonnaise.