Cooking with Kids: Mango and Pineapple Ice-lollies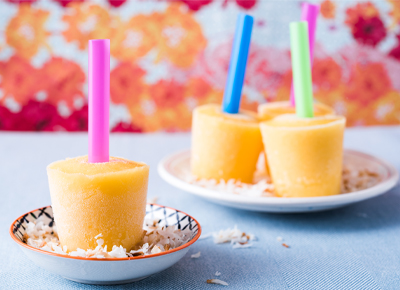 For a dairy-free, cooling treat, you could use coconut milk instead of milk, which slows down the effect on blood sugar and exposes kids to healthy fats. Plus, because they're packed with antioxidant-rich fruit, like Del Monte® Mango and Del Monte® Pineapple, your kids will be eating a healthy snack without even realising it!
5 minutes preparation – 4 hours freezing
Ingredients (makes 8):
200g coconut milk
150g tinned Del Monte Mango®
150g Del Monte® Pineapple in juice, drained, juice reserved
80ml Del Monte® Tropical Fruit Juice
Method
Tip all the ingredients – including the Del Monte® Pineapple juice from the tin, into a blender and blend until smooth.
Pour into the ice lolly moulds and freeze for at least four hours before serving.
For more recipe inspiration please visit www.delmonteeurope.com/recipes