Chocolate Tiffin Easter Nest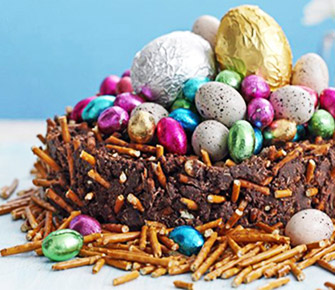 Make the 'nest' from pretzels, peanuts and raisins, and fill with chocolate eggs.
Ingredients:
150g unsalted butter
50g golden syrup
1 tsp vanilla extract
400g dark chocolate, finely chopped
60g Cadbury's Dairy Milk chocolate
60g Daim bar, finely chopped (I like this for the crunch, but you can replace it with extra dark or milk chocolate )
150g salted pretzel sticks, broken into small pieces, plus a handful to serve (optional)
100g shredded wheat, crushed
100g chocolate-covered raisin
100g salted peanut, see tip, below
chocolate eggs, to serve
Method
Line a 20cm round cake tin with a large paper cake tin liner, or cling film. Heat the butter and golden syrup in a large heavy-based saucepan over a gentle heat. Once melted, add the vanilla extract and all the chocolate. Continue heating gently until the chocolate has melted, stirring every now and then to combine.
Remove the pan from the heat and mix through the pretzel sticks, shredded wheat, chocolate-covered raisins and peanuts. Transfer to the prepared tin, pressing in and around its sides, creating a dip in the centre to produce a nest shape. Chill for 1 hr or until set. To serve, remove from tin, scatter with extra pretzels (if you like) and fill with an assortment of chocolate eggs. Will keep in an airtight container for up to 5 days.
Recipe from www.bbcgoodfood.com