Becky's Fish Tacos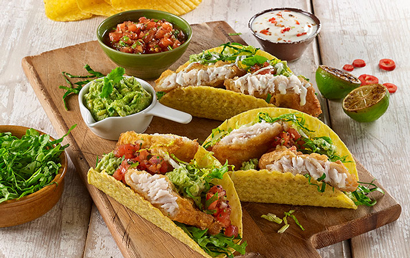 Say hello to 'The Youngsters' – a panel of mini chefs and food critics! Their mission… to create tasty and exciting Chip Shop meal ideas – for kids, by kids!
What you'll need...
Tomato Salsa
4 medium tomatoes, peeled and chopped
½ medium red onion, chopped
1 small garlic clove, crushed
Juice of ½ lime
Handful of fresh coriander, roughly chopped
½ green jalapeno chilli, finely chopped
1 tbsp extra virgin olive oil
Freshly ground black pepper
Guacamole
2 ripe avocado, peeled, stone removed & chopped
¼ tsp chopped jalapenos
Juice of a lime
1 garlic clove, crushed
1 tbsp of finely chopped coriander
1 tsp olive oil
To Serve
8 crunchy taco shells
2 little gem lettuces, finely shredded
Low fat greek yoghurt
Method
Cook the Young's Chip Shop Omega 3 Fish Fillets as per the instructions on pack.
Tomato Salsa - Combine all the ingredients together in a bowl, mix well & season to taste.
Guacamole - Place the Avocado in a bowl & mash using a fork until smooth but retaining some texture. Add the remaining ingredients, mix together & season to taste.
To Serve
Divide the lettuce between the Taco Shells & top with a spoonful of tomato salsa & Guacamole.
Cut the fish fillets in half & place one half into each Taco & serve with remaining Salsa, Guacamole & Yogurt.