This summer inspire them to read and write with Cressida Cowell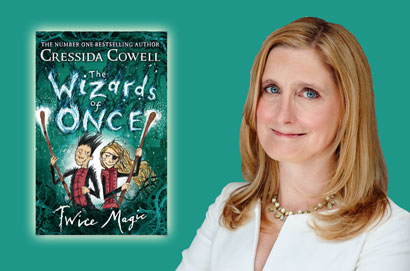 Cressida Cowell is one of the UK's most beloved children's authors. She has brought us the fantastic novel series How to Train Your Dragon, which has subsequently become an award-winning DreamWorks film franchise, and now joins Primary Times to discuss her latest magical series The Wizards of Once, her literary inspirations growing up and her Free-Writing Fridays Campaign.
After the success of How to Train Your Dragon, Cressida Cowell launched her newest book series Wizards of Once in 2017, with its sequel 'Twice Magic' arriving in paperback June '19. Cressida explains that the books are set at the end of the Bronze Ages, and at the beginning of a new age. "It's a world in which magic really exists. There are two tribes and they are fighting each other. The two children, the girl hero and the boy hero, have been brought up to hate each other, and it's about what happens when these children meet."
Growing up, Cressida was inspired particularly by the book The Ogre Downstairs, by Diana Wynne Jones. "It's about children who find a magical chemistry set. I read it, loved it, read it aloud to all my little siblings and cousins, and then I read it aloud to my own children. I write my books to be read aloud way beyond the age. I always say to parents don't just leave it all up to the school, read aloud to kids just 10 minutes per day."
With a passion for literature, Cressida Cowell is a huge advocate of children reading and writing for pleasure from a young age. "I can't imagine life without books. I get all my knowledge about history, about human nature, about the world around me from literature."
Cressida explains that "educational attainment, reading for pleasure and economic success are all particularly linked. But education isn't just about attainment, so the impact on their happiness is true as well. In difficult times, a book can help you through. I've had children write to me, for example, and say that whilst being bullied, 'Hiccup was my friend'. There is so much that can be gained from loving books."
To help parents encourage their children to read at home, Cressida has shared some of her own top tips. "Go for what they're interested in, if they love animals go for books on animals. Boys often like fact books, for example I put lots of made up fact pages in my Dragons and Wizards books."
"Read aloud to your kids for 10 minutes every day. Even if you are doing the reading, you're sending this message that books are something fun – and that's so important."
"Try as hard as you can not to make learning to read a struggle. This is such a key thing for parents. In the end, I didn't listen to my children reading at the end of the school day when they were 4 years old. They were exhausted, so I would try and do it over breakfast when they're a bit perkier. Really try and stay calm and patient –make it joyful. It's all about the joy of reading and writing, that's all I'm trying to do. It's the children who enjoy reading and writing in the end – it's the best education."
Cressida's newest innovation to inspire children's imagination and creativity is her Free-Writing Friday campaign, which is 15 minutes every Friday for a child to have a book in which they can write whatever they want, and the teacher doesn't mark it. "In this book just for 15 minutes, nothing matters apart from the kid having fun. They can write a story, they can design a game, and it's about focusing on the joy of writing."
"I did that because when I was in year 2, and I had a teacher who did that for me. My handwriting was terrible, my spelling wasn't great, and she gave me a book which was just about me enjoying it. I learnt to enjoy writing."
"My campaign was designed as a really practical way to try and help the kids have somewhere where they're enjoying it. That's what happened to me – It's about the ideas. We need to get the children reading for fun. We need their creativity in science, we need their creativity in everything – so we've got to get these children being creative."
To find out more about Free Writing Fridays, visit www.freewritingfriday.com
For your chance to win a full set of Cressida's How to Train Your Dragon books, plus the first two Wizards of Once books, answer the following question.
What was Cressida's favourite book growing up? Enter here.
The competition closes on 20th June 2019.