Should we test 4-year-olds?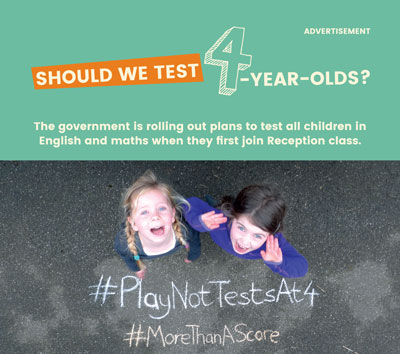 This September, a new group of four-year-olds will start 'big school'. Some are already bursting with excitement about this new adventure while others — children and parents alike — might be nervous about such a big change.
The first few weeks in Reception class are focussed on settling in, learning new routines and, of course, having fun. But now, the government is rolling out plans to also test children in English and maths during those first few weeks of term, and one campaign group is urging parents to make a stand against the proposals.
More Than A Score argues that it doesn't make sense to take children away from their friends to sit a test that won't provide any reliable and useful information about what they can or can't do. The data collected in class will be used to calculate progress in the coming years. The campaign group believes that the government is only introducing the tests to measure schools against each other.
Nancy Stewart from More Than A Score comments, "The plans are nonsensical. Education experts agree that it is not possible to reliably test 4-year-olds in a single test. It's a pointless addition to teachers' workloads – teachers already assess children in a continuous, much more meaningful way than any statutory test can hope to achieve. And it's a nonsense to judge schools on unreliable results."
Headteachers and primary school leaders have also voiced their opposition to the proposals. According to recent research carried out by YouGov* an overwhelming majority (96%) of heads, deputy heads and other school leaders surveyed believe they should not be spending the first few weeks of term preparing reception age pupils for standardised assessments.
Many pupils sitting the tests will have only just turned four and 84% of heads believe testing those with a summer birthday is unfair.
As Vicky Trainer, a parent campaigner in Brighton comments, "I've got a four-year-old, you can ask her what's one plus one and she might say 'two' one minute, and 'bananas' the next. Half these children are crying all day in the first few weeks of school. Statutory tests are the last thing they need."
Now, parents and teachers are campaigning to stop the roll-out of the government's plans. Chalk protests declaring #PlayNotTestsAt4 have been appearing on pavements across the country and a petition calling for a halt to the plans has gained over 64,000 signatures.
* All figures, unless otherwise stated, are from YouGov Plc. Total sample size was 230 senior primary school teachers in England. Fieldwork was undertaken between 15th January and 4th February 2019. The survey was carried out online.
To find out more visit the website: www.morethanascore.org.uk