Get up to 40% off with the UK's no.1 for children's adventure and activity holidays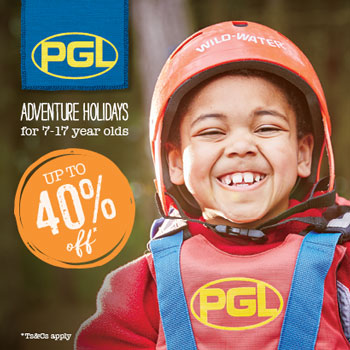 We think adventure is what childhood is all about
Since 1957, over 8,000,000 children and parents have discovered what makes PGL the UK's no.1 for children's adventure and activity holidays.
This year we hope you will too. With our exclusive special offer you can now take advantage of up to 40% off your booking.* Over 93% of our customers say they would book again, so if you've thought that a 'summercamp' style adventure experience isn't for your children, maybe it's time to think again?
We have 13 amazing centres in the UK, packed with the latest equipment and accommodation and set in private grounds, to enjoy and explore. We also offer over 20 different holidays, from birthday parties to film making, to suit every child and budget. All you have to do to grab your exclusive offer of up to 40% off is to request our 2019 brochure.
Find out for yourself what a PGL holiday can offer you and your children. Call free on 0800 0840 3744 or visit www.pgl.co.uk/40
*Terms and conditions apply, see our website for more details.