Parents, get reddy!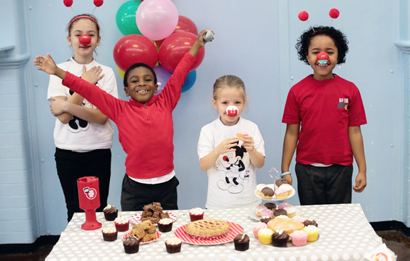 Friday 15 March is Red Nose Day! Comic Relief's Ella Large offers ten top tips to help your children bake, dance, splat and sing their way to a fantastic fundraising day.
Red Nose Day is all about people of all ages coming together to make the world a better place. Last Red Nose Day, schools and nurseries helped raise over £5 million to help vulnerable people in the UK and the world's poorest communities. And this year Comic Relief wants to do even better!
At Comic Relief, they recognise all the hard work that lies behind children's fundraising. Whether it's baking, making donations, creating costumes or face painting at 7 o'clock in the morning, it's hard to overestimate parents' efforts. So why do it? What difference does it make?
First of all, all the money your child's school raises this Red Nose Day will be used by Comic Relief to change countless lives, both here in the UK and worldwide. The charity funds amazing organisations that provide brilliant solutions for people living in desperate situations.
Secondly, taking part in Red Nose Day can have a profound impact on children. It's an exciting, memorable day when everyone lets their hair down and comes together to make a difference. As well as being great fun, for many children it's the first time they understand they have the power to change things in the world.
So as a parent, what can you do to make sure your child has a Red Nose Day to remember?
1. Get the date on the calendar. Red Nose Day is Friday 15 March… Don't be caught by surprise!
2. Get costumes ready. Schools across the UK will be asking pupils to pay £1 to wear something red or go non-uniform. Avoid the lastminute panic and get those red costumes reddy!
3. Buy a tee-hee-hee-shirt. For a simple dressing-up solution, why not by a Red Nose Day t-shirt? Children's designs feature Disney characters and are available from TK Maxx stores (www.tkmaxx.com ) or www.comicrelief.com/shop.
4. Go wild with accessories. Face paint, red hair dye, red socks, scarves, ribbons, jewellery… Dig out what you've got and decorate your child! For instant solutions, you'll find everything from wristbands and badges to deeley boppers and spinning wands at www.comicrelief.com/shop and in Sainsbury's stores.
5. Pick your child's Nose. This year there are eleven new Red Noses, each of which comes in its own box your child can use as the building blocks of a castle.
6. Get baking. Red Nose Day bake sale? Never fear! There are a range of savoury and sweet recipes at www.comicrelief.com/free-downloads – all easy to make and with a Red Nose twist. Or just buy a cake and take the credit (nobody will know…).
7. Support with sponsorship. If your child comes home with a sponsorship form, help them to contact family and friends to ask for support.
8. Visit the Red Nose Day website. Spend time looking at www.comicrelief.com/primarytimes with your child. You'll fi nd everything from stories about the people their fundraising will help to colouring sheets and dressing-up masks.
9. Watch Blue Peter together. In the run-up to Red Nose Day, Blue Peter will be asking kids to share their favourite rib-ticklers and side-splitters for their 'Make your teacher laugh for Comic Relief' campaign.
10. Help out on the big day. Find out what your child's school is planning for Red Nose Day and offer your support. Could you run a disco? Sell cakes? Or just shake a bucket at the school gate? At the end of the day, sit down with your child and watch a massive night of comedy and entertainment live on the BBC, knowing that together you've played your part in changing people's lives for the better.
Schools and organisers can order their free primary school fundraising packs stuffed with everything you need to get inspired and involved at www.comicrelief.com/ primarytimespack.