3,500 children to take part in the 2019 Flight Centre Schools Triathlon to raise more than £350,000 for charity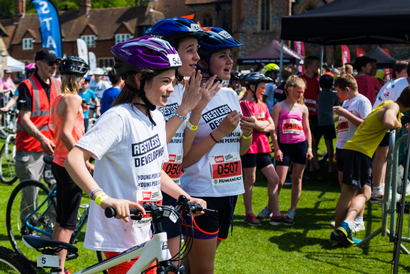 Restless Development, a youth-led development charity, has partnered with Royal Russell School, Bradfield College, Charterhouse School and Marlborough College to organize a schools' triathlon series. The four triathlons will take place in April and May and more than 3,500 children aged between 7-13 will take part in teams of four. In order to participate each child has to raise a minimum of fifty pounds for the charity. The triathlons are sponsored by travel agent, Flight Centre, and since the initiative started three years ago the children have raised an amazing £750,000 in 2019 the total is expected to smash the £1,000,000 mark.
The host schools generously donate their facilities to the charity for free and create the opportunity for hundreds of children to have a fun first introduction to triathlons. Martin Reader, Headmaster of Cranleigh School which hosted a triathlon in 2017 and 2019, said:
"What a fantastic event! I stood anonymously marshalling children at the bicycle handover for a couple of hours. I lost count of the times I heard the words, "that was so much fun' or 'that was brilliant'. They won't forget the day, which means they are more likely to remember the cause."
For the event to be a success the host school must have the right facilities: an on site swimming pool, grounds and playing fields for transitions zones and running and cycling route – not forgetting car parking and space for more than up to 3,000 spectators.
It was just as popular with parents, here's just one comment: "What a gloriously, wonderful event you managed to put together for the children yesterday. The atmosphere was delightful, with lots of support from parents and fellow competitors, all of which combined to make it feel like a real festival of sport".
The Flight Centre Schools Triathlon is the brainchild of Jim Sewell, a telecoms entrepreneur and long time trustee of Restless Development. As a father of three he saw a gap for fun, sports based fundraising for children. He plans to roll out more triathlons around the country. He said,
"It was brilliant to partner with such great schools and see the children throwing themselves into it. Their efforts will help thousands of children in developing countries access health education and life skills which will transform their lives. The children have really understood that they can make a difference, and the combination of sport and charity in a children's event has been incredibly powerful. I am so excited about the potential for this event - I want this to become the schools' equivalent of the London Marathon.
We rely heavily on volunteers to help run the triathlons and if anyone is interested in getting involved either as a project manager or to volunteer on the day, we would love to hear from them."
Volunteers, or schools interested in taking part in or hosting a future Flight Centre Schools Triathlon can contact Jim Sewell at jim@restlessdevelopment.org