The Perrings' Family Appeal to Find Brain Tumour Cure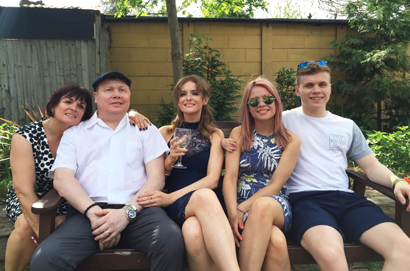 The family of a much-loved Portobello florist are choosing hope this winter as they launch an appeal to help find a cure for brain tumours. Ronnie Perring, a hard-working family man, was diagnosed with an incurable brain tumour whilst on a family holiday in 2014. He was 41 at the time and immediately had to give up his livelihood and stop running the family's floristry business, The Flowered Corner, on Ladbroke Grove. For more than 30 years, Ronnie had been a familiar face on the bustling market.
Ronnie and his family have faced several challenges over the years as he underwent two operations, radiotherapy and chemotherapy. In February 2017, after Ronnie had a check-up scan, the Perrings were told to prepare for the worst. Daughter Beckie planned her wedding for the following August and Ronnie proudly walked her down the aisle. Now, over a year later, Ronnie is continuing his treatment whilst being cared for at home by his wife Caroline. The future is far from certain and everyone in the tight-knit family is doing their best to make the most of every day.
His son George said, "There have been many lows since Dad's diagnosis but he always comes back fighting. It can be hard at times but with the support of family and friends, we are choosing hope and, for brain tumour patients like my dad, that means more research. We want to inspire others to support the Brain Tumour Research charity and raise awareness of the lack of funding for research into the disease."
Ronnie's family is sharing his story as part of the charity's appeal across London. They hope to raise £5,000 towards research so that patients like Ronnie can access improved treatment options and, ultimately, a cure.
Janice Wright, community fundraising manager for Brain Tumour Research, said, "Brain tumours kill more children and adults under the age of 40 than any other cancer, yet historically just 1% of the national spend on cancer research has been allocated to this devastating disease. Ronnie and his family have been through an exceptionally hard time and we're extremely grateful to them for supporting our Christmas appeal. Sadly, Ronnie's situation is not unique and thousands of other families are affected. Please support us and help us give hope this Christmas."
To donate to the Perrings' winter appeal please go to www.braintumourresearch.org/our-christmas-wish/ronnie
Brain Tumour Research funds sustainable research at Research Centres of Excellence in the UK. It also campaigns for the Government and the larger cancer charities to invest more in research into brain tumours in order to speed up new treatments for patients and, ultimately, to find a cure. The charity is calling for an annual spend of £35m in order to improve survival rates and patient outcomes in line with other cancers such as breast cancer and leukaemia.