The best UK camping spots for kids and what to pack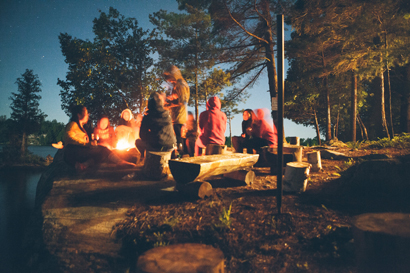 If there's one universal battle most modern parents will agree on, it's the fight to keep our children engaged in activities that don't involve a screen.
We want to see them outside, playing in the fresh air, interacting, using their imaginations and making their own fun.
The quickest way to ensure that happens on your next holiday? Forget constricted hotel rooms and take the plunge into canvas. A campsite is one of the few environments minimally tarnished by technology and changing times.
There's a natural camaraderie among campers and the lack of barriers between pitches, the fact your bedroom leads straight outdoors and that there are almost always plenty of other children around means kids have usually made a gang of new friends before the tent is even up. Of course, camping creates its own challenges, but a bit of thought before booking your pitch and, especially, when packing your bags will make it all the easier.
Muddy Puddles, an award winning producer of children's outerwear, is built upon the quote from fell walker Alfred Wainwright: "There's no such thing as bad weather, only unsuitable clothing." And when it comes to camping it's a quote worth bearing in mind.
Kit to pack for kids when camping
The basics of camping equipment are the same with or without the family - the tent, inflatable beds or comfy sleeping mats, sleeping bags of a suitable thickness for the time of year and don't forget a mallet for bashing in the pegs, cooking equipment, a washing up bowl and tea towel and a few torches (head mounted camping torches are a fantastic investment and kids love them).
In addition for kids (and in some cases yourself) consider the following:
Wellies - whatever the time of year, remember you'll be in a field and it is likely to have muddy spots - this is the time to encourage kids to jump in those puddles. In fact, why not join them?
Raincoats or an all-in-one - whatever the weather you're all going to be outside so ensure the kids can make the most of it. In cooler months, an all-in-one will keep them warm and protect their clothes.
Outdoor toys such as balls, cricket sets, kites, frisbees - they'll be playing with them with their new friends morning, noon and night.
Bikes - if you have the space for them, kids love to ride their bikes around the campsite.
Thermals and thick socks - even in lovely summer weather, tents tend to get cold at night. Thermals can be worn under pyjamas or, when space is limited, make a great lightweight alternative to pyjamas that still keep the warmth in.
Best camping spots for kids
The great news regarding campsites is they're pretty much universally kid and family friendly and you really can't go wrong.
Certainly you can make it easier for yourself by considering a few things that are important to you before you book, but even if you put a pin in a map and head to the nearest campsite the chances are the kids will love it.
The highlights will almost always be the friends they inevitably make, playing outside until it's dark, being allowed to be noisy and run free, scruffy and wild.
The best camping spots for kids will be close to family-friendly attractions (though you may have to find the challenge is in convincing your children to leave the campsite). Family theme parks Wicksteed Park, in Kettering, Northamptonshire and Drayton Manor, home to Thomas Land, in Tamworth, Staffordshire have their own campsites.
Great, age-appropriate on-site play equipment or adventure playgrounds are an excellent bonus. Depending on the age of your child, you may wish and be able to book a pitch in sight of them so the kids can play in view.
Norfolk is a beautiful county to explore as a family and Kelling Heath Holiday Park, in Weybourne, makes the most of its natural environment whilst also including fantastic play areas. Searles, Hunstanton is a more traditional resort, as-popular-as-ever, with a programme of kids' activities, a great pool and entertainment as well as being in walking distance of the beautiful and expansive beach.
Treloen Coastal Holidays, Roseland Peninsula, Cornwall, (also known as Arthur's Field) has been recognised in numerous national awards as one of the best family campsites. Kids can collect the eggs and feed the chickens, sheep and guinea pigs during their stay. For an alternative to beautiful Devon and Cornwall try Pembrokeshire - any location in the region of Tenby will not disappoint.
Or, if you're not quite ready for camping but want a similar feel, you could consider Real Family Holidays which, in school holidays, makes use of accommodation used for school residentials. Its accomodation in Margam, South Wales, is within the country park with a whole host of farm animals, accessible walks, led family activities and amazing play areas within it.