Schools invited to take on UK's biggest cycling, walking and scooting challenge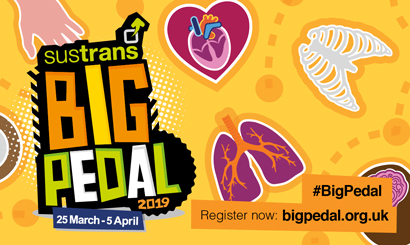 Angellica Bell, British television and radio presenter and cycling advocate, is calling on schools to take up the challenge of Sustrans Big Pedal 2019 – a UK wide competition to get more young people cycling, walking and scooting to school.
During the 10-day challenge (Monday 25 March to Friday 5 April) schools will compete to make the most journeys by bike, foot or scooter. Pupils will track their progress on a wall chart, learning about the human body and how active travel benefits their health.
To coincide with the event, dozens of schools across the UK, will for the first time, close the road outside the school gates to traffic to help reduce air pollution, while creating an environment in which cycling and walking is safe, convenient and enjoyable.
For more information and to register, visit: www.bigpedal.org.uk