Children's annual design competition opens for entries during monumental year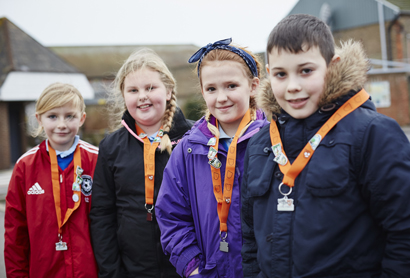 A national charity is on the hunt for the next budding designers as they launch their WOW badge design competition, one of the largest design competitions for children in the UK.
Living Streets, the UK charity behind the walk to school campaign is asking primary school aged children to design a badge that can be used in WOW – the year-round walk to school challenge.
WOW rewards pupils who walk to school at least once a week with a different collectable WOW badge each month, designed by pupils in this nationwide competition. Every year over 100,000 children take part in the competition.
11 winning designs are turned into the monthly badges with winners receiving prizes for themselves and their school, including a year's supply of WOW resources, and the prestigious accolade of seeing their designs turned into more than 450,000 badges for use in over 2,000 schools across the UK during the next academic year. The badges are made in the UK from recycled yoghurt pot material.
This year's theme is 'Inventions that changed the world' and will take pupils on a journey through time and across the globe, celebrating some of the greatest inventions ever created. Entrants are being encouraged to recognise the inventions of lesser-celebrated people, including people of colour and women inventors.
This year's competition takes place during the charity's 90th year. Living Streets was originally set up in 1929 as the Pedestrians Association and has some of its own inventions to its name, including being responsible for bringing in the first driving test, the first speed limits and introducing zebra crossings to the UK.
Kevin Croasdale, Schools Manager, Living Streets, said: "WOW is a great way to help keep children healthy and happy by encouraging them to be active every day. Children love taking part and collecting the badges, with winners of the WOW badge competition having the extra pride of seeing their badges worn by pupils across England, Scotland and Wales.
"This year, we're looking for engaging, fun and colourful depictions of inventions that changed the world. We can't wait to see what this year's entrants have to offer."
Competition closes on Friday 15 March 2019.
Entry forms can be downloaded now from the Living Streets website: www.livingstreets.org.uk/badgecompetition2019