How to Introduce a New Kitten to Your Home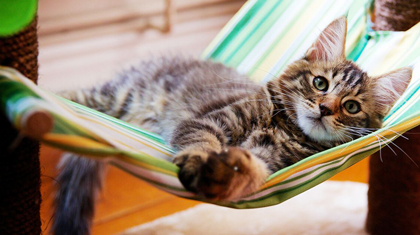 Welcoming a new kitten into your home is so exciting, especially for your child. Who wouldn't want to play with a fluffy, cuddly new family member! But one mustn't forget that these cute, adorable kitties come with sharp claws and teeth, so care and respect need to be taught early. It is essential that children are taught to be gentle and kind to pets, especially when getting them at a young age. Your first few weeks together as a family will define your entire relationship; kittens are not toys, and are vulnerable to pain, discomfort, and stress if children are not taught how to properly interact with them. This is crucial in shaping your kitten's behaviour into adulthood, so make every effort to create a positive experience.
Cat in a Flat - The Trusted Cat Sitting Community has shared some advice on how to welcome a kitten into your kitty furr-iendly home:
1. Take time off. Because cats are often seen as independent pets, new owners make the mistake of leaving them on their own for too long during the important settling-in phase. When a kitten is new to a home, a lot of strange smells, objects and noises can quickly become too overwhelming and influence their socialisation in a negative way. So try to make sure someone is always at home for the first two weeks, while the cat acclimates to the new environment. It will be worth it.
2. Be Prepared, and make sure you have everything your new kitten needs – do you have a suitable litter tray, cosy bed, carry basket, the correct food, scratchpost? Make sure your child understands that these are for the kitten and they should not be touched, especially the cat litter.
TIP: Sometimes a kitten might not know where and how to be litter trained. If they have an accident, put the litter tray where the incident happened, the kitty will come back to that same spot using the litter tray next time. After a few times you can then place the litter tray to your preferred spot.
3. Supervised Playtime. For the safety of your young child and the kitten, never leave them alone together. It's important they learn the proper way to interact with each other:
Firstly, always let the kitten sniff you first. Teach your child to put out their hand and let the cat have a good sniff. Never try and stroke the kitten immediately or he might lash out, this is a good lesson to know when meeting any cat.

Only gently stroke a cat on it's head and back. No poking, squeezing or pulling. Again, make sure your children know kittens are not toys; they are living animals and they feel pain and fear! Some shelters won't let families with young children adopt kittens for this reason, so it is crucial for the safety of the kitten and child that boundaries are non-negotiable.

Talk quietly, no sudden loud noises.

Don't put your face too close.

If the cat runs away, don't chase it. If it's sleeping, don't touch it.

Introduce fun, cat-friendly games to play together. There is no need to buy expensive toys, kittens, like children, find joy in the simplest things. You could simply scrumple up a small piece of paper to throw or use an old sponge. Chasing an old sock or ping pong ball also make a good game of chase.

No rough play and make sure your child is taught the difference between teasing and playing.
4. Growing up together. As your child and kitty grow up together you can start introducing more care and responsibility. Cats are creatures of habit and routine, so introduce that into your child's routine - like feeding the kitten just before bath time for example.
Raising children alongside a new kitten may seem overwhelming at first, but cats can be extremely affectionate and loving and they can teach your child how to be kind, patient, and responsible. As with any new companion in the household, this requires careful planning and safeguarding to create an environment that provides security for everyone. Always apply the positive enforcement technique and be patient with your children and with your furry baby, and you'll be rewarded for your efforts.
Here's wishing you and your new family member and long and happy life together.
ABOUT THE AUTHOR
Kathrin Burckhardt and Julie Barnes are Co-Founders of Cat in a Flat. Cat in a Flat is a trusted cat-sitting community created by cat lovers for cat lovers. Its mission is to help cats stay in the comfort of their own homes by connecting cat owners with trusted, insured, local, cat-loving sitters.