Festive Fundraising #Click #Shop #GiveforFREE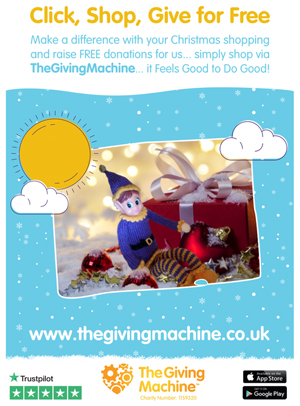 As festive planning is now high on your Christmas List, wouldn't it feel fabulous if every time you shop online, you were able to give for free to a charity or cause of your choice.
With almost 10,000 charities/schools/causes registered with TheGivingMachine, you are sure to find your school or a charity close to your heart to support, especially at this time of year.
Christmas shopping is now in full swing so now is a perfect time to invite everyone to support your cause this season and spread some festive cheer for FREE. You can sign up as a Cause & a Giver at www.thegivingmachine.co.uk
TheGivingMachine Community Hub
We have set up a brand new friendly Facebook group to assist all our registered causes/charities/schools and their key supporters.
Our aim is to build an online Community Hub to share tips, tools, visuals and ideas, throughout the seasons, enabling us to support each other to pull more free cash to benefit our communities.
Please join HERE and share with all your contacts who are involved with your fundraising!
Together we can strive to make the world a better place…
Shop & Give Reminder Tool
Install the Shop&Give Reminder tool on your desktop or laptop and never miss out on a free donation again. Quick and easy to install, once added a handy reminder will appear every time you visit a retailer that works with TheGivingMachine. Just click the alert and your donation will automatically be tracked. It's as simple as that.
Free and easy to install
Guaranteed 100% safe for your computer and no annoying advertising
More than 2,300 shops participating
Givers who install raise on average 2.5 times more for their causes