Dalmally Primary School Help Launch Double The Love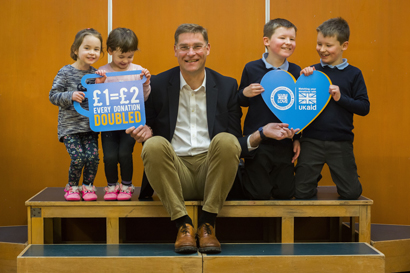 Dalmally Primary School in Argyll provided the setting for the launch of charity, Mary's Meals', new campaign, Double The Love, that will see the UK government match public donations to Mary's Meals until 1 March 2019. This will enable Mary's Meals to reach thousands more chronically hungry children in Zambia with a life-changing meal every school day.
Zambia suffers from high rates of malnutrition, poverty and food insecurity. Children can often be found working in fields, begging on street corners or scavenging for food just to survive. More than 360,000 primary school-age children are out of school, and those who do attend are often so hungry they don't have the energy to concentrate and learn in class. But, by providing one good meal every day in school, Mary's Meals attracts impoverished children to the classroom where they can gain an all-important education. Mary's Meals has been working with communities in Zambia since 2014 and is now feeding more than 92,000 children there every school day.
International Development Secretary Penny Mordaunt told Primary Times, "Every time the British public reach into their pockets and donate to a UK Aid Match charity their generosity directly changes the lives of some of the world's most vulnerable people.
In Zambia many children do not attend school. Instead they work in the fields, beg on street corners and scavenge for food. The UK government is committed to ensuring that every child across the world receives 12 years of quality education.
That is why we are so proud to support Mary's Meals through UK Aid Match. The 'Double The Love' campaign will ensure that Zambian children are given a nutritious school-meal every day. Their vital work not only gets children back into school, but it also means that those children do not go hungry."
Two sets of identical twins, four-year-olds Grace and Flora MacDougall, and eight-year-olds Ed and Ollie Cowdry, welcomed Mary's Meals chief executive Magnus MacFarlane-Barrow to Dalmally Primary. Commenting on today's launch, Magnus said: "We had a wonderful welcome at Dalmally Primary School, where the children are always so enthusiastic about the work of Mary's Meals."
For further information on the Double The Love appeal, and to find out how to get involved, please visit www.marysmeals.org.uk. With the charity's low cost approach, a donation of just £13.90 will feed a child for a whole school year. During Double The Love, that same donation, when matched by the UK government, will feed two hungry children for an entire school year.