Make a Christmas wish come true for a vulnerable child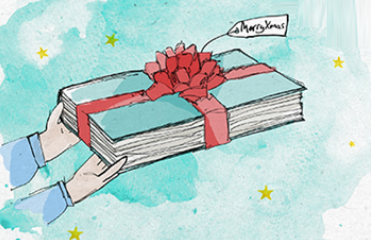 Today, BookTrust is asking the public to once again dig deep to help send a special festive parcel to children who are vulnerable or in care.
Following the success of last year's campaign, the UK's largest children's reading charity, is hoping to raise enough money to send over 11,500 children a special Christmas gift.
Christmas can be a difficult time for these children, but a surprise gift shows them that there's someone's out there thinking of them. Will you donate £10 to children's reading charity BookTrust and make a Christmas wish come true?
BookTrust has carefully chosen 6 beautiful hardback books for children aged 3-13 in the Letterbox Club, BookTrust's programme for children who are looked after. Each parcel contains one hardback book, a jokebook commissioned to celebrate 15 years of the Letterbox Club, a letter from award winning author Jaqueline Wilson and a specially designed postcard by author and illustrator Nick Sharratt.
Jacqueline Wilson, best-selling children's author says: "I'm very pleased and proud to be a patron of the Letterbox Club. It's such a lovely idea to send a parcel to children in care. It means so much to them. I've written several books about a looked-after child – Tracy Beaker – and I know just how much she'd appreciate a Letterbox parcel."
Children who are looked after are more likely to experience home or school moves, and these parcels, which are delivered to them wherever they're living, provide a sense of continuity and stability, which is very important throughout the year but even more special at Christmas time.
Diana Gerald, CEO, BookTrust says: "The holidays can be a tough time of year, especially for vulnerable children. We're appealing to the public to make a £10 donation to help us send one child an extra special festive book parcel, so they have something to unwrap and treasure this Christmas."
For more information or to donate to BookTrust's Christmas appeal visit booktrust.org.uk/xmas