KIDS FROM ASHINGTON TO STUTTGART SET FOR DAY OF TECH & TEAMWORK AT NHSBSA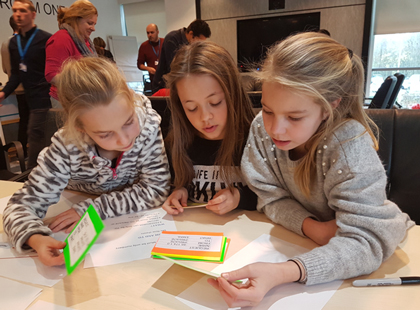 A group of primary school children from Ashington will be joined by pupils from across Europe this week as they have their design skills put to the test at the NHS Business Services Authority in Newcastle.
As part of the Erasmus+ Schools Programme, children from Bothal Primary School, along with children and teachers from Germany, Italy and Poland, are designing playgrounds with a STEM (science, technology, engineering and maths) theme. They will spend a day at the NHSBSA HQ in Newburn, taking part in STEM activities that will help them with their project.
The programme allows children to travel to other countries across Europe, promoting the importance and potential of careers in STEM industries and the impact and increased importance of their roles in an ever-changing world.
As part of their visits, the children partner with leading STEM businesses, providing them with an invaluable insight into how exciting their world of work could be.
Today, the NHSBSA will run workshops for the children on IT, computing, app design and building design.
Kirste Worland, Head of Technology Applications at the NHSBSA said: "The STEM industries are vital to all our futures and we hope bringing children here and showing them in a fun way how we use STEM in the workplace, it might capture a few imaginations and plant a seed as they progress through their school careers and make decisions about the directions they will choose to take.
"We're all really excited about the visit and look forward to showing them how great a career at somewhere like the NHSBSA can be."
Leanne Johnson, Assistant Head of School at Bothal Primary, said: "This project helps to teach young people skills for life, putting them in real life situations and showing how STEM subjects help to solve problems. The children have absolutely loved the opportunity to work with children from other countries and have forged strong friendships. They have benefited from working alongside local STEM employers and gained an invaluable experience into the world of work.
"We are extremely grateful to companies like the NHSBSA who have thrown open their doors and given their time to the children who are really excited about the day."