Almost half a million books gifted to Primary 1 to 3 pupils for Book Week Scotland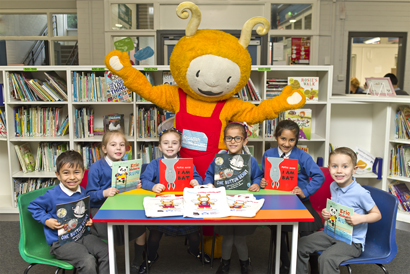 Almost half a million books will again be gifted to school pupils in Scotland as part of Book Week Scotland
Every pupil currently in Primary 1 to 3 in Scotland will receive amazing books as part of the annual celebrations. Now in its seventh year, Book Week Scotland is run by Scottish Book Trust, the national charity transforming lives through reading and writing.
Reading has powerful and wide-ranging benefits, and the roots of enjoying reading are laid down in the early years. Incorporating reading into childhood has a huge impact on educational attainment as well as wellbeing, confidence and mental health, and accomplishment in later life.
Scottish Book Trust is delighted to be working in partnership with Scottish Government, Education Scotland and Creative Scotland to devise and deliver this year's bags.
In total, 458,450 free books will be gifted. 63,000 bags will be gifted to Primary 1 pupils across Scotland, plus 750 Gaelic bags, all containing three books each.
The books included in the Bookbug Primary 1 Family Bag are shortlisted for the Bookbug Picture Book Prize, which celebrates the very best of Scottish authors and illustrators. The titles are: Eric Makes a Splash by Emily MacKenzie (Bloomsbury); One Button Benny by Alan Windram, illustrated by Chloe Holwill-Hunter (Little Door Books) and I am Bat by Morag Hood (Two Hoots Books).
New books, writing materials and counting games will also be included in this year's Read, Write, Count bags, gifted to all Primary 2 and Primary 3 pupils in Scotland. More than 133,000 bags of books will be distributed during Book Week Scotland, as family learning alongside school learning is hugely beneficial for children in the crucial early years of primary school.
This year's bags will contain books such as A Tale of Two Beasts by Fiona Robertson and the Children's Picture Atlas published by Collins, along with storytelling cards and dice, number games and a guide for parents to help them incorporate easy and fun reading, writing and counting activities into their family's day to day lives.
Every child is also encouraged to take part in The Bookbug Picture Book Prize, sponsored by Browns Books for Students, by voting on Scottish Book Trust's website. The winning book will be announced in an exclusive video to all registered groups on 16 January 2019.
An activity book and colouring pencils with fun ideas to enjoy reading, writing and counting together will also be included in the Primary 1 Bookbug Family Bag, as well as a white board and set of magnetic numbers.
Gaelic Bookbug Primary 1 Family Bags are also available for P1 children in Gaelic Medium Education. The Gaelic P1 Family Bag includes Gaelic editions of the three books shortlisted for The Bookbug Picture Book Prize and a dual-language Gaelic/English Activity Booklet developed with support from the Gaelic Books Council. There are also Gaelic Read Write Count bags for P2 and P3 pupils in Gaelic Medium Education.
Marc Lambert, CEO of Scottish Book Trust, said: "During Book Week Scotland, almost half a million books are gifted to children in Scotland. As the national charity transforming lives through reading and writing, we are incredibly delighted and proud to facilitate this. Book Week Scotland is the perfect time to develop a love of reading with your child: sharing a story together is one of the most powerful ways to bond. There are also many Bookbug events taking place during Book Week Scotland, and we hope families will be able to visit, even if it's their first time attending a session."
Deputy First Minister, John Swinney, said: "It is vital to help young people develop a love of reading at an early age, which is why we are funding Scottish Book Trust to gift nearly 500,000 books to children in primary 1 as part of Book Week Scotland.
"Recent research from the Scottish Book Trust highlights the positive impact our annual gift bags are having with three-quarters of teachers surveyed stating that their pupils were more enthusiastic about books since receiving their bags.
"The learning materials in our gift bags encourage parents to try simple reading, writing and counting activities at home with their children. These activities not only improve numeracy and literacy skills but can help keep the kids entertained and make everyday family life a little bit easier."
Maree Todd, Minister for Childcare and Early Years, said: "It is fantastic that nearly 500,000 books have been gifted to children in primaries 1-3 as part of Book Week Scotland.
"As well as laying the foundations of early literacy, book-sharing between children and their parents is critical for helping to develop nurturing and loving relationships and promoting emotional intelligence, as well as building good communication and listening skills.
That's why we provide funding of over £1.6 million each year to Scottish Book Trust for the Bookbug initiative – which helps encourage an early love of books. Last year Bookbug packs were provided to over 230,000 children and over 660,000 parents and children attended Bookbug sessions."
Mairi Kidd, Interim Head of Literature, Languages & Publishing: "Sharing books at home is one of the most powerful things parents and carers can do to boost children's development and to strengthen family bonds. By gifting a range of brilliant new picture books and other fun and inspiring materials, the Bookbug bags help families to experience the gift of reading for themselves. This is especially important for those who do not have easy access to literature and we very much hope the timing of the gift during Book Week Scotland – when libraries around the country are running hundreds of inspiring free events – will help inspire many more families to get reading."
Photo: Alasdair Watson