100 book recommendations from BookTrust to get children reading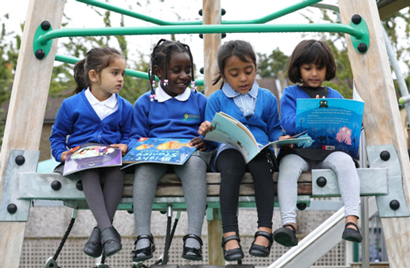 This autumn BookTrust has published its Great Books Guide 2018 which features, for the first time ever, 100 book recommendations for children aged 0-12. It contains books to help reluctant readers, books to get children exploring nature this half term and even some potential books for Christmas inspiration. The Great Books Guide will be delivered to 17,500 schools across the country from 1st October, so keep your eyes peeled.
BookTrust knows that children who read have better life chances. They are happier, healthier, more empathetic, more creative and do better at school. Reading enjoyment also helps to build confidence, wellbeing, development, attainment and social skills.
This year the Guide is beautifully illustrated by Mini Grey and features books from a host of wonderful authors and illustrators including current Waterstones Children's Laureate Lauren Child, Nadia Shireen, Chris Riddell, Judith Kerr and Eoin Colfer. The Guide boasts a diverse and inclusive range of fiction as well as nonfiction children's books, which explore themes as varied as animals, space, UFO mysteries and the human body.
Diana Gerald, BookTrust CEO said: "At BookTrust our mission is to get children excited about books, stories and rhymes because if reading is fun and something children enjoy, they will want to do more of it. We've put together this guide full of books that we think will help get children hooked on books. There is a real mixture of books ranging from the silly to the scary to the informative. We hope this guide inspires you to help children find the right book for them."
Award winning picture book author and illustrator Sophy Henn said: "The BookTrust Great Books Guide is such a brilliant part of BookTrust's unrelenting mission to find the right book for EVERY child and I am completely thrilled that Ted and Bad Nana have made it in! BookTrust are unrelenting in their wonderful mission to inspire and connect all children with books."
Irish author of the Artemis Fowl series Eoin Colfer said: "Team Illegal are delighted to be included in the Guide. It is a great thrill for us to be listed with such fantastic peers. Thanks, BookTrust."
Children's author Candy Gourlay said: "BookTrust is in the business of reading for pleasure and this guide will be an indispensable tool for all who share this goal. Here is a lovingly curated selection, chosen to appeal to a diversity of children, and flinging the doors open to all the worlds that can be found between the covers of a book"
New York Times best-selling author Taran Matharu said: "I am so incredibly pleased to be included in the BookTrust Great Books Guide – BookTrust do fantastic work improving literacy and reading across the UK, and it is an honour to be chosen by such a discerning and respected organisation."
Andy Stanton, author of Mr Gum books said: "BookTrust are a magnificent force for good, striving to expose young readers to as wide a range of stories as possible. I'm over the moon to be included in this year's guide!"