Get them dressed to do their best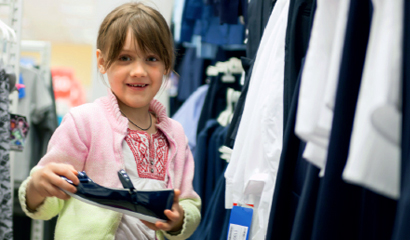 Not everyone can afford to constantly replace school uniforms, so the best way to keep costs down is to shop sensibly, prepare and repair, and use clothing exchanges.
If your child's school insists on uniform with the school badge, one way to keep costs down is to purchase items like sweatshirts from the school shop/supplier, and then buy shirts and blouses from supermarkets or cheaper high street stores. Try and find skirts and trousers with adjustable waist bands, as this helps combat the length vs width conundrum.
Uniforms might seem like a pain, but they do have positive effects. An increased level of sense of belonging amongst students has been attributed to school uniforms and a positive correlation between uniforms and student achievement has been reported. Uniforms also help to bridge the social gap and level the playing field with regards to student attire and have been linked to increased self-esteem and confidence amongst students. Uniforms focus students' energy on learning rather than on seeking peer approval for their outfits and it has been reported that students rated their school's atmosphere higher after the adoption of school-wide uniforms.
The Uniform Exchange
Buying new is not a necessity. Some schools may have second-hand sales, and a school or parent organised clothes swap event can be a great way to swap clothes and meet new people. A clothing exchange is another great idea. A particular success in this field is the Uniform Exchange in Kirklees, which was started by a group of mums in 2011 to help their wider community find school clothes when times are tough. We asked Kate France, the founder of the Uniform Exchange about how to set up exchanges and swaps, and about their benefits...
"Our mission is to provide free school uniform to any child who needs it and to encourage children and families to think of others and the environment. Instead of throwing away old school uniform and filling the landfill sites, we ask families to donate their uniform to us. We want to make school uniform accessible to all children in our area, especially those who find themselves in poverty. As a team of volunteers, we are driven to support those in need; helping to reduce social isolation and allowing children to be ready for learning is really important to us.
If you're thinking of setting up an exchange, it can be as big as you want it to be, from school to village, to town, to council areas. Make sure you have a network of people and places in your area ready to help collect and get the word out in book-bags, websites, newsletters and social media. Whist we work from a large hub and serve our council, you could do this on a much smaller scale and have a sale day mid-summer holiday for everyone to come and purchase the uniform they need. We give all our uniform away for free but if you need to raise funds to pay for the hire of your venue then charge a small fee or use a swap voucher (bring a bag of clean uniform and receive a voucher on the door to pick 10 items of your choice). We also work with some schools who have their own Uniform Exchange shop 3 times a year. They promote it to parents and we help stock it, then any leftovers come back to our central location. As storage can always be an issue. We encourage schools to have a recycled school uniform stall at their school fair. We are passionate about putting all children in good school uniform so they are ready to learn and do not feel ashamed of how they look. Last year we gave out 540 school uniform packs worth over £35k, we hope to do more this year and have a greater impact on our local community.
Clothing exchanges are a great way to save money, meet people, help the environment and of course clothe your children. Why not give it a try?"
In 2016, they received over 15,000 items of school uniform from participating families. Helped 540 children across Kirklees with free school uniform including school coats and shoes. Saved families in Kirklees over £35k when they used recycled school uniform. Gave out over 100 coats at a winter coat exchange.
Recycled over 5000 items of good uniform to families and stopped over 2.6 tonnes of unusable uniform going into landfill by recycling through Oxfam. Exchanges really can make a difference!
You can check to see if your local authority offers assistance here: www.gov.uk/help-school-clothing-costs