ACTIVE KIDS DO BETTER: OLYMPIC MEDALLIST LAUNCHES PROGRAMME TO GET KIDS ACTIVE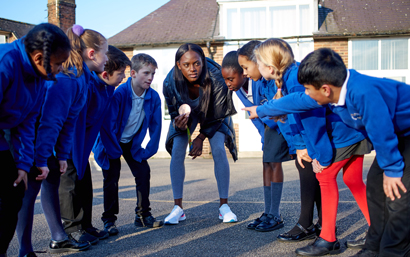 A nationwide drive to inspire primary school children to be more active was unveiled by an Olympic medallist at a school in London today.
Sprinter Daryll Neita visited Beatrix Potter Primary School in Wandsworth to launch Active Kids Do Better – a Nike and Discovery Education programme, developed with support from Liverpool John Moores University, to help teachers increase movement and play throughout the school day.
Fewer than one in four young children in the UK get the recommended amount of exercise, which means that millions of kids are missing out on the benefit of sport and play. Active kids are healthier, happier and show stronger academic performance.
The Active Kids Do Better programme offers free resources, games and activities to all UK primary schools, and teachers can sign up online at activekidsdobetter.co.uk. From short-burst classroom activities to outdoor games and play, the programme gives busy teachers everywhere fun and easy opportunities to get kids moving. They'll also have the chance to make a special Active Teacher pledge, and to encourage their class to work towards Bronze, Silver and Gold awards.
Beatrix Potter Primary School in Wandsworth is one of the first schools to join the programme. Olympic medallist Daryll Neita visited the school this morning, where she met with teachers and pupils, and saw how children are benefitting from being more active.
Daryll Neita said: "It's amazing to see kids of all ages and all abilities having fun and enjoying being more active. It's so important for health and well-being and even small bite-size chunks of exercise can make a massive difference."
Rosemary Bowsher, Year 5 teacher at Beatrix Potter Primary School said: "The children were very excited to welcome an Olympic medallist to our school today! We're proud to be one of the first schools to sign up to Active Kids Do Better, and it was great to be able to show Daryll how we're encouraging our pupils to be more active. As a busy teacher, it's sometimes difficult to find time for fun physical activity outside of PE lessons. This programme makes it quick and easy and has given me confidence to build movement into our daily routine."
Schools will benefit from a whole raft of resources linked to key areas of the National Curriculum, enabling teachers to introduce quick movement into otherwise sedentary lessons.
Some of the activities include:
Spell Check – a hopscotch-style playground game which is not only fun and energetic but has the added benefit of helping to boost pupil spelling
Oops – an outdoor ball game to develop balance, agility and coordination skills
Clock Lunges – a quick classroom activity to help children get out of their seats while they learn to tell the time
Compass Jumps – a fun indoor movement that gets children moving and helps them to understand how a compass works.
Active Kids Do Better features four key strands: Active Classroom, Active Playground, Active Home and Active Teacher.
Teachers can take advantage of Discovery Education's extensive experience gained from working closely with over 6,500 schools and they will be supported with free professional development, including a Day of Discovery event in February – where teachers can share knowledge and meet with athletes and experts – plus a webinar.
Active Kids Do Better will also give schools access to Marathon Kids, the nationwide running programme which encourages children to run laps with the goal of achieving four marathons over the course of a school year.
Dan Burrows, Senior Director of Community Impact EMEA for Nike said: "As teachers and parents know, kids aren't made to sit still, they're made to play. There's now a wealth of research that shows when schools encourage regular physical activity during the day, students benefit from improved concentration, behaviour, social skills and overall wellbeing. We want to give teachers the tools they need to make activity and play quick, simple, and a fun experience for all kids."
Laura Turner Laing, Senior Director of Corporate Educational Partnerships at Discovery Education said: "Today's primary classrooms are high pressure learning hubs – but being active is easier than you think, and has been shown to have positive educational outcomes. Our partnership with Nike makes it simple for teachers to build movement into every part of the school day, giving them the confidence and resources to help kids get moving and enjoy all the benefits of physical activity."
Active Kids Do Better is available to UK primary schools now. Visit activekidsdobetter.co.uk to access free resources and make the pledge. Sign up to attend the free Day of Discovery event on 20th February here: activekidsdobetter.co.uk/events