Saturday Mash-Up! CBBC and BBC TWO, from Saturday 30th September, 9-11am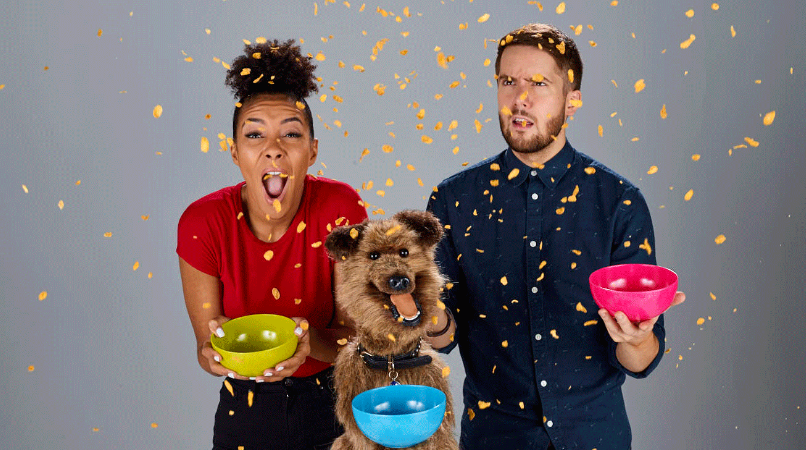 Saturday mornings will never be the same again as the interactive entertainment show, Saturday Mash-Up! crash-lands onto CBBC and BBC TWO.
Fronted by Yasmin Evans, Jonny Nelson and Hacker T. Dog, Saturday Mash-Up! marks the riotous return of children's live programming to weekend television.
Over two awesome hours, our cheeky hosts will bring you the freshest music, fun guests and fantastic competitions for viewers to get involved with.
Each week, Jonny and Yasmin will video call a viewer to crown them as the 'Mash-Up Monarch' – they will get to make decisions about what happens in the show, including which of the studio 'subjects' to gunge. Will the 'King' or 'Queen' use their power wisely?
This week Extreme Mountain Challenge, Deadly 60 and former Strictly Come Dancing star, Steve Backshall, will be in the studio discussing his animal adventures, answering questions from viewers and taking part in some hare-brained games. Steve will take on the fearsome 'Push Off' challenge but will he avoid a mash-up gunging?
Throughout the morning viewers can get involved in the 'Make Me Viral' challenge - who will get the nation talking with their videos? Can you get in touch to guess 'how many things are in the thing?'
To top it all there will be cartoon fun with Danger Mouse and a brand new episode of CBBC favourite The Next Step.
So stick with Saturday Mash-Up! – the show where anything can happen….except cooking!