Nine-Year-Old, Isabel Harris becomes one of the UK's youngest published authors, Supporting Action for Children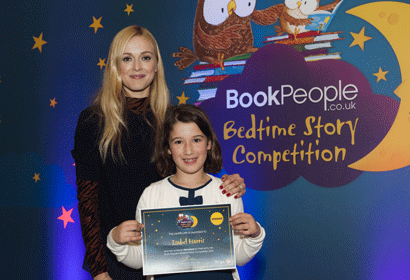 London schoolgirl Isabel Harris has become one of the UK's youngest published authors after winning a nationwide competition by leading bookseller Book People. Book People's Bedtime Story competition set out to find the UK's next budding author by challenging children aged between five and 11 to create a picture book on the theme of animals.
Isabel's entry, The Moon Man, was chosen from more than 1,000 stories by a judging panel including representatives from Book People and publisher Little Tiger Press, author and presenter Fearne Cotton, children's illustrator Ada Grey, Shamaila – a Young Ambassador from Action for Children and TV personality and Action for Children Celebrity Supporter Laura Hamilton. Isabel secured the unique publishing deal and was presented with the accolade by Fearne at a prestigious awards ceremony in London last November.
Isabel's story, The Moon Man, follows two groups of animal friends who view a scarecrow in very different ways. As part of the prize, Isabel was given the opportunity to work with editors and designers at independent children's publisher Little Tiger and was paired with renowned illustrator Ada Grey, whose designs brought Isabel's characters to life. The book is published by Little Tiger and will be sold exclusively at thebookpeople.co.uk, with all proceeds being donated to Action for Children.
TV presenter, Fearne Cotton said: "I can't wait to read The Moon Man to my children and hope other children, mums and dads love it as much as the judges did. The judging process was a joy to be part of with so many impressive ideas from all the children who entered. Picking one winner was incredibly difficult, but Isabel's brilliant story made her a very worthy winner."
Sarah Walden, Group Buying and Merchandising Director and competition judge, commented: "I was extremely impressed at the quality of the writing and imagination shown in last year's Bedtime Story competition. However, Isabel's story stood out from among the crowd. The Moon Man combines everything a brilliant bedtime story should be – imaginative, fun and perfect for sharing with a child before they go to bed. Almost a year later, it is terrific to see Isabel's creation come to life and we're confident The Moon Man will be a great success in helping raise money for Action for Children."
Winning author, Isabel Harris said: "I'm really pleased and very excited to see my story being made in to a proper book. I love reading and writing stories and to know that my book will be read by children all over the country makes me very proud."
By winning Book People's Bedtime Story competition, Isabel has not only seen her story turned into a published book, but also received £250 in books for her to enjoy at home and £250 worth of books for her school. Profits from sales of The Moon Man will go to Action for Children.
Book People will be launching 2017's Bedtime Story Competition next month. To register your interest in entering this year's competition please visit www.thebookpeople.co.uk/bedtimestory