Ten lessons learned as a new mum that I didn't know before by Full Circle author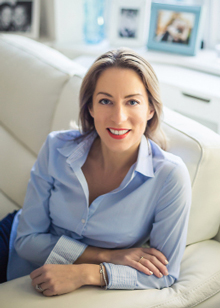 By author and happiness coach Natalie Savvides
The UN's International Day of Happiness is on March 20th. Author Natalie Savvides is lending her support to this vital awareness day as part of her mission to help every girl, teenager and woman feel less alone, and happier, by living their life their own way and being true to themselves. Her book, Full Circle (2016, Pegasus), is a refreshingly honest and raw account of growing up, and includes a series of unedited diary extracts taken from her journals from the age of 13 to her late 30s. Natalie is 41 years old, lives in SW London with her husband and they have two children under six.
1) Yes, our life becomes primarily focused on our child, their happiness and wellbeing - we naturally put ourselves beneath them on the priorities list, but it is also important to make time for ourselves to do something we enjoy when and where possible. Ultimately, if we are happy and relaxed it will make us a better parent.
2) No matter how unprepared we feel when encountering the unexpected on a daily basis, there is nothing we could have been done to avoid it. Every child is unique, it's nature, and whilst there may be some tricks that tend to work, there are no guarantees and there is no way to predict every single eventually.
3) Particularly with a first child we tend to obsess about their every move, every mouthful and every breath. I've learnt after a lot of worry, concern and fraught times that these things seem to work themselves out in the end. Yes, there will be situations that require attention - but refer to your favourite excellent parenting website and note that we are by no means the only ones with such concerns - do yourself a favour and take the pressure off!
4) Motherhood is a blessing, something to be enjoyed. Of course there are times when it can be incredible stressful but if it regularly feels more of a chore than a passion - things need to be reassessed. I believe there is always a way to re-balance and I think it is critical to find as much enjoyment as possible in the children but also for ourselves.
5) We can't ever quantify the amount of love we feel for these little people…. Not until we experience it first hand, it's impossible to imagine the incredible intensity before becoming a parent, how utterly wonderful and terrifying at the same time.
6) There is a fine line between educating our offspring on the multitude of dangers in the world (roads, travel, strangers, war, nasty people etc.) for safety and scaring them to the point they are robbed of the joy of innocence. Think your advice through carefully.
7) My mother was a saint! We live in a far more advanced society with more technology, information, gadgets and a wealth of assistance to help us that our mothers didn't have. I'm not going to list them all - the list is almost endless - but take online shopping as a simple starting point. I've learnt, only now, to appreciate, probably not even fully, just how amazing my mother was bringing up my brother and I.
8) As babies become toddlers and toddlers become young children, there is a lot that WE can in fact learn from them.
9) I believe that the one thing our child wants from us most of all is our time and our full attention.
10) We should never underestimate the pleasure and warmth that comes from giving our children undivided attention - it's amazing what we observe in those moments, most likely the memories that stay with us the longest. Take time out to just 'be'.