The Lion Guard debuts 13th April 2016 on Disney Junior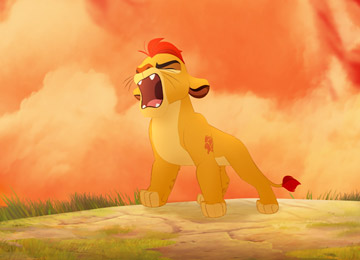 The animated series "The Lion Guard" will premiere WEDNESDAY, 13th APRIL 2016 on Disney Junior. Following on from the feature length special, The Lion Guard: Return of the Roar, the adventures of Kion, the second-born cub of Simba and Nala, and his diverse group of friends continue, using their unique skills as they unite to protect the Pride Lands.
Each episode of "The Lion Guard" incorporates Swahili words and phrases and includes original songs. The Education and Science experts at Disney's Animal Kingdom theme park serve as consultants, inspiring original stories based on their first-hand experiences, and advising on the characteristics, behaviours and habitats of various African animal species.
Joining the cast, which includes Rob Lowe and Gabrielle Union as Simba and Nala, and Max Charles as Kion, are recurring guest stars Blair Underwood (ABC's Marvel's Agents of S.H.I.E.L.D.) as Makuu, leader of the crocodiles and one of the Lion Guard's main villains; Ana Gasteyer (ABC's The Goldbergs) as Reirei, a clever and scheming jackal who wreaks havoc in the Pride Lands; and Maia Mitchell (ABC Family's The Fosters) as Jasiri, a friendly hyena who rescues Kion and helps him face off against Janja and the rest of the hyenas. Jason Marsden, Andy Dick and Lacey Chabert reprise their roles as Kovu, Nuka and Vitani, respectively, from The Lion King II: Simba's Pride in an upcoming episode.