The Secret To A Successful Life? Experts Reveal Imagination Is Key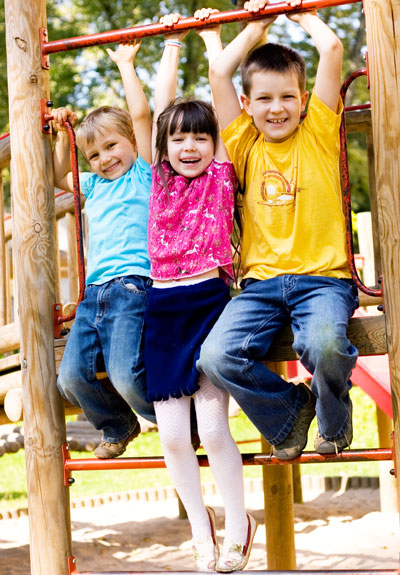 Experts have revealed that imagination plays a vital role in a child's development, providing vital tools to help them communicate effectively and solve everyday problems. Children who are empowered to think for themselves and use their own initiative are better prepared to overcome challenges later in life.
A massive 94*% of British parents agree their role is key in sparking imagination, with two thirds valuing traditional methods such as role play first and foremost
Parents who challenge and nurture their children's imagination from an early age will help to better equip them with crucial problem solving and communication skills, making them more creative and successful in adult life, new academic research released today has found.
The study commissioned by Maynards Discovery Patch in association with child psychologist Dr Amanda Gummer reveals the importance imagination plays in a child's development and also explores parents' views on how they encourage creative play and attitudes on the importance of imagination at home.
Despite the fast paced nature of today's world, the research found that traditional forms of play remain the primary choice for 65%* of parents, with mums and dads choosing the simple world of make-believe, arts and crafts and classic storytelling their go-to methods when seeking to inspire their family.
Dr.Gummer's report highlighted a number of reasons that reinforce the value of imaginative play from an early age. The research discovered that activities that stimulate the imagination can help children better deal with unexpected events and think more flexibly – making them more successful in later life.
Whilst almost half (43%*) of parents view their child's interest in television and computer games as a hurdle to overcome, Dr Gummer's research shows that when used effectively these areas can have a positive impact. By its very nature, technology can actually enhance imagination by introducing concepts and ideas children simply wouldn't have thought of unprompted. The potential of modern advances allows young minds to imagine without limits and wonder what else might be possible, leading to the next generation of inventors.
Distractions aside, the research also indicated that 69%* of parents believe time spent simply being together presented the ideal opportunity to teach their families and discover and learn new things. When asked to expand on their answers, parents admitted that they valued this time together as they felt it removed the pressure to spend money on expensive activities or force them to try to keep up with their children's friends and peers.
Parents approach imagination in different ways with almost three quarters of mums (74%*) preferring to teach their children to make games out of ordinary activities, from climbing trees to tidying their toys. In comparison, almost half of dads (42%*) voted the use of games and high-tech toys as particularly useful to invoke creative play. When asked about their feelings on the role technology plays, 60%* of parents admitted that when used in the correct way, it has become an increasingly important and useful element for both play and educational purposes.
Dr. Gummer advocates that the role of technology is very positive, commenting that this simple approach is conducive to help children activate their own imagination, using modern advancements to discover and better understand the world around them.
Pippa Lewis, from Maynards Discovery Patch comments "Imagination and the role it plays within family life is an area we are particularly interested in, especially in respect to how it can benefit children's' development. With exciting shapes, fun facts, quizzes and Augmented Reality, Maynards Discovery Patch offers a world of discovery and fun way to spark imagination".
Dr Amanda Gummer's top tips to promote an active imagination!
Not always giving children the answers to everything they ask, instead, it is beneficial for children to try and think about their own answers, so parents should feel free to enable this to happen
Spark a child's imagination with joint story time – the parent can start a story then it's up to the child to continue it
Using imaginative language, phrases such as 'I wonder what' or 'imagine if can help children think more imaginatively and incorporate hypothetical or fantasy ideas into their everyday lives, helping them to imagine what it might feel like to be in a certain situation and empathise
Dr Amanda Gummer's Top 5 Imagination Tools!
1. Augmented reality and interactive apps provide an exciting avenue for new depths of discovery during family playtime. They can excite a child's imagination and help them to interact with ideas that they simply would not have thought about.
2. The use of imagery or photos can help children to understand events that they have never experienced – e.g. imagining travelling to the moon via a photograph of an astronaut
3. Pretend play can help children gain perspective- giving them an understanding of how to react
4. Model play – parents can demonstrate what to do in a certain situation as this promotes creativity – acting out situations or scenarios can help them gain a clear understanding of how this might apply in real life
5. Establishing a secure and safe environment where the child can freely express themselves, sharing made up songs or performing poems will enable them to learn through self discovery, safe in the knowledge that their parents are interested and supportive
The Maynards Discovery Patch research reinforces parents' belief that their role undoubtedly plays a vital part in their families lives. Their role as a facilitator allows them to provide their children with confidence and equip them with the ability to use their imagination, deal with unexpected events, discover new information and generate new ideas – all of which is becoming increasingly relevant in modern society.