Parties in Devon

Everyone remembers parties from their childhood, so when it's your child's turn to host a party, naturally you will want to make it extra special for them.
Thankfully, it's pretty easy to arrange a bespoke party, whether this is at home or a party venue of choice.
Many venues and entertainers offer a multitude of packages to suit different tastes and budgets, which you can read about in this party guide.
The great reward for all the effort, is a very happy child, who will be filled with plenty of fond memories...
So, what are the latest Children's Party Trends for 2018?
Science and Slime Parties
Science and Slime parties engage young minds with a combination of thrilling demonstrations, wacky experiments and plenty of hands-on activities. Many science party companies run age-related, interactive games so children can concoct exciting things such as gooey DIY slime, amazing bubbles and colour-changing potions. Enormous fun and educational too.
Unicorn, Rainbow and My Little Pony Parties
Unicorns, Rainbow and My Little Pony are big news at the moment, so if your child wants this as his or her party theme, you will be spoilt for choice as many shops and partyware stores currently provide a mass of items to suit all budgets.
Add an extra element of surprise with some fun quirky goodies such as rainbow juice, unicorn photo booth props, rainbow wands, unicorn magic potion or My Little Pony invites.
Fairy Tents and Indoor Teepees
Fairy Tents and Indoor Teepees are great places for the children to enjoy a mini adventure away from the watchful eye of the adults in charge. Inside their 'secret' den they can use their wildest imaginations to tell fantastic stories and play fun spy games. Furnish the tent or den with sparkly fairy lights or lanterns and pad it out with cosy rugs and comfortable cushions. A food hamper filled with a feast of cupcakes, chopped fruit and snacks will go down a treat too. For inspiration take a look at the Pinterest pages – fairy tents and indoor teepees
Computer Gaming Parties
Video game, console and coding parties bring birthday celebrations well into the 21st century, and have become hugely popular party options among boys and girls. The games can be put into an inclusive multiplayer mode enabling youngsters to challenge each other in a fun way. The choice of games is vast – choose from singing and dancing games, or football and Minecraft games, for example.
Ice-cream and Milkshake Parties
Ice-cream and milkshake parties offer a really appetising option, enabling guests to have fun concocting their own indulgent delicacy. Many family friendly cafes and venues provide this type of party where half the fun is consuming the final creation. Needless to say, this a great option for those on a budget, as the food is part of the package.
Party Checklist
Make sure you don't forget anything important by using this party checklist. Click on the links below for more...
For parties at home click here
For parties at a venue click here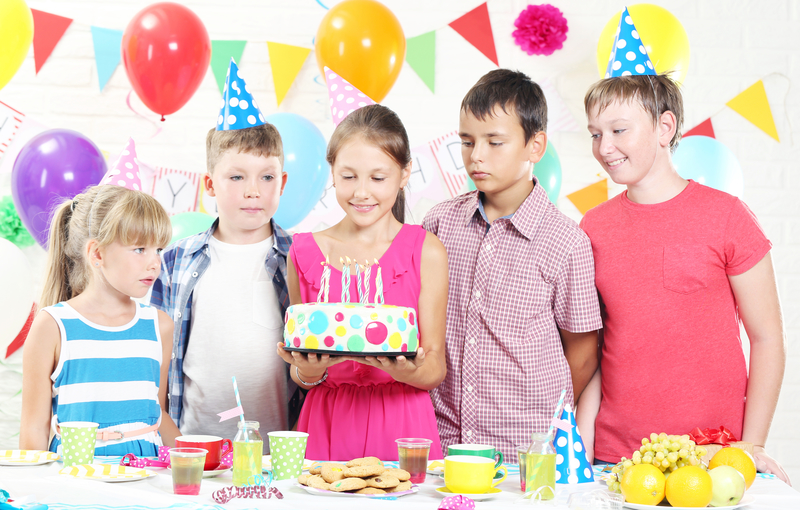 For party game ideas click here
For party food ideas click here
For an easy to make birthday cake click here
For party bag ideas click here
For invitation RSVP etiquette click here
For those 'Don't Forget Items' click here
For Five Pound Gift Ideas click here
Here are some details about party providers and entertainers close to you:
The Party Wiz
Tel: 07791 560298
www.thepartywiz.co.uk
The friendly team at The Party Wiz simply love to party! The Party Wiz provides all aspects of children's party entertainment throughout Devon and beyond – from fantastic face painting, balloon twisting and mini disco's - to princess visits, bouncy castles and themed children's entertainment shows - the Party Wiz has it covered! This mobile party service covers the whole of Devon including Exeter, Plymouth and Torquay. They are looking forward to making your child's next birthday party one to remember!
TLH Leisure - Aztec Games
Tel: 01803 400200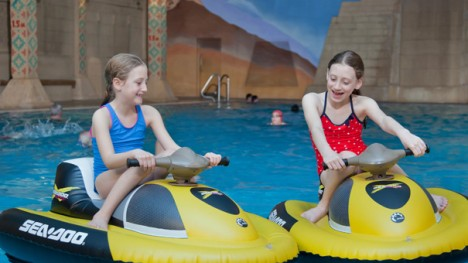 Part of the TLH Leisure Resort hotel group, Aztec Games is a stunning family leisure facility in the heart of Torquay with a large indoor games arena, 25m indoor pool, dance studio, bistro and more. Enjoy archery, 10 pin bowling, table tennis, snooker, pool, dance mats and lots more, as well as Aztec Soft Play for your little ones. Food and drink is served all day and entry is free. All ages can try a Dip 'n' Dine party with swimming fun in the indoor pool. Party meal options include traditional hot or cold buffet options served in either Aztec Games or the Aztec Bistro.
The Bear Trail
Tel: 01392 881780
The Bear Trail has grown and is now bigger, better and muddier for 2018. There was no hibernating at The Bear Trail this winter, as the friendly team has been hard at work, adding 8 challenging new obstacles, improving the facilities… and, the prices have been kept the same! The Bear Trail is open again for February half term, so join them for some good old-fashioned family fun. Remember you can book your birthday party at the Bear Trail; readers of Primary Times can't be wrong – you voted The Bear Trail as your favourite party venue in Devon in the Reader Star Awards 2017.
Mrs Snuggles Workshop
07762428067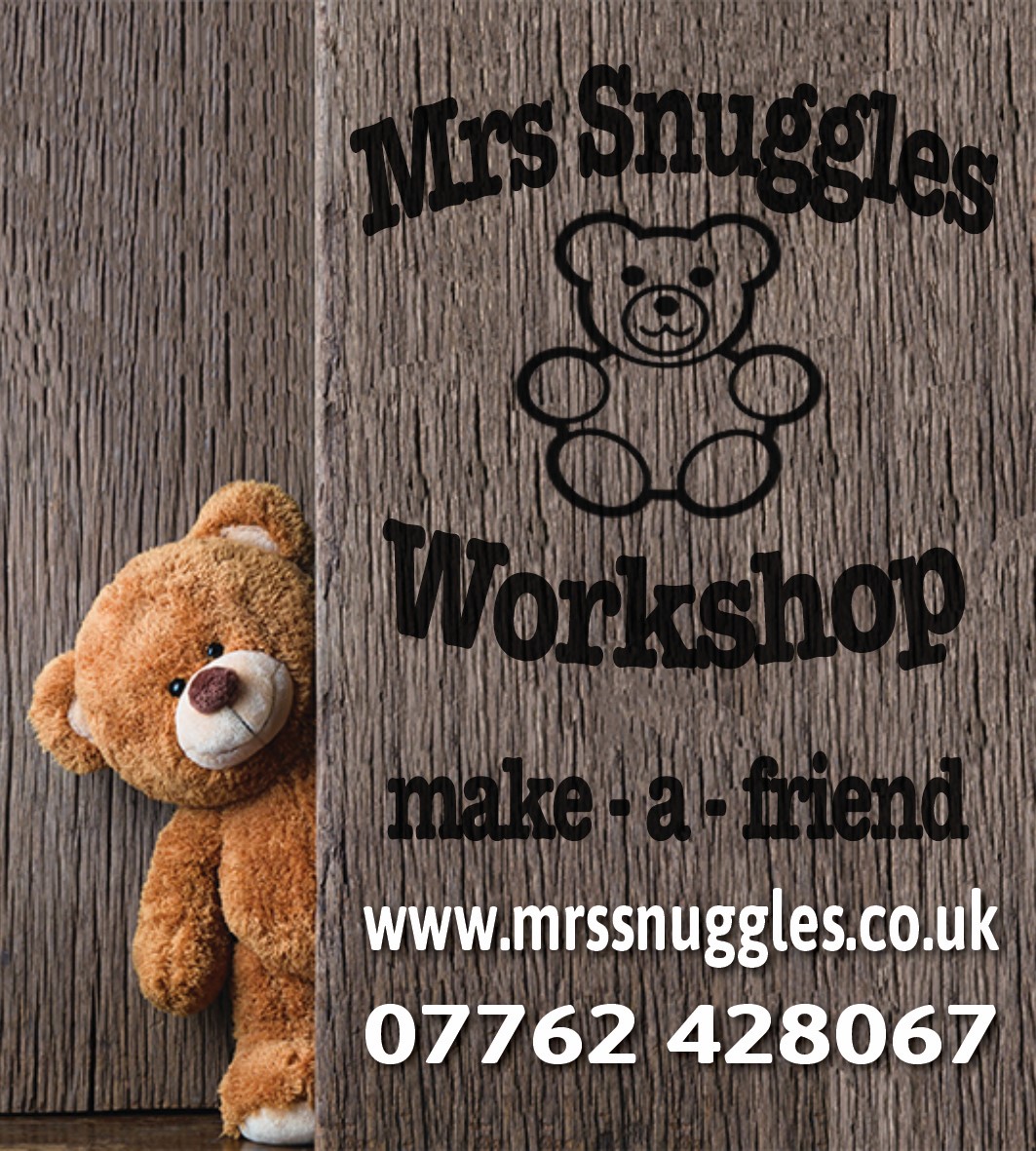 Had every type of birthday party for your little one and would like to look for something new or different? Why not book Mrs Snuggles for your birthday party tailored to your special birthday girl or boy? Simply choose the bear or animal you want and let the adventure begin.
Perfect for parties hosted by our teddy technicians or they offer DIY no sew kits containing everything you need to do it yourself!
"a rather magical experience!" Mrs E Exeter
Haven Banks
Tel: 01392 400150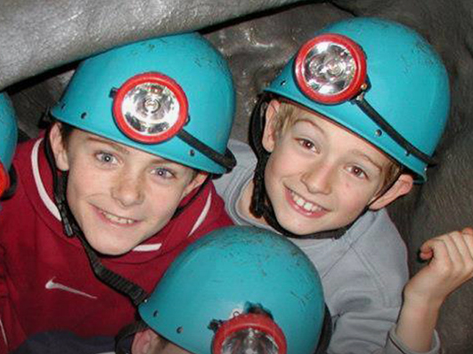 Haven Banks Outdoor Education Centre, in Exeter, offers a wonderfully exhilarating birthday party experience. Run from its state of the art facility on Exeter's historic canal and riverside, the birthday child can choose from one of the many water or land based adventurous activity options. Party packages can include any of the following options: canoeing, raft building, sailing, windsurfing, archery, caving, artificial caving, coasteering, climbing and mountain biking. Haven Banks birthday parties can be tailored to your exact requirements of activities, facilities and duration.
Torquay Alpine Ski Centre
Tel: 01803 313350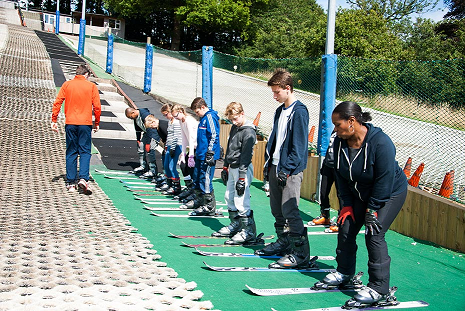 Torquay Ski Club can provide plenty of exciting thrills to any child's birthday party. Children will be able to enjoy the thrill of whizzing down the slopes on the Ringos and there's a chance to ski and snowboard too. Ringo parties last from ½ hour to 1 hour. Skiing sessions last for 1 ½ hours and are suitable for children aged 6 years+. Parties include tuition and equipment hire. Snowboarding parties are also available for children aged 10+. Guests are able to bring their own party food and there is a room for hire at Torquay Ski Club if needed. You can find Torquay Alpine Ski Club at Barton Hall, Kingskerswell Road, Torquay, TQ2 8JY.
Quay Climbing Centre
Clip 'n' Climb Party Tel: 01392 422559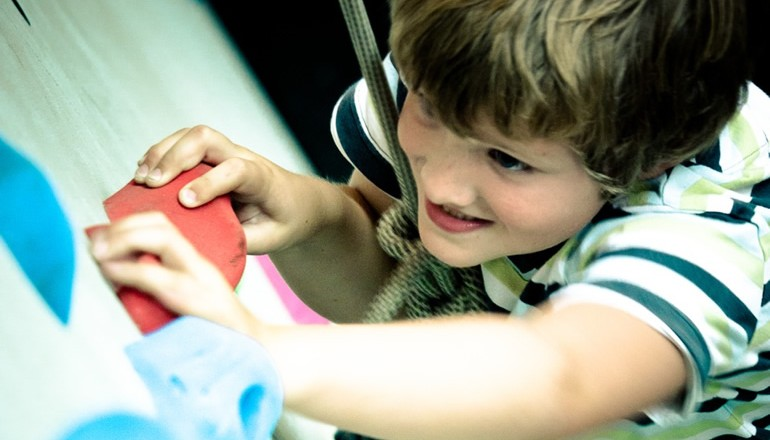 Indoor Roped Climbing Party Tel: 01392 426850
www.quayclimbingcentre.co.uk or www.clipnclimbexeter.co.uk
Are you looking for something fun, challenging and guaranteed to lift you off the ground? The Quay Climbing Centre or Clip 'n Climb at the Quay in Exeter guarantee an action-packed birthday experience, whatever your age. Climbing party packages, for 7 to 16 year olds, are designed to give you plenty of choice. Choose from a session in the popular Clip 'n Climb arena or a climbing session on the roped wall. Afterwards, carry on the celebrations in the party room and enjoy a birthday feast! Choose from a traditional party buffet or something from the pizza menu.
The Waie Inn
Tel: 01363 82348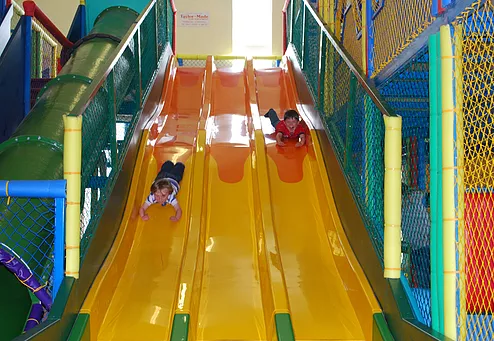 In the heart of the Devonshire countryside you will be amazed what you find at the Waie Inn. Run by a family for your family, the Inn is completely child friendly, and has fantastic facilities such as an indoor heated swimming pool, a new indoor soft play area (Waie2Play), an outdoor play area which includes an all-weather 5 a-side football pitch, zip wire, roundabout and lots more. The 'Waie2Play' party package offers children 1½ hours of fun in the soft indoor play area before they settle down to tuck into some tasty food. There is also a swimming pool party option that allows the children to enjoy an hour's splash in the pool followed by a hot meal, ice cream and drink.
Crealy Adventure Park and Resort
Tel: 01395 233200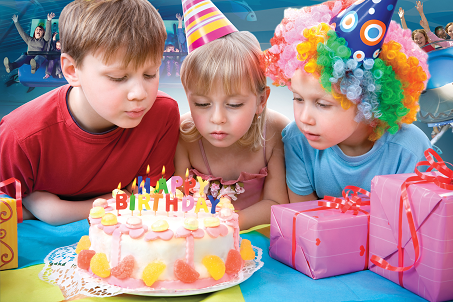 www.crealy.co.uk/groups/birthdays
Make birthday memories at Crealy Adventure Park and Resort with one of its special birthday party packages. With a number of packages available, suited to all ages, celebrating birthdays at Crealy ensures an unforgettable experience. Do you want Buddy and Blossom Bear, animals, rides and non-stop fun at your birthday party? You will find it at Crealy Adventure Park and Resort. Every year, Crealy welcome birthday parties for all ages, from tiny tots through to those 'landmark' numbers, and right up to grandparents. You're never too old to have fun on your birthday! Crealy offer venue hire too, so you are able to have exclusive access for your party.
Miniature Pony Centre
Tel: 01647 432400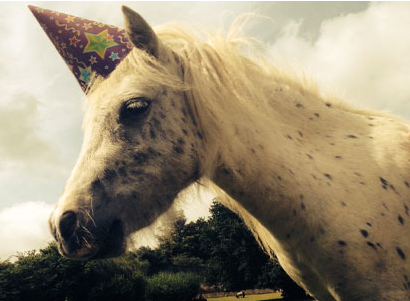 Party with a pony at The Miniature Pony Centre, a great place for fantastic birthdays! Enjoy pony rides, fun activities, a delicious birthday tea, have the party room all to yourselves and more. Customise your party experience to suit your exact requirements – for example, the children could meet the resident unicorn or even have a meet and greet with a My Little Pony Character. For a stress-free birthday party why not arrange your child's birthday party at The Miniature Pony Centre, at Wormhill Farm, TQ13 8RG.
Seaton Jurassic
Tel: 01297 300390
You've waited all year and now it's finally here…it's Party Time at Seaton Jurassic! What better way to celebrate than with a Jurassic Children's Birthday Party? Become time travellers, adventurers, explorers and fossil finders. Party packages include a special tour of the exhibition, two fun activities, a birthday tea, balloons, party bags and a birthday cake. All activities will be led by a member of the Seaton Jurassic Events Team.
Woodlands Family Theme Park
Tel: 01803 712598
Enjoy an unforgettable birthday party at Woodlands Family Theme Park whatever the weather. Parties are bookable every day when Woodlands is open, and include a full day of fun in the family theme park, a themed birthday party room, free admission for adults, a choice of 9 hot meals, ice lolly and drink. All children will receive a free balloon and the birthday child will get a free gift card. With 11 play-zones, fun and entertainment is guaranteed!

Go-Kart Party
Tel: 07703 719 402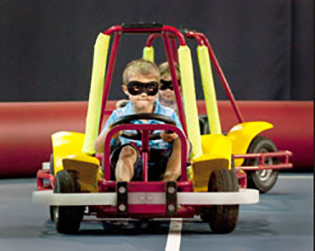 If you are looking for a party that is really different, great fun and hassle free then look no further than a Go-Kart Party. Nathan and his team offer boys and girls of 4 -10 years an opportunity to drive battery powered go-karts around an inflatable circuit. The parties are fully hosted and fun games such as laser tag, cops and robbers, cone dodging, racing and reversing will give the children an experience they will never forget. Kart speeds and games are tailored to the age and ability of the kids. Just check the 5.0 average review score on Facebook to prove it! Available indoors in numerous leisure centres and sports halls across Devon, or even outside at your home, Go-Kart Party is accessible all year round at a venue near you.
Party Pieces
Tel: 01647 61359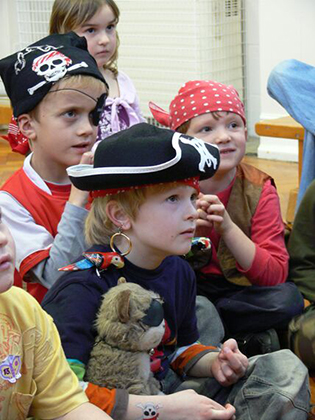 Party Pieces is an established and much loved company run by drama graduate and actress Ruth Lawrence.
Ruth has drawn on her wide experience to devise an original formula for party entertainment aimed at children from 3 to 10 years, where she and the children bring different stories to life through imaginative play; music and dance; themed games; dressing-up and face painting; puppets and prop-making; treasure hunts, parachute games and much more.
Schools and pre-schools love Party Pieces too. Party Pieces will enthral and amuse, captivate and charm. You can relax and the party will be one to remember!
Cofton Country Holidays
Tel: 0800 085 8649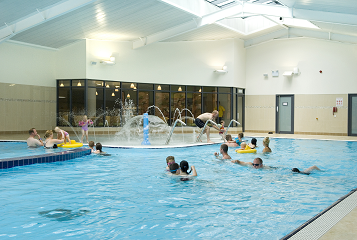 Cofton Country Holidays is an award-winning Holiday Park in South Devon and is an ideal location for a child's birthday party. It boasts a fabulous heated indoor swimming pool with a fun splash pad and fountains to play under. After all the enjoyment in the pool, the party guests can choose a meal from the children's menu and select a delicious ice-cream sundae too. Alternatively, there is a kids' buffet option. Additionally, there is an engaging arcade featuring plenty of games for younger and older children, Bowlingo and two soft play areas for children up to 8 years old.
Bear Feet
Tel: 01626 336339
It's play time all the time at the Bear Feet Play Centres, the fantastic play centres in Newton Abbot and Exeter. Bear Feet boasts an amazing 8000 square feet of pure fun, packed full of ball pools, slides, and even a ball volcano, it really is the most fun your children can have with their socks on. Bear Feet also offers an individual party experience that is both unique and stress free. Two-hour parties include, a choice of hot or cold food, unlimited jugs of squash, dessert, reserved seating for adults, and a birthday card and a gift for the birthday child. That's why its play time all the time at Bear Feet play Centre!
Dinosaur World
Tel: 01803 298779
www.torquaysdinosaurworld.co.uk
Visit Torquay's Dinosaur World for a birthday party to remember. With fun games and activities as well as dinosaurs to see and play with, it's suitable for children aged 2 years+. Spend up to 2 hours roaming the dinosaur trail to see magnificent full size and scale dinosaurs, discover incredible fossils, and even sit on a deadly dinosaur. Plus, all party goers get a free mini bag of real fossils. It's a great value birthday party at only £4.95 per child, with all adults free of charge – minimum numbers apply.
i-Bounce
Tel: 01626 332241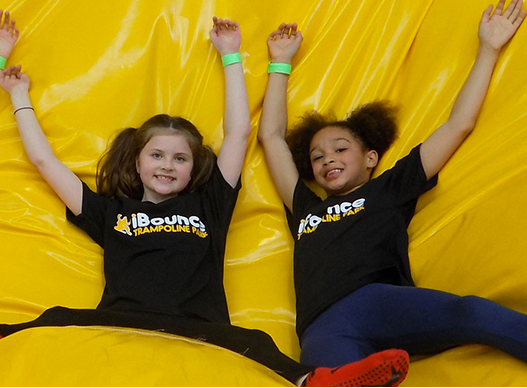 iBounce Trampoline Parks, in Exeter, Newton Abbot and Bodmin, offer the ultimate fitness experience, bringing all family members together with hours of bouncing fun. iBounce is a brilliant destination for birthday parties, with different party packages for you to choose from. Being an indoor attraction, it won't be ruined by the weather either – and they are open all-year round. Parties are for children aged 5 years+ and include jump time; use of the party room; water and grip socks; an iBounce t-shirt and goody bag for the birthday child and a free revisit for the birthday child. All iBounce parks ensure a great source of exercise and fun for all ages.
Honiton Pottery
Tel: 01404 42106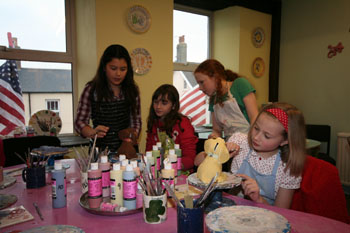 If you are thinking of booking a calming and creative party – Honiton Pottery is a great place to go. Pottery painting is a fun experience that will give children a sense of pride and achievement. A typical party in the Honiton Pottery studio lasts for 2 hours, or 1 ½ hours for 'younger' children, and includes hot food or something tasty from the dessert menu such as ice cream sundaes, knickerbocker glories or pancakes and a tasty homemade milkshake – there are 70+ different flavours to choose from. Alternatively, there is a mobile painting party service where everything is delivered to your door or party venue.
Pecorama Play Station
Tel: 01297 21542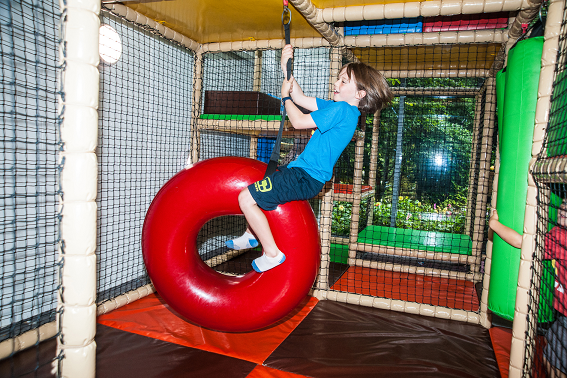 Have a great time at the Play Station at Pecorama, whatever the weather, this February and March. There are Astra, racing and spiral slides, a zip wire, scramble nets, spinners and rollers for the kids, and great coffee and free wi-fi for mum and dad. Pecorama is open daily over the February half-term and five days a week during term time (closed Mondays and Tuesdays). Birthday Party packages are available at £9 per child, covering two hours play and the birthday lunch or tea.
Wildwood Escot
Tel: 01404 822188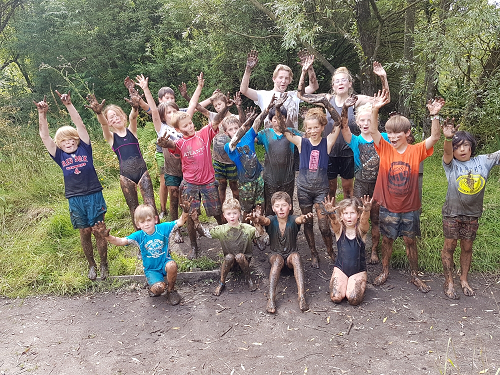 Wildwood Escot has everything that is needed for an unforgettable party. Its 'Really Wild Party' option provides three hours of action-packed activities. Party guests have full access to the park, woodland and wetlands at Wildwood Escot, giving them an 'up close and personal' introduction to the natural world. Forest adventures may include swamp walks, den building, shelter building, campfires, fire sculptures, woodland walks and loads of fun. Find Wildwood Escot in Ottery St. Mary, EX11 1LU.
World of Country Life
Tel: 01395 274533
At World of Country Life, 'Appy Angus and all his animal friends are on hand to make your child's special day full of fun. The Party Package has so much included - the children can get up close to the animals in the Pet Centre, feed a lamb, walk a goat, take a ride on the Deer Train Safari, enjoy the Hawkridge Birds of Prey display, take in a show at the Barnyard Theatre and watch one of the hilarious animal racing events. Once the children have built up an appetite, everyone can head over to the Pirate Ship Party Deck to enjoy a Birthday Party feast. There are different food options available and World of Country Life's park mascot 'Appy Angus will be on hand to help with a birthday cake 'sing-a-long' - he loves to be in the photos too!
Funderzone
Tel: 01271 328328
Funderzone in Barnstaple offer several fabulous party themes, so you are sure to find one to suit your child's needs. Party packages include 1½ hours of climbing, crawling, swinging and sliding on the play structure, followed by a yummy hot or cold feast at a dedicated table in a party room. Once the children have finished eating their main meal the party host will bring out the birthday cake. The children will then enjoy their ice cream whilst the party host slices and wraps a piece of cake for each child.
Tree Surfers
Tel: 01822 833409
Rope adventures and zip wires at Tree Surfers make for a truly memorable birthday party for children aged 4 years and upwards.
To spice things up a little, the party guests can add archery or Leap of Faith as an extra. Tree Surfers can take care of food too – just ask! A two-hour adventure always puts smiles on faces and costs from just £24 per child.
Exclusive use bookings for party groups are also available. The lovely staff at Tree Surfers will keep everyone safe and excited, but minimum heights and group sizes apply.
Jungle Jim
Tel: 01803 812478 or 07736 970293
www.junglejim.co.uk or www.jimmytamley.co.uk
Award winning TV ventriloquist Jimmy Tamley provides a whole new level of family entertainment with the Jungle Jim Show. Together with all his wild and whacky characters he creates a show suitable for all ages. Lively and interactive, the show is perfect for parties, schools, theatres, events, and corporate functions - in fact Jim and his friends are guaranteed to get everyone roaring. Let Doozle, Pee Wee the Elephant, Boomerang-Utan, Dandelion and lots more entertain you and create a Rumble in the Jungle at your event. Look for the Jungle Jim Show at a venue near you in 2018!
Combe Martin Wildlife Dinosaur Park
Tel: 01271 882486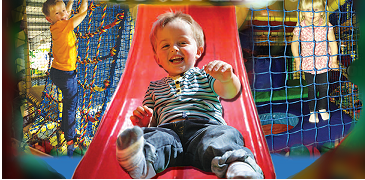 www.wildlifedinosaurpark.co.uk
Book a fantastic, fun, stress free themed birthday party for a child aged from 3 to 12 years in the new gigantic Dinosaurus Playzone. Party rooms are bookable during the weekends in the winter months and every day once the park is open 7 days a week. There is a choice of themes: Unicorns, Minions, Frozen, and Dinosaurs, and a variety of packages are available. All party options include 2 hours of fun and food in the amazing soft play area.
Pocketwatch Theatre Company (with Jonty Depp)

Tel: 07807 840460
www.pocketwatchtheatrecompany.com or www.jontydepp.com
Pocketwatch Theatre Company is a fun and flexible theatre company specialising in interactive theatre, walkabout characters, school workshops, parties and festivals.
The team features Jonty Depp – a versatile professional Johnny Depp character impersonator - as Captain Jack Sparrow, Willy Wonka, The Mad Hatter and more. Current themes are Pirates, Mermaids, Wonderland, Willy Wonka, Knights and Dragons, Fairytale, Kings and Queens, Faerie Folk, Robin Hood, Halloween, Mad Science, Science Fiction…the list goes on.
Riviera Centre
Tel: 01803 299 992

www.rivieracentre.co.uk/leisure-pool/childrens-parties
Located in Torquay, just off the seafront, the Riviera Centre offers fitness and fun for all the family whatever the weather. Wave's Leisure Pool has a unique sloping floor, wave machine, flume and pirate water play features. They offer dip n dine packages, fun sessions and under 3s swim for free. There's a wide selection of children's party packages and private pool hire for celebrations large or small, and swimming lessons are available throughout the year during school term time and holidays.
Planet Play
Tel: 01363 774626
Planet Play is a new play centre in Crediton which has been created for families with children aged from 0–9 years specifically in mind. There is a vast space for fun, adventure and safe play in a friendly environment. Whilst your little stars explore, you can take the opportunity to come back down to earth and enjoy a well-deserved treat from the delicious menu. Party packages include a 90-minute play session, a delicious buffet or cooked meal, exclusive use of the party room and unlimited squash.
Dartmoor Zoo
Tel: 01752 837645
Party on the wild side at Dartmoor Zoo. All parties are carefully put together to make the most of a big, big day. You can tailor-make your own party package or choose from one of the special deals such as the Original Otters package for all ages, the Tiger Toddlers party for children aged 2-5 years and the Capybara Children's party for children aged 6-15 years. Children can enjoy a great day out, get up close and personal with some of the animals, and leave with some fantastic memories. Find Dartmoor Zoo at Sparkwell, Plymouth, Devon PL7 5DG – just a few minutes off the A38. Please quote Primary Times when booking.
Hangar 7
Tel: Alan 07904 247588
If your child loves Star Wars and has daydreamed about being the Captain of the Starship Enterprise, then they will simply love a new business that has touched down on the Seale Hayne campus outside Newton Abbot. Local entertainment company, Hangar 7, has created the Rocket Room, where children are transported into an environment where they can become the crew of their very own star ship, battling aliens to survive in the depths of space. This is a perfect setting for parties, role play groups, and team building events for all ages.
The Paint Hub Pottery Painting Studio
Tel: 03333 706706
Take the hassle and mess out of a child's party by visiting the Paint HubPottery Painting Studio in Dawlish Warren, where all parties have a welcoming, chilled and creative ambiance. Choose from over 50 pottery pieces to paint, where all-inclusive prices start from just £7! When there are six or more guests at the birthday party, the birthday girl or boy will receive a special birthday plate memento, as a special gift from The Paint Hub.
Seaton Tramway
Tel: 01297 20375
Hop aboard a special tram for an unforgettable birthday experience at Seaton Tramway. Party packages include a return tram ride, party food, a Tramway goody bag for each child and the birthday child will receive a tram certificate and special gift. In the tram, there will be a special reserved seating area with party decorations waiting for the party guests and party food will be served to your table in the Garden Room at the Tramstop Café
SportyStars
Tel: 07514 983066
SportyStars has developed a range of fantastic party activities, ensuring active fun for everyone invited. Multi Sports and Football parties offer fast paced fun and games, for children aged 4+, and there are action-packed alternatives such as Nerf, Bubble Football and Archery Tag, for older children or those seeking a bit more adventure. All SportyStars parties can be held in a range of venues such as a village hall, school, church hall, community centre or sports hall.
Party Checklist
Party Checklist: For parties at home
Decide on the timings and date of the party
Decide on how many children you can comfortably accommodate in your house
Send out the invitations
Sort out the entertainment if it's required. Book the entertainer, face painter, bouncy castle
Plan in the fun factor or create a theme
Sort out a music playing device
Select party games for the children to play
Source decorations, party tableware, balloons and party hats
Purchase the food and drink
Get the birthday cake
Party Checklist: For parties at a venue
Sort out party numbers
Create a small list of your child's favourite party venues in preferential order
Check the availability of the venues and if there are any special deals
Book a date and time with the venue. Pay the deposit
Get the name and telephone number of the main party organiser at the venue
Get the party invitations from the venue and send them out
Sort out the food with the venue and establish whether a birthday cake is supplied
Confirm numbers with the venue prior to the day
Party game ideas
Traditional party games always go down a treat. Here's a list of some of the most classic children's games:
Pass the Parcel
Musical Statues
Musical Bumps
Musical Chairs
Chinese Whispers
Blind Man's Donkey
Animal Charades
Treasure Hunt
And here are a few new party game ideas –
The Tray Game
Dead Ants
Doughnuts on a String
Marsh-mallow Bobbing
Piñata Games
Remember to stock up on prizes to award to the winning children.
Party Food Ideas
The birthday cake!
A choice of sandwiches with simple fillings such as plain ham, cheese and tuna. Mix some salad leaves into some of the sandwiches – if the children don't like it they can always take out the salad! Think about supplying some healthy options which are visually appealing and tasty.
Chopped up vegetables such as carrots, mangetout, peppers, cucumber with cream cheese or houmous for dips
Breadsticks
Cheese straws
Potato wedges
Pizza slices
Mini sausages and sausage rolls
Cheese and pineapple on sticks (or uncooked sticks of spaghetti)
Crisps and popcorn
Chopped fruit
Mini-sponge cakes
Jelly Boats made from scooped out and quartered oranges. (Halve an orange, scoop out the fruit, fill it with jelly. Once set, cut into quarters)
Ice-cream
Drinks: Either orange and blackcurrant squash, fruit water, fruit juice, milkshakes or plain water
Birthday Cake
Quick and Easy Chocolate Hedgehog Cake
Buy or bake a round sponge cake.
Divide the cake into three parts, the middle should be slightly bigger than the two sides, which should be the same size as each other.
Cut a V-shape at the end of the middle piece of cake (this is the hedgehog's nose). Discard the two smaller pieces. Or eat them.
Cover the middle piece of cake with thick chocolate icing.
Place the two remaining pieces of cake on top of the iced piece, round side up, for the Hedgehog's hump.
Liberally cover the entire sponge with thick chocolate icing.
Use chocolate buttons or flakes for the Hedgehog's spines.
The Hedgehog's eyes and nose can be made using Smarties or similar.
Don't forget the candles for the cake. They are often overlooked with all the other preparations.
Party bag ideas
Books or small colouring-in books
Glowsticks
Glitter Tattoos
Small packs of pencils
Bubbles
Balloons
Stickers
Small bag of sweets
Finger puppets
A paper glider
Decorate your own paper party bag
Cake Pops
A piece of birthday cake or a cup cake
Party politics - Invitation RSVP etiquette
For the party hosts
Hand out the invites in plenty of time, ideally about 3 weeks before the party date.
Include detailed information on the invitation such as the date, the start and finish times, the venue's full address and postcode, and the name, email address and number for them to RSVP.
Include a RSVP date to help you confirm final numbers prior to the day. You may wish to use words to the effect of: 'As the venue requires final numbers prior to the party we would appreciate confirmation of your child's attendance by (add RSVP date). If we do not hear from you by this date we will assume that your child is unable to attend'.
As a second measure, about a week beforehand, you may wish to politely chase up parents who have not as yet RSVP'd.
For the guests
RSVP as soon as you can, whether your child can make it or not.
If something happens on the day of the party, and your child can no longer attend, let your hosts know ASAP.
If you are running late, or need to leave early then let the hosts know in advance.
If you have not RSVP'd then don't just turn up uninvited.
Don't Forget Items!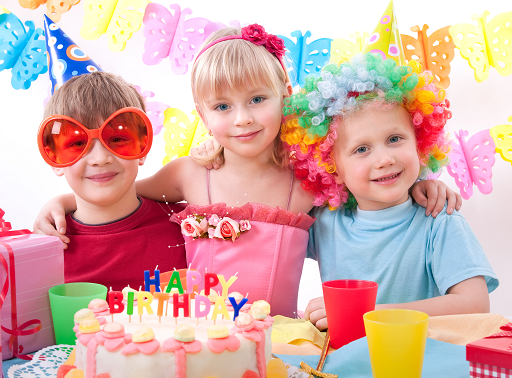 Candles for the cake
Candle holders
Matches
Cake knife
You may wish to include party bags for unexpected additional guests or young siblings
Printable directions, including the postcode of the party venue
Five Pound Gift Ideas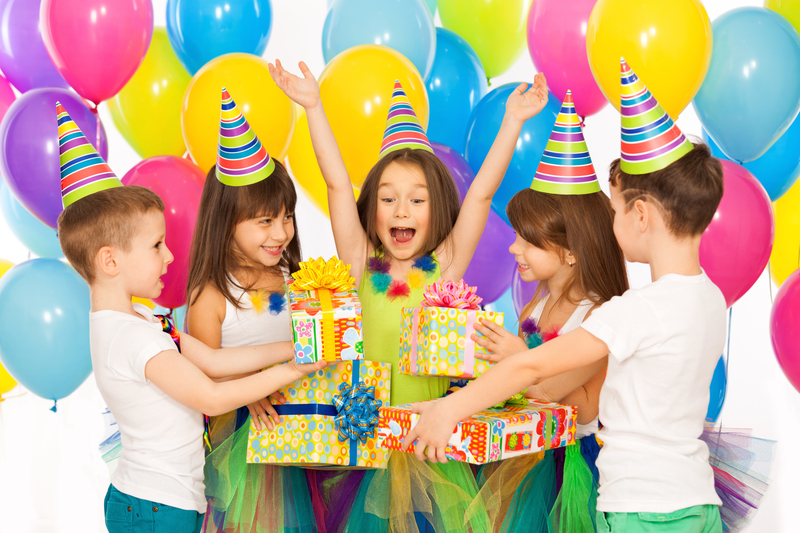 Does it seem like your child is attending a different birthday party each week? Needing suggestions for generic party gifts that won't break the bank? If you are super-savvy you will have already stocked up on a number of general items in the Sales, if not, here are some ideas for a fiver:
Colouring-in sets and basic craft kits
Travel and Pocket games
Top Trumps
Books, jotters or notepads
Pamper packages filled with hair bands, bobbles and snazzy hairclips
Nail art kits
Superhero action figures
Vouchers