MATCH ATTAX UEFA CHAMPIONS LEAGUE COLLECTION RETURNS FOR ANOTHER SEASON!
Closing Date: 18th March 2019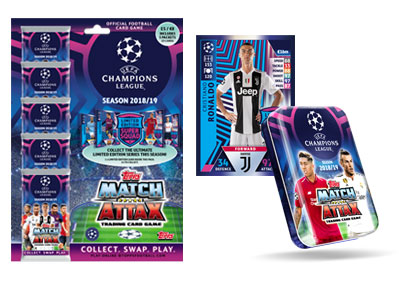 Newsletter Subscribers Exclusive*
New football trading cards unveiled for UEFA Champions League 2019 Campaign
And we're back! As we wait in anticipation for the next round of the Champions League with four English teams still in the competition, football fans can first enjoy the return of the official Match Attax UEFA Champions League trading card collection, on sale in stores NOW!
There are over 450 cards to collect, swap and play. Create your ultimate UEFA Champions League team to compete against friends on Toppsfootball.com and use the players' carefully-calculated defence and attack ratings to score.
Shop now: www.toppsdirect.com
We are giving one lucky entrant the chance to win a Match Attax UEFA Champions League trading card bundle!
For your chance to win, simply answer the following question:
What does UEFA stand for?
a) Union of English Football Associations
b) Union of Ecuador Football Associations
c) Union of European Football Associations
*Winners will only be selected from our keep up to date subscribers