Win £100 worth of books for your school
Closing Date: 30th April 2019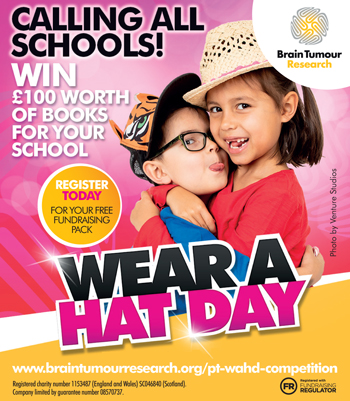 If you are already planning your fundraising and fun activities for the new academic term, please do include 'Wear a Hat Day' on Friday 29th March, for Brain Tumour Research.
Brain tumours are indiscriminate; they can affect anyone at any age. What's more, they kill more children and adults under the age of 40 than any other cancer... yet just 1% of the national spend on cancer research has been allocated to this devastating disease.
The team at Brain Tumour Research is focused on finding a cure for brain tumours and they are the only national brain tumour charity dedicated to funding scientific research into all types of brain tumour.
Primary Times is sponsoring an initiative to award a wonderful prize to the school who raises the most funds from their 'Wear a Hat Day' so please do include it in your plans for next year and please do take a look at their website www.braintumourresearch.org to see how much they need and value your support.
Primary Times Magazine is proud to support Wear A Hat Day 2019 and is offering a prize of a £100 book token for the school which raises the most money per pupil. TO ENTER VISIT: www.braintumourresearch.org/pt-wahd-competition