Win a copy of Plant, Sow, Make & Grow
Closing Date: 31st March 2019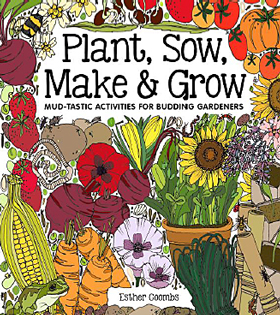 Newsletter Subscribers Exclusive*
Plant, Sow, Make & Grow is a book to get people gardening – especially those with children in their care who they want to be gardening with. It's full of down-to-earth realistic activities with tips, tricks and short cuts to make sure all the projects are doable for all ages. It's cheap to garden and this book tries to be as cheap as chips, with tools made from recycled rubbish and lots of other innovative ideas. Get little gardeners growing with this low-stress approach to producing yummy fruit, veggies and bug-friendly flowers. You'll find plenty of handy gardening information to get you started plus tips about what wildlife you may see, raiding your recycling box to make some useful gardening accessories and other craft activities. So grab some seeds and have a go!
Plant, Sow, Make & Grow is published by Button Books | RRP £12.99
We are giving away 5 copies of Plant, Sow, Make & Grow.
For your chance to win, simply answer the following question:
When do daffodils bloom in the UK?
a) March and April
b) June and July
c) August and September
*Winners will only be selected from our keep up to date subscribers