Win a copy of Think Big!
Closing Date: 28th February 2019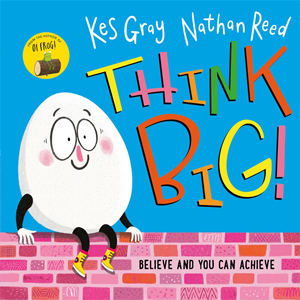 Newsletter Subscribers Exclusive*
A brand new story about Humpty Dumpty and his nursery rhyme friends, from the bestselling Kes Gray, creator of Oi Frog!.
Humpty Dumpty and his nursery rhyme friends are discussing what they want to be when they grow up. Humpty wants to be a boiled egg, but his friends are encouraging him to think bigger!
"You could be an artist!" said Little Boy Blue.
"Look for clues and become a detective!" said Little Bo Peep.
"Buy a pair of football boots and become a footballer," said Wee Willy Winky.
Will Humpty think big and reach for the stars?
Think Big is published by Hodder Children's Books | RRP £12.99
We are giving away 3 copies of Think Big.
For your chance to win, simply answer the following question:
How long does it tke to hard boil an egg?
a) 12 minutes
b) 2 minutes
c) 3 minutes
*Winners will only be selected from our keep up to date subscribers