Win a copy of Halo Moon
Closing Date: 28th February 2019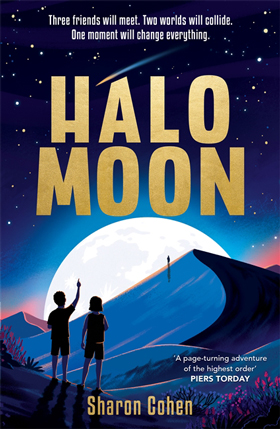 Newsletter Subscribers Exclusive*
Bravery, friendship and the magic of an unknowable universe combine in this extraordinary adventure from the heart. Great for fans of Frank Cottrell Boyce and David Almond.
In Ethiopia, Ageze has unearthed an ancient device that can make predictions. It tells him: there is a date, there is a place, there is a moment when it will happen. A disaster that will change everything.
Halo Moon loves stars, and the night sky is full of them in her remote Yorkshire village. It's a place where nothing interesting ever happens, let alone a catastrophe.
So when a stranger appears at the end of a near-impossible journey and tells her lives are at risk, she can barely believe it. But if she doesn't help Ageze, everything and everyone she knows might disappear for ever ...
Halo Moon is published by Quercus Children's Books | RRP £6.99
We are giving away 8 copies of Halo Moon.
For your chance to win, simply answer the following question:
How long does the moon take to go around the earth?
a) about 7.32 days
b) about 17.32 days
c) about 27.32 days
*Winners will only be selected from our keep up to date subscribers