Win a SMASHERS™ Series 2 toy
Closing Date: 31st January 2019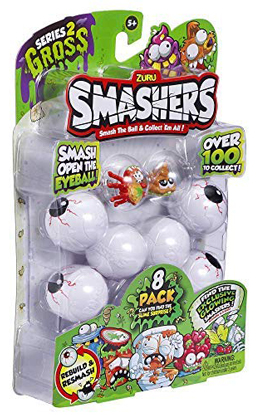 Newsletter Subscribers Exclusive*
With a disgusting surprise in every SMASH – get ready to unbox a collection of revolting critters… The second series of SMASHERS™ from ZURU brings its innovative SMASHBALL™ in the guise of an all-new EYEBALL to house a crew of freakishly GROSS SMASHERS™ characters.
Each GROSS SMASHERS™ character lives inside an iconic Eyeball SMASHBALL™ which can only be discovered once smashed open. With over 100 characters to collect, they will also feature select SMASHBALL™ Eyeballs with creepy mini-beasts covered in slime! Ghastly creations include a selection from 'Odd Bodies', 'Icky Insects', 'Ooze Dudes', 'Awful Animals', 'Filthy Food', 'Toilet Humour', and 'Smash Trash', with rare, ultra-rare see-thru characters and playset exclusive characters to collect.
The SMASHERS™ Series 2 collection is available in one, three, and eight packs - all full of horrifically foul surprises! Store your favorite SMASHERS™ Series 2 characters in the disgustingly gross Collectors Tin which Holds 50 SMASHERS™ and comes with a grungy Limited Edition Smasher inside! And for on-the-go fun, take your SMASHERS™ on the road with the Sludge Bus. Unveil two exclusive characters and unfold the playset to uncover the rank restroom where you can shoot your SMASHERS™ into the toilet!
SMASHERS™ Series 2 are suitable for ages 5+ and available nationwide. Prices start from £1.99 through to £19.99.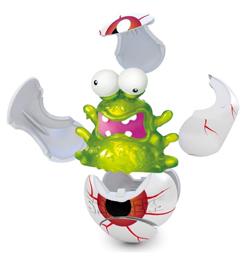 We are giving away 5 SMASHERS™ Series 2 toys.
For your chance to win, simply answer the following question:
What part of the eye refracts light?
a) iris
b) lens
c) cornea
*Winners will only be selected from our keep up to date subscribers